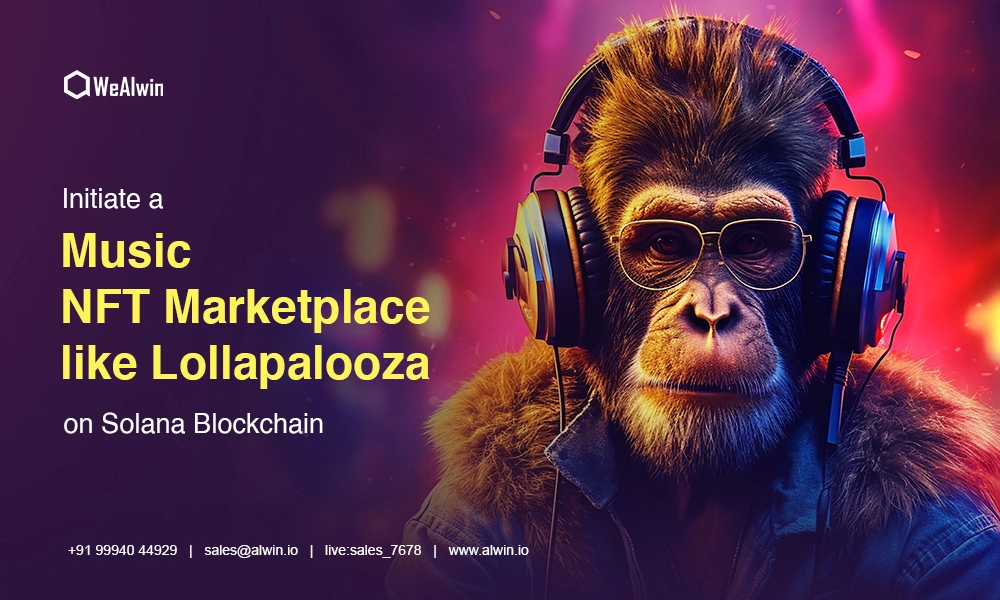 Hey there, music enthusiasts and blockchain explorers! 🎶🔗
Ever wondered how you can combine your passion for music with the exciting world of cryptocurrencies and blockchain technology? 
Well, you're in the right place because today, we're diving headfirst into the incredible universe of music NFTs and how you can kickstart your very own music NFT marketplace on the Solana blockchain.
Imagine a digital space where you can own a piece of your favorite music festival, just like you own a prized vinyl record or a concert ticket stub. That's the magic of Music NFTs, and it's changing the game for music lovers and creators alike. And if you're thinking, "What's the Solana blockchain got to do with it?" – hold onto your headphones because Solana's speed, security, and scalability make it the perfect stage for your NFT marketplace to shine.
In this blog, we're going to break it all down for you, no tech-jargon or confusing crypto-speak, just a friendly guide to help you understand the ins and outs of music NFTs and how you can turn your dream of launching a music NFT marketplace into a reality, just like the legendary Lollapalooza.
So, whether you're a music aficionado, a blockchain enthusiast, or just someone curious about the future of music and technology – get ready to embark on a musical journey through the world of NFTs. By the end of this blog, you'll be ready to take your first steps towards creating a music NFT marketplace that could be the next big hit in the digital music scene.
What is the Lollapalooza Clone Script?
The Lollapalooza clone script is a pre-built NFT music marketplace script that can be used to launch a platform similar to the official Lollapalooza NFT marketplace. The script is built on the Solana blockchain and includes all of the features that you would expect from a modern NFT marketplace, such as the ability to mint, buy, sell, and trade NFTs.
The Lollapalooza clone script is an excellent option for businesses and individuals who want to enter the NFT music marketplace space quickly and easily. The script is already functional and can be customized to meet your specific needs. Additionally, the script is relatively inexpensive, making it a cost-effective way to launch your own NFT marketplace.
An Overview of Lollapalooza's History
Lollapalooza is an annual music festival that was founded in 1991 by Perry Farrell, the lead singer of the band Jane's Addiction. The first Lollapalooza tour was a farewell tour for Jane's Addiction, but it quickly became a successful touring festival that featured a diverse lineup of alternative rock, hip hop, and punk rock bands.
The original Lollapalooza tour visited 20 cities in North America and featured such bands as Nine Inch Nails, Ice-T, the Red Hot Chili Peppers, and Pearl Jam. The festival was a critical and commercial success, and it helped to launch the careers of many of the bands that performed on it.
Lollapalooza continued to tour annually until 1997 when it was canceled due to declining ticket sales. However, the festival was revived in 2003 and has been held annually ever since. In 2005, Lollapalooza moved to its current home in Grant Park in Chicago.
Today, Lollapalooza is one of the largest and most popular music festivals in the world. It attracts over 400,000 people each year and features a lineup of over 100 bands. The festival has also become a major cultural event, and it has helped to promote alternative music and the arts.
Lollapalooza NFT Marketplace Collections
The Lollapalooza NFT Marketplace features a variety of collections, including:
Artist collection: This collection features NFTs of artwork created by past and present Lollapalooza artists.
1991 poster collection: This collection features NFTs of the original posters from the first Lollapalooza festival in 1991.
Landmark collection: This collection features NFTs of landmarks from the Lollapalooza festival grounds.
International artist collection: This collection features NFTs of artwork created by artists from around the world who have performed at Lollapalooza.
Lollapalooza moments: This collection features NFTs of iconic moments from Lollapalooza history.
Solana collection: This collection features NFTs that celebrate the partnership between Lollapalooza and the Solana blockchain.
The Lollapalooza NFT Marketplace is a great way to collect and commemorate your love of music and the Lollapalooza festival. You can also use the marketplace to buy and sell NFTs, or to create your own NFTs.
Why Create an NFT Music Platform like Lollapalooza?
Increased revenue for artists: NFTs can help artists increase their revenue by giving them more control over the distribution and sale of their music. Artists can sell their music directly to fans, without having to go through a third-party distributor. This can lead to higher prices and lower fees for artists.
Improved fan engagement: NFTs can help to improve fan engagement by giving fans a way to own a piece of their favorite artist's music and to participate in exclusive experiences. This can lead to a more loyal and engaged fan base.
Reduced fraud: NFTs can help to reduce fraud by providing a secure and tamper-proof way to track the ownership of music files and tickets. This can help to protect artists and fans from fraudsters.
Increased transparency: NFTs can help to increase transparency in the music industry by providing a way to track the distribution and sale of music. This can help to ensure that artists are fairly compensated for their work.
Overall, there are many reasons why an NFT music platform like Lollapalooza could be a valuable asset for the music industry. By providing artists with more control over their music, improving fan engagement, and reducing fraud, NFTs have the potential to revolutionize the way music is created, distributed, and consumed.
How is the Lollapalooza Clone Successful On The NFT Music Platform?
The Lollapalooza clone script is a ready-made solution that can be used to quickly and easily launch an NFT music marketplace. However, there are a few things that you can do to increase the chances of your success.
Choose the right blockchain - The Solana blockchain is a good choice for NFT music marketplaces because it is fast, secure, and scalable.
Offer a wide variety of NFTs - Not all NFTs are created equal. To attract users, you need to offer a wide variety of NFTs, including music, videos, images, and more.
Promote your marketplace - Get the word out about your marketplace by promoting it on social media, in music forums, and other online communities.
Provide excellent customer service - Make sure that your users have a positive experience by providing excellent customer service.
By following these tips, you can increase the chances of your Lollapalooza clone script succeeding on the NFT music platform.
Unique Characteristics of Our Lollapalooza Clone Software
Easy to launch
Our Lollapalooza clone software is designed to be easy to launch and manage. You can have your own festival up and running in a matter of weeks, without the need for any coding experience.
High success rate
Our software has been used by dozens of festivals, and they have all been successful. We have a proven track record of helping festivals grow their businesses.
Multicurrency Acceptance
Our software supports multiple currencies, so you can accept payments from people all over the world.
Low cost
Our software is very affordable, so you can start your festival without breaking the bank. We offer a variety of pricing plans to fit your budget.
Customizable
Our software is highly customizable, so you can tailor it to your specific needs. This means that you can create a festival that is truly unique to your brand.
Multichain Platform
Our software is built on a multichain platform, so you can use it to create a festival on multiple blockchains. This gives you more flexibility and allows you to choose the blockchain that is right for your festival.
Why Do You Choose WeAlwin for Your Lollapalooza Clone Development?
Finally, when it comes to picking an aid for your Lollapalooza clone development, WeAlwin is a reliable ally. We ensure that your event platform stands out in the crowded festival scene by bringing knowledge, creativity, and unrelenting devotion to the table. WeAlwin is one of the leading NFT Music marketplace development companies that will assist you in developing a Lollapalooza clone. Our NFT Marketplace will attract people from all over the world and allow them to sell and purchase virtual assets. It is the ideal location to launch your own NFT Marketplace platform like Lollapalooza on the Solana blockchain right now, complete with customized and sophisticated features.