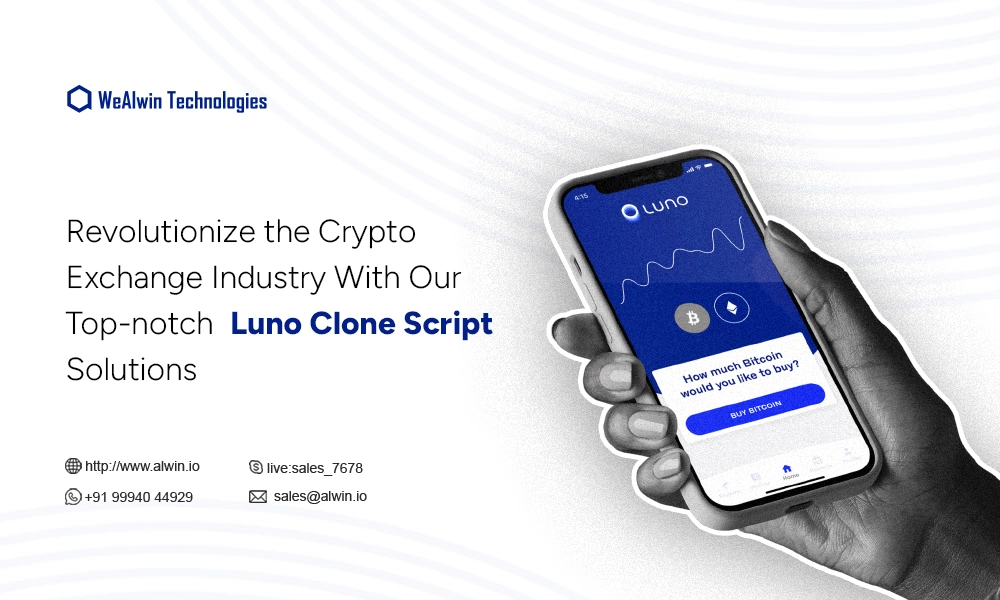 Are you planning to launch your own cryptocurrency exchange like the popular Luno? 
Look no further, as we provide world-class Luno Clone Script to help you build your own crypto exchange like Luno quickly and profitably. 
Our team of experienced developers can help you create a winning crypto exchange platform that offers the same features and functionalities as the successful Luno exchange. 
Followingly, in this article, we will discuss how our Luno clone script solutions can help you launch your own lucrative cryptocurrency exchange in the growing blockchain market square.
What Is Luno?
Luno is a cryptocurrency exchange platform that allows users to buy and sell various digital currencies such as Bitcoin, Ethereum, and Litecoin. It was founded in 2013 in London and has since expanded its services globally. Luno aims to make cryptocurrency accessible and easy to use for everyone and has become a popular choice for both individual and institutional cryptocurrency investors.
Luco Clone Script - An Overview
If you're interested in starting your crypto exchange like Luno, our Luno clone script can be your ideal option.
By using the Luno clone script, you can avoid the time and expense of building a crypto exchange like Luno from scratch, and also utilizing its complete customizing options, you can create an entirely unique platform right from your own software model plan and ideas.
It is designed to be user-friendly and easy to navigate. With this innovative solution, you can launch your new exchange quickly and easily in the crypto market today. 
Consult with our business experts to Build your Luno clone script! Chat with us on WhatsApp
Key Features of Luno Clone Script
Luno clone script includes an array of features that are designed to make cryptocurrency trading easy and intuitive. Some of the key features of the Luno clone script are mentioned in the following.
User-friendly Interface - Our Luno clone script is designed to be easy to use, even for beginners.
Multiple Payment Options - It enables a wide range of payment options, including payments from credit/debit cards, bank transfers, and a lot more.
Secure Transactions - It uses advanced security protocols to ensure that all transactions are secure and protected.
Real-time Market Data - The Luno clone script provides real-time market data, allowing your platform users to make informed trading decisions.
Multi-language Support - It supports multiple languages, making it accessible to different country audiences from around the world.
Adaptive Software - Our Luno clone script is designed to be more adaptive, allowing users to access the platform from any convenient device like mobile computers, mobile phones, and tablets.
Significant Security Features of Luno Clone Script
As the Luno exchange clone script is an excellent option for businesses that want to protect their users' data and business identities, it provides a number of security options as follows -
2FA (Two-factor authentication) - It is a security measure that requires users to provide two forms of identification to access their accounts. This can be in the form of a password and a one-time code sent to the user's phone or email.
SSL Encryption - It is a security protocol that encrypts all data transmitted between a user's browser and the server. This prevents hackers from intercepting sensitive data.
DDoS Protection - DDoS (Distributed Denial of Service) attacks are a common form of cyber attack where a large number of computers are used to overwhelm a website or server, making it inaccessible to users. It is completely prevented by our Luno clone solution.
Cold Storage - It is a method of storing cryptocurrencies offline to protect them from third-party hacking. Our Luno clone script has adequate cold storage measures in place to ensure that the user funds are protected in the event of a security breach.
KYC & AML Compliance - Since KYC and AML regulations are essential for cryptocurrency exchange platforms to prevent money laundering and fraudulence, our Luno clone script complies with these regulations to ensure the security and trustworthiness of your new platform.
How Does a Luno Clone Script Work?
Like other exchanges in the crypto industry, the Luno clone exchange too works in the same order. It starts users registering themselves to utilize the platform. Let's explore how, below.
To utilize your Luno exchange clone platform, the users need to create an account by providing their personal information and verifying their identity. 
They can then deposit funds into their account using various payment methods, such as bank transfer or credit card. 
Once the funds are credited to their account, they can start trading cryptocurrencies by placing buy or sell orders.
The platform will match the buy and sell orders in real-time, and the transaction will be executed if there is a match. 
Afterward, the users can view their transaction history, account balance, and other details on the platform dashboard to execute their trading effectively.
Why Luno Clone Script for Crypto Exchange Creation?
There is no doubt that the popularity of Luno has continued to grow over the past few years. The platform offers an easy and convenient way to exchange cryptocurrencies in a seamless manner. 
However, there is a need for a Luno clone app that can offer more features and options. That is where our Luno clone script comes in handy.
Our Luno clone script would allow traders to exchange cryptocurrencies efficiently. It offers features such as different trading options, i.e., margin trading and P2P trading. 
It allows them instant deposits and withdrawals of funds, as well as support multiple blockchain tokens. 
In addition, it is a suitable choice for cryptopreneurs who wish to leverage Luno's advantages and launch a similar crypto exchange with added benefits from their own unique software requirement planning.
Our Luno Clone App Development Services
Our Luno clone app development services are designed to meet the specific needs of our global clients. We use cutting-edge technologies and programming languages to create our Luno-like crypto exchange platform that is user-friendly, scalable, and customizable. 
Whether you are a startup or an established business, we can help you launch your cryptocurrency exchange quickly and cost-effectively with our premium Luno clone script solution.
Our services include customizing the ready-made platform to suit your all business needs, integrating additional payment gateways, and providing ongoing technical support. 
We can also help you with enhanced security measures to ensure that your exchange platform like Luno is secure and trustworthy.
With our Luno clone app development services, you can launch your own cryptocurrency exchange platform with ease. 
Our team of developers will work with you every step of the way to ensure that your cryptocurrency exchange platform development meets all your business demands and is delivered on time and within budget.
Check out our page on Crypto Exchange Development Company
To know more, you can contact our team immediately now. We are always ready to hear from you! 
Then, what are you waiting for? 
Just connect with us, now!