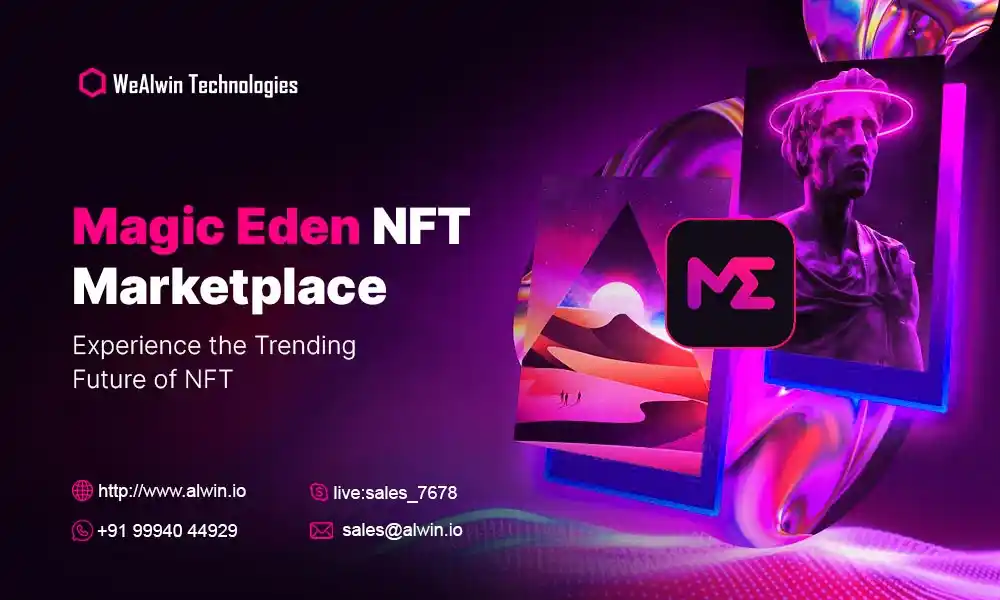 Magic Eden has become a highly incredible choice for NFT creators and investors.
While the NFT marketplace is blooming out like flowers, one that stands out uniquely among both creators and collectors on Solana is Magic Eden.
So without further delay, let's know what Magic Eden is…👇
Make a quick move into the NFT industry by building an NFT marketplace like Magic Eden on the Solana blockchain network. 
From this blog, you will know how Magic Eden stands as an outstanding marketplace from others.
A Brief Note on Magic Eden
Magic Eden is the popular NFT marketplace that runs on the Solana blockchain. This attractive marketplace was launched on September 17, 2021.
Do you know how it started?🤔
It was founded by four friends Sidney Zhang, Jack Lu, Zhuoxun Yin, and Zhuojie Zhoe, with their great professional experience and management.
This is how Magic Eden got its birth into the NFT world!
It is a decentralized NFT marketplace that allows users to buy, sell, and trade NFTs. It has got over 22M+ active users and is home to more than 8000 NFT collections.
Success follows it more than ever, do you know why?
As Solana is built on a proficient blockchain network it gains the center of attraction for investors and traders. Users are benefitted from the fast transaction speed and low transaction fees. Thus, Magic Eden has marked its place in the crypto market.
Why Prefer Solana NFT Marketplace Like Magic Eden?
This NFT marketplace provides an impressive way for any startup who is interested in creating a Magic Eden-like NFT marketplace. 
So what else will be the reason behind its popularity, which makes most of the investors prefer this platform?🧐
Let us have a read on it. 📖
Magic Eden is user-friendly: It follows a simple methodology that gives users an easy access option. Magic Eden carries out transactions at greater speed. Powerful security is provided for a safe transaction.
Diverse blockchain projects:  Magic Eden supplies a variety of NFT collections to its users and it also provides cross-chain compatibility solutions for the users. This platform also deals with gaming NFTs.
Strong community focus: Everyone around the world is welcomed to the Magic Eden community. Currently, they have more than 80, 000 members on their channel. Suggestions and opinions of the community members are taken into account to improve their performance and build a better platform.
Eden games: Magic Eden thrives to be the great platform for gaming NFTs and now in this crypto era, blockchain games become the focus of the business. 
Eden Games has attracted the gamers crowd with games like Mini Royale and Panzerdogs. These games are played worldwide and the platform launches new games regularly to amuse the users and players.
Consult with our business experts for Magic Eden NFT Marketplace! Chat with us on WhatsApp
Key Features of Magic Eden 
Low transaction fees
The Solana-based NFT marketplace like Magic Eden charges low transaction fees, 2% transaction fees. When compared to other marketplaces, it charges a minimum amount of fee. In addition, there are no listing and gas fees.
Easy to access
Magic Eden platform has highlighted the user-friendly features that were created keeping in mind the users. This platform also evaluates member feedback to improve the performance of the platform. Users need not do a course to access the platform, anyone can easily go ahead with it.
High-speed transactions
As the Magic Eden marketplace runs on the Solana blockchain, it carries out transactions at greater speed. It processes high-speed transactions at a rate of 65,000 per second. More than 40,000 NFTs are transacted every day and moreover, 7000 items are listed on the marketplace.
Interoperability
It promotes transactions over different types of other blockchain networks and it focuses on liquidity and scalability.  Secure and seamless transactions can be done on the Magic Eden NFT marketplace and automatically rewards are enrolled.
How Does Magic Eden Marketplace Work?
To begin trading in the NFT marketplace, you need to develop a compatible Solana wallet such as Exodus, Trezor, or Solflare. You need to purchase SOL so that you can initiate the buying and selling process. 
You can connect the wallet by clicking the option "Connect Wallet" on the right side of the screen. Once connected you can connect any of the NFT collections by bidding or by clicking "Buy Now" to make an instant purchase.
Popular NFT Collections On Magic Eden
Here are some of the most popular collections of the Magic Eden platform,
Okay Bears
DeGods
Trippin' Ape Tribe
Genesis Genopets
Cets on Creak
What Makes Magic Eden Clone Development a Profitable Investment Option?
Wanna become a profitable entrepreneur soon by building a Magic Eden NFT marketplace?🤑
Then don't wait anymore. Developing an NFT marketplace like Magic Eden would be done instantly with the clone script. Many of us are aware of the fastest-growing marketplace in the world, Magic Eden on the other hand witnesses 330,000 transactions every day. 
Creating an NFT marketplace utilizing the Magic Eden clone script would offer you a lot of advanced features and benefits needed for your business. With attractive customization options and at an affordable cost you can launch an elegant marketplace.
So, are you ready to immerse into the Magic Eden NFT marketplace?😅
Approach the leading NFT development company which would be the right choice for your lucrative business.
Initiate Your Magic Eden NFT Marketplace Development From WeAlwin Technologies
I hope the above information would have gained you a better understanding of how Magic Eden is popularised and holds huge advantages. 
If you are planning to develop your NFT marketplace now? 
Then, feel free to connect us🤝
We have over 5+ years of experience in blockchain development services, we implement smart strategies for your exclusive application development. We provide 100% customization and 24/7 support throughout the development.
Check out our page on NFT Marketplace Development to get more information
Schedule a call immediately ☎️