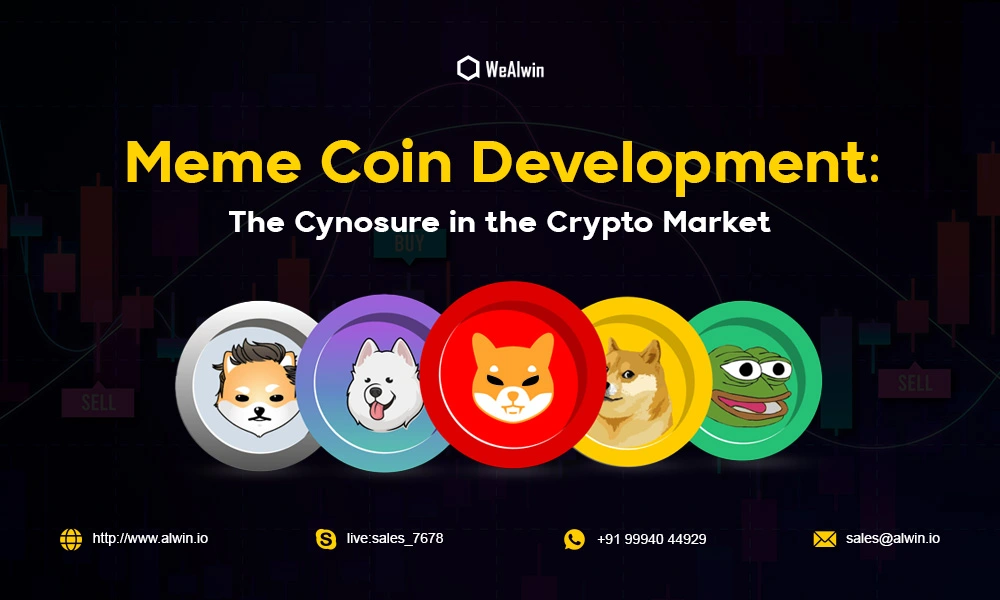 Cryptocurrency is one of the indispensable aspects of decentralization, and its inception resulted in drastic changes in the financial sector. How about cryptos with a tinge of humor that turn out to be lucrative in the market? A new kind of crypto called meme coin has received a great deal of attention from technoids recently and thus has become the trending topic in the crypto ecosystem. This blog will expound on meme coins, their types, and their status in the crypto market. 
What are Meme Coins Used For? 
They are sort of cryptocurrencies based on memes surfing on the internet, and they are created for entertainment. Meme coins have no inherent value or utility as well, but how famous they are on the internet determines the value of the meme coins. With the hope of making a profit from their popularity, meme coins are mainly used for speculative trading and investment purposes.
The Popularity of Meme Coins in the Crypto Market 
Meme coins are gaining traction due to their exclusive features, and here are some of the reasons why meme coins are the center of attraction are as follows: 
Easy to mine -  Mining meme coins is basically a simple process, and it doesn't require technical skills. 
Low transaction fees - Comparatively, meme coins feature low transaction fees, thereby making them accessible to people looking to invest small sums of money. 
High Volatility - The value of meme coins can rapidly change, meaning they are highly volatile. The high volatility could be a better opportunity for investors to make a quick profit.
The Ideal Meme Coins to Invest in 2023 
Dogecoin - The first-ever meme coin in the crypto market still remains popular and it has sought attention through endorsements by celebrities and public figures. 
Pepe -  The frog-themed coin, launched in mid-April 2023 has ranked among one of the most popular meme coins in the market. This coin has a maximum supply of 420 trillion, and In just three weeks, this coin has crossed $ 1 billion in market capitalization. 
Wojak - This coin has gained attention due to its unique branding and community support and is named after the viral meme of a dejected-looking man. 
AIDoge -  A meme coin with a fusion of artificial intelligence and decentralized finance. The coin's AI integration and community-driven development approach have helped it earn traction. 
Floki - Inspired by Elon Musk's pet dog, this meme coin intends to disrupt the cryptocurrency market. It has attained stature due to its community-centered strategy.
Tamadodge -  This well-known meme coin combines the popular Doge and Tama memes. The coin's community support and unique branding have helped it garner attention.
Shiba Inu - Launched in August 2020, this well-known coin has received significant attention, as it is closely associated with Dogecoin. 
Consult with our business experts to know more about Meme Coin Development! Chat with us on WhatsApp
Popular Meme Coin Exchanges 
Trading services are offered for meme coins by several exchanges. Some of the most popular exchanges are listed below. 
Binance - Binance is an international cryptocurrency exchange that bears many meme coins including  Dogecoin, Shiba Inu, and SafeMoon.
Coinbase - It's a US-based exchange supporting meme coins like Dogecoin and Shiba Inu. 
Kucoin - Claiming to be a Hong Kong-based cryptocurrency exchange, Kucoins offers trading services for meme coins such as SafeMoon and Floki. 
Gate.io - It's a global cryptocurrency exchange bearing many meme coins like Dogecoin, Shiba Inu, and Floki. 
Meme Coin Development 
The process of creating a meme coin is similar to creating any cryptocurrency. The attribution of humor and creativity distinguishes meme coins from other cryptocurrencies. The meme coin development involves Choosing a name, determining the purpose, choosing the right blockchain platform, and so on. 
To develop your meme coins, approach our crypto experts at WeAlwin Technologies, who keep up their pace with the trends and status of cryptocurrencies in the market and are committed to delivering services at an affordable cost across the globe. 
How Do Meme Coins Work?
Meme coins are created to provoke fun and are not intended to be used as a traditional cryptocurrency. Meme coins are built on blockchain technology and work the same way as other cryptocurrencies such as Bitcoin and Ethereum. 
Benefits of Meme Coin Development 
High Potential For Returns (ROI) - By establishing a strong and active community, meme coins could have a high potential for returns.
Easy Accessibility -  Meme coins are easily approachable as they have relatively lesser hurdles than other cryptocurrencies.
Mass Adoption - Exchange platforms and swap platforms are accepting meme coins as cryptocurrencies and this has become the biggest flex for meme coin holders.
Entertainment Value - Meme coins are highly entertaining, especially for the fans of the meme scene. 
Less Investment - In comparison with mainstream cryptocurrencies, meme coins require less investment. 
Why Choose WeAlwin for Meme Coin Development?
There is an obvious increase in the adoption of meme coins in various domains since online marketplaces and retailers have started acknowledging them, and hence they will be assumably opted for by businesses in the future.
WeAlwin Technologies is at your disposal to offer top-notch cryptocurrency development services to energize your business. Our crypto adepts will scrutinize your requirements, thereby helping you amass crypto enthusiasts.
Check out our page on Token Development Company