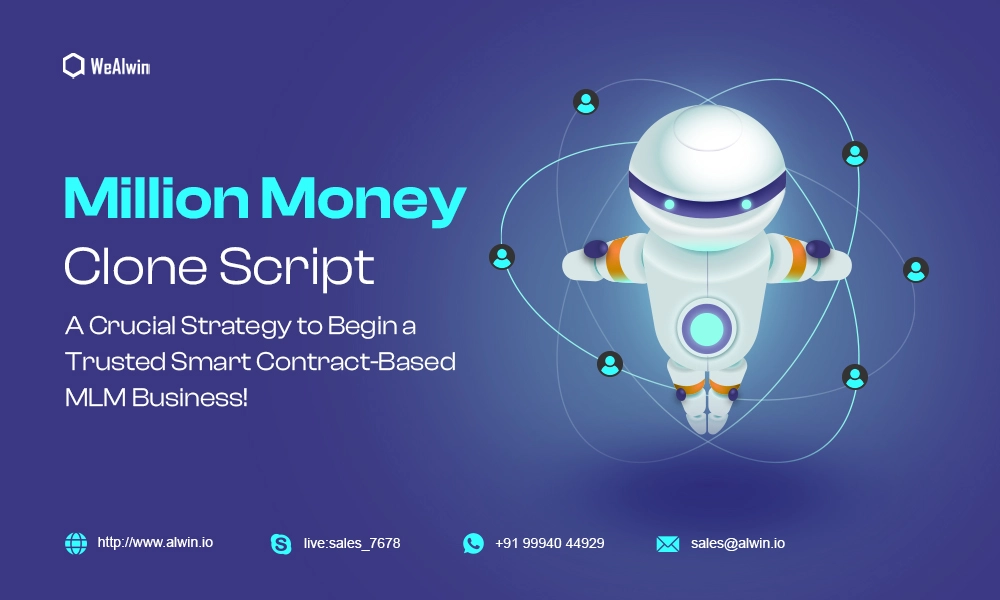 Bonjour Entrepreneurs! Looking for a way to earn money and grow your business to get more profits? Then, Million Money Clone Script is a good choice that serves as a powerful tool for aspiring entrepreneurs looking to kickstart their own MLM venture. Launch your own Smart Contract based MLM Business with our Million Money Clone App. In the realm of multi-level marketing (MLM) businesses, the concept of smart contracts has revolutionized the way transactions are carried out. With the rise of blockchain technology, MLM businesses now have the opportunity to embrace transparency, security, and trust like never before. And one such crucial strategy that has emerged is the Million Money Clone Script.
With the Million Money Clone Script, you can establish your MLM business on a solid foundation, offering participants a secure and decentralized platform to engage in financial activities. The script is not only user-friendly but also highly customizable, allowing you to tailor the MLM structure to meet your specific business requirements.
Million Money Clone Script: 
Million Money Clone is a highly secure, ready-made Ethereum Smart Contract-based MLM script backed by blockchain technology. This script is designed to replicate the success of Million Money, a popular decentralized MLM platform, by providing a reliable and customizable solution to build a trusted smart contract-based MLM business. 
By leveraging the power of smart contracts, the Million Money Clone Script ensures that every transaction within your MLM network is executed with utmost transparency and efficiency. Smart contracts, being self-executing and tamper-proof, eliminate the need for intermediaries and instill trust among participants.
The concept is simple nothing but, the user comes with minimal capital and refers another one for the platform after all the processes are completed the first referred user will get some commission. 
Cryptocurrency MLM Software Development
Stunning Features of Million Money Clone:
Matrix Scheme: 
The Matrix Scheme refers to a structured network of participants in the Million Money Clone platform. It typically follows a matrix or pyramid-like structure, where each participant recruits new members and earns commissions from their contributions. This scheme encourages teamwork and growth within the platform.
Instant Peer-to-Peer Payments: 
Million Money Clone facilitates instant peer-to-peer payments between its participants. This means that when one participant transfers funds to another, the transaction is executed directly without the need for intermediaries. It enables fast and efficient transfer of funds within the platform.
Smart Contract: 
Self-Executing contracts with predetermined terms and conditions are known as smart contracts. In the context of Million Money Clone, smart contracts are used to automate and enforce the payment and commission distribution processes. These contracts ensure that transactions occur only when specific conditions are met, providing security and transparency to the participants.
Crypto Wallets: 
Digital wallets called "crypto wallets" are used to accept, send, and store cryptocurrency. In the case of Million Money Clone, participants utilize crypto wallets to manage their funds within the platform. These wallets provide a secure and convenient way to access and control their digital assets.
Trust & Privacy: 
Trust and Privacy are crucial aspects of Million Money Clone. The platform emphasizes building trust among participants through its transparent and secure ecosystem. It ensures privacy by utilizing encryption techniques to protect sensitive user information and transaction data.
Immutability: 
Immutability refers to the characteristic of blockchain technology, which is the underlying technology of Million Money Clone. A transaction is nearly impossible to change after it has been added to the blockchain. This immutability feature ensures the integrity and permanence of transaction records within the platform.
Multi-Currency Support: 
Million Money Clone supports multiple cryptocurrencies, enabling participants to transact and receive payments in different digital currencies. This feature enhances accessibility and flexibility, allowing users to utilize their preferred cryptocurrencies within the platform.
Ethereum Smart Contract MLM Software
Significant Benefits of Million Money Clone App:
⭐ Decentralized Platform
⭐ 100% Speedy Transactions
⭐ Fully Automated
⭐ Powered by Ethereum Blockchain Technology
⭐ High Level of Data Security
⭐ No Risk, Hacks & Frauds
⭐ Traceable Assets
⭐ High Return on Investment (ROI)
Consult with our business experts to know more about the Million Money MLM Clone Script! Chat with us on WhatsApp
How to Develop the Million Money Clone? 
Client's Requirement
Setting a Feature & Technology Stack
UI Designing & Development
Testing
Deployment (Ready to use)
Launch your own Forsage MLM Clone Script
Can I Make Money From Smart Contracts?
Yes, You can earn more and more profits, through Million Money (Ethereum Smart Contract based MLM). Now we are going to see How does it work? Read below to know more. 
How Million Money Clone Works?
Step 1: The first user who earns this platform will pay the initial fee of 0.03 ETH and he will get back this initial amount after their first referral. 
Step 2: After the first user refers, one person successfully the process will be done and the second user will refer two persons into the network.
Step 3: By referring one by one, whoever is referring will get the fee paid as the reward.
Step 4: There are 10 levels in Million Money and to upgrade each level they have to pay a certain amount, and the increase in each referral will up your profitability. 
Step 5: This is how the cycle goes on, for the referral you will earn money. The upline participants get more revenue by the number of referrals increases and when the requirement slot has been filled, the new referral will automatically become the downline member. 
Earn by Reference…Get more Revenue!
Why Us?
The Million Money Clone Script presents an exciting opportunity to begin a trusted smart contract-based MLM business. By harnessing the potential of blockchain technology, you can build a network that is transparent, secure, and reliable. Embrace this crucial strategy, and embark on a journey toward success in the MLM industry.
Approach WeAlwin Technologies offers secure & trusted Million Money MLM Clone Script. The company provides 24/7 Technical Assistance, cutting-edge features, on-time project delivery, and user-friendly, multi-platform compatibility. So, make a good decision before starting your projects. Earn more profits to grow your fruitful business to the next level.     
Check out our page on Cryptocurrency MLM Software Development Company