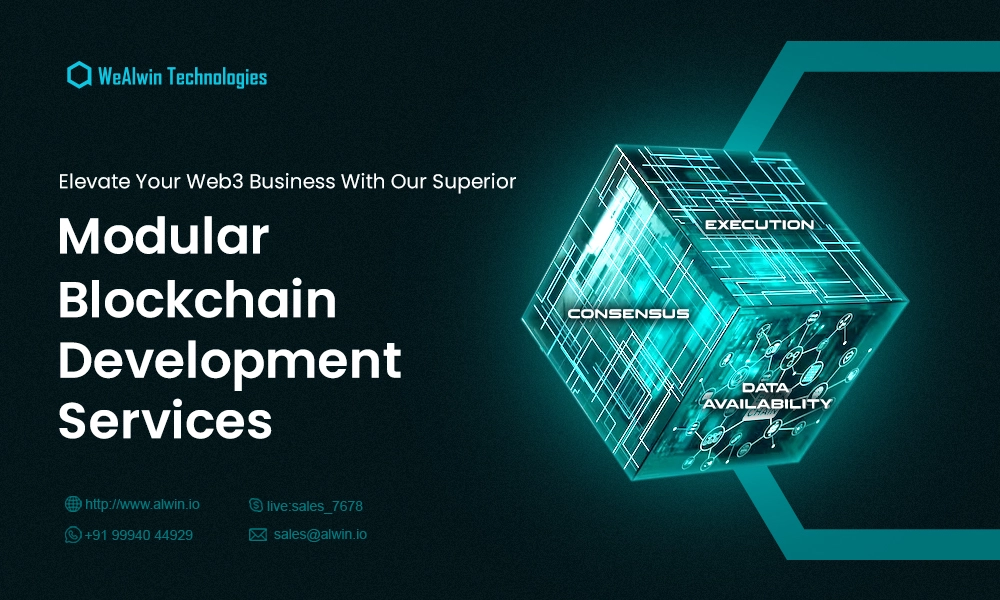 If you're looking to take your crypto business to the next level, our Modular blockchain development services are exactly what you want.
We provide cutting-edge blockchain solutions that empower modern Web3 enterprises to stay ahead in the market.
We offer comprehensive app development services that will meet all your blockchain-powered business plan - demands.
Accordingly, let's explore the concept of modular blockchain, its benefits, and how Web3 platform development on the modular blockchain can transform your business into highly engaged. 
What Is Modular Blockchain?
Modular Blockchain is a revolutionary concept in the world of blockchain. It offers increased scalability for businesses. It's an advanced blockchain system that's designed with multiple, independent modules that perform specific functions. 
Each module can be changed or updated independently without affecting the entire blockchain network. This allows for greater flexibility in enterprises, as new modules can be added or removed as per their own needs.
Following, there are two types of independent modules used in modular blockchains - 
1. Sidechains
Sidechains are separate blockchains that are linked to the main blockchain, allowing for the transfer of assets or data between two chains. 
L2 (Layer 2) networks
L2 networks are additional layers or solutions built on top of a blockchain network that aims to improve your business platform's adaptivity, data protection, and application functionality.
This innovative blockchain technology handles the spotlight of high-volume transactions. It's a promising development in the Web3 universe, offering great conformability to the blockchain infrastructure.
Consult with our business experts to Build your Modular Blockchain Development! Chat with us on WhatsApp
Your Web3 Business on Modular Blockchain
If you're intense to build web3 software, you can consider using the modular blockchain approach. Modular blockchains offer several benefits that traditional, monolithic blockchains do not.
One of the main benefits of modular blockchains is their scalability. With its enhanced technology, the blockchain can be broken down into smaller, independent modules that each perform a specific function. 
For example, the Ethereum network (v2.0) uses sharding and rollups to scale its network. Sharding breaks down transactions into smaller sets of data that can be processed more quickly, while rollups allow for the aggregation of multiple transactions into a single transaction on the main chain, increasing the number of transactions that can be processed per second.
With a Modular blockchain, decentralized networks are more secure because there are more nodes verifying the networks, making it impossible for third-party attacks.
Finally, as the demand for blockchain services increases at present, it's easy with this enhanced technology to add new modules to your web3 network atmosphere anytime. 
Our Modular Blockchain Development for Your Business
As we discuss, Modular blockchains provide several advantages. However, developing Web3 business software can be challenging, as it requires an understanding of the modular blockchains and hiring qualified DevOps to work on the project.
Fortunately, with the right team of experts, developing your Web3 business software can be a smooth process. 
Consideringly, at WeAlwin Technologies, we specialize in developing Web3 business software on modular blockchains, applying a qualified team of developers available in-house. 
Our team has years of experience in working with blockchain technology and can create different blockchain software for different industries that meets all businesses' specific model requirements.
Our Comprehensive Blockchain Development Services
We provide comprehensive blockchain development services for clients all over the world. They include -
Cryptocurrency exchange development
NFT marketplace development
DeFi development
Metaverse development
Token development
DAO development
ICO development
IDO development
dApp development
Blockchain development
List of Blockchain Industries We Cover
Finance
Gaming
Insurance
Digital records
Voting
E-commerce
Real-estate
Supply chain
Healthcare
Identity management
Why Choose Us for Your Modular Blockchain Development?
We understand that every business is unique, and we work with you to develop a blockchain solution that is tailored to your exact business model. It ensures that your new Web3 business software is efficient, and effective to provide value for your targeted audience.
We follow an agile development process that ensures your software is developed fast and efficiently.
We understand the importance of timelines and work hard to deliver your software on time, without compromising on quality.
With our expertise, we can help you develop software that offers real value to your business. 
Check out our page on Blockchain Development Services
For more details, get in touch with us today to learn more about how we can help you with your current Web3 software development requirements on Modular blockchain technology.