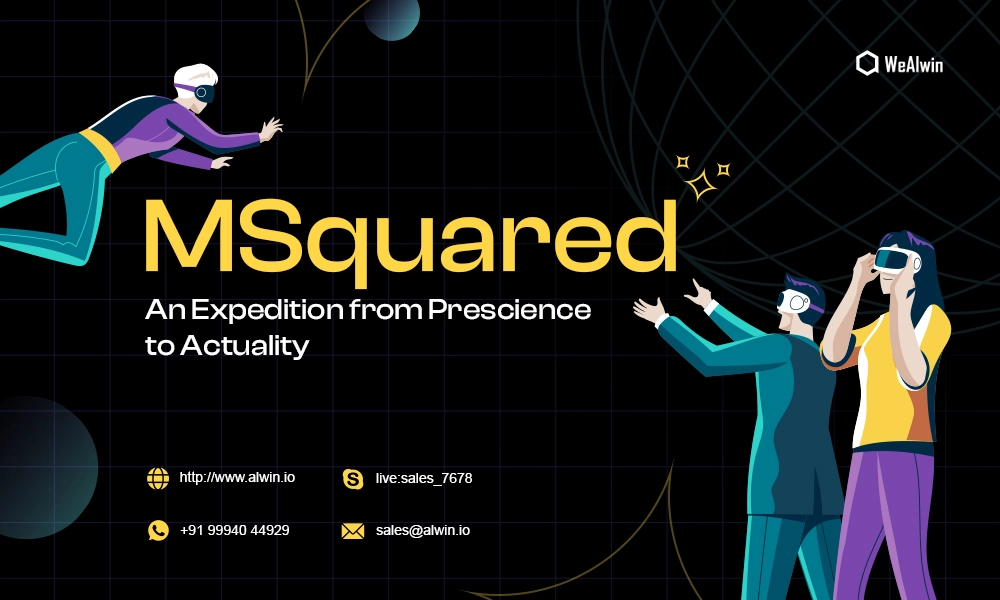 The conceptualization of crossovers and universes has been an inclination in movies for a while. This idea applies to the "Metaverse" as well. Yes, MSquared, a visionary project, aims at interconnecting the metaverse networks into one to benefit various fields. This article will illuminate the elevation of MSquared from a theory to a practical innovation.
What is MSquared? 
MSquared refers to the services, standards, and technologies contrived to reinforce a network of interconnected metaverses. It lays the foundation for unique experiences, allows asset sharing and interaction across multiple metaverses, and hence constitutes a flourishing community of users, builders, and businesses. 
What is M2 Network?
A M2 network is a substratum of an immersive user experience, a metaverse that is built by the combination of the following pivotal elements: 
Virtual Places or Spaces 
Digital objects 
Goods 
People 
It enables users to pass through the  diverse metaverses while retaining their digital identity: Avatar. This network furthers community development, social interaction, and commercial activity within a safe zone.  
 The inner layer of the network encompasses the Cross-Metaverse services that entitle:
An integrated identity system across metaverses 
Unvarying storage and recovery of objects for metaverses
Reckoning for constant object behavior across metaverses

At the center of the network are the protocols which encode permissions and data movement across metaverses and store the canonical view of objects, places, and people. The M2 network is constantly being adopted by acclaimed brands, sports leagues, and companies in the world and is capable of having a broader adoption in the years to come. 
The Aspiration of MSquared 
This incredible and unprecedented project, strives to be intriguing and gratifying for wide acceptance.  This productive platform contends for making new businesses viable and it attempts to achieve its goals by bringing an enormous community of various participants together. The reported participant types are:
Metaverse Owner -   organizations raising a content platform, metaverse 
Content Creators -  Institutions that create contents in metaverses 
Service Providers - establishments providing services to metaverse owners and content creators 
Users -  people who absorb content and visit metaverses. 
Community ownership crucial, as the network ought to exist after a single project and it must not be controlled by one participant 
Novel Experiences for Users  
Experience creation is one of the most demanding features of the metaverse. Usually, metaverse experiences are restricted by 'operations per second' MSquared is leveraging technology to provide user experiences beyond what we could ever imagine. MSquared provides extensive technology including AI- based bandwidth optimization and advanced distributed networking. 
Technologies and Tools Involved 
World Builder 
It is a tool specifically modeled for adept content creators with command over existing game engines. This tool endows them with the ability to build high-quality content for a distinct metaverse. The World Builder focuses on the creation of 'Places' - worlds, experiences, and games within a particular M2 metaverse. 
Metaverse-Specific Services
Right from server operations to payment processing, various background services involve, in operating a metaverse. Each metaverse can create their own metaverse specific services and use them directly. This enables faster time-to-market for metaverse owners.  
Why Choose WeAlwin for the Development of Software Like MSquared?
MSquared, a groundbreaking project that will go beyond the pinnacle of innovations, emerging as a must-have software in the years to come. Many thriving businesses and brands would be looking for its integration. You just be the first one to step forward and get your software developed at WeAlwin Technologies. 
 We will be assisting you throughout the development phase and providing extensive support 24*7 even after post development. We will be keen on attending to your requirements and delivering the services accordingly.