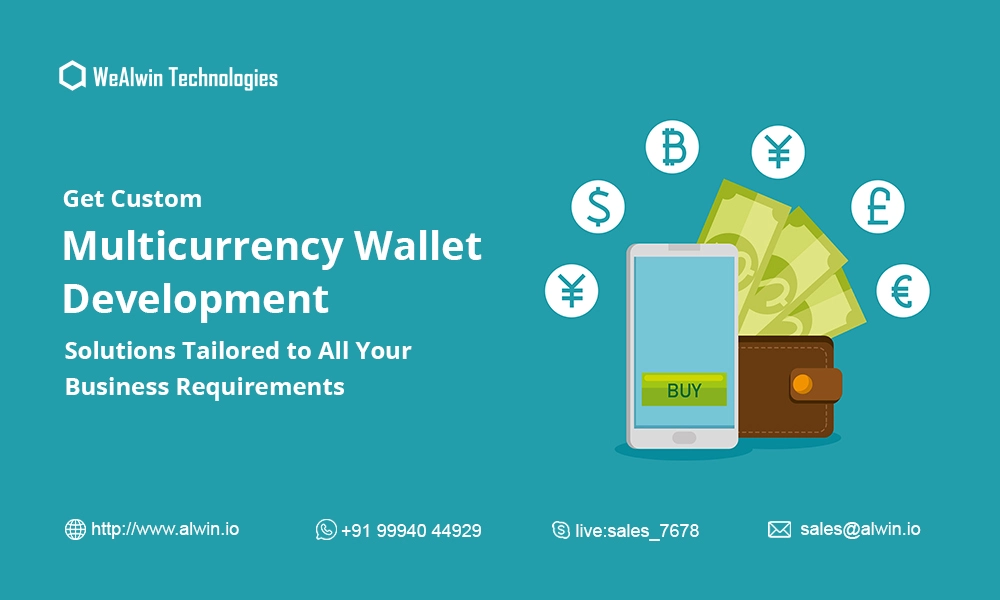 Are you looking to develop a Multicurrency wallet for your business? 
Then, you came to the right place.
In this page, we'll explore what a Multicurrency wallet is, the process of Multicurrency wallet development, and the benefits of developing a Multicurrency wallet for your business.
Let's get started!
What Is a Multicurrency Wallet?
A Multicurrency wallet is a digital wallet that allows users to securely store and transact different cryptocurrencies in a seamless manner. It serves as a digital wallet, similar to how a physical wallet holds cash and cards.
Multicurrency wallets come in various forms - including desktop wallets, mobile wallets, web wallets, and hardware wallets. Each type of wallet has its own specific features and benefits. Thereby, users can choose their needed wallet type based on their purposes.
Multicurrency Wallet Development
Multicurrency wallet development is the process of creating a digital wallet platform that allows the platform users to store, send, and receive various cryptocurrencies available in the market. It involves designing the user interface, implementing security features, and integrating with your selective blockchain network.
Developing a Multicurrency wallet requires expertise in software development, cryptography, and blockchain technology. 
It's important to choose an experienced Multicurrency wallet development company to ensure your wallet is secure and functional.
Why Develop a Multicurrency Wallet?
Developing a Multicurrency wallet can offer several benefits for your business. It allures modern crypto traders by providing a secure and convenient way to store cryptocurrencies. It allows them to easily send and receive digital money transactions. 
For enterprises, your multicurrency wallet can be integrated into their existing payment system, allowing them to accept cryptocurrency payments from their customers. 
Thus, developing a Multicurrency wallet and launching it on the blockchain can be a profitable business venture for you, as digital payments with cryptocurrencies are booming in the market right now.
Consult with our business experts to Build your Multicurrency Wallet! Chat with us on WhatsApp
Our Comprehensive Multicurrency Wallet Development Services
WeAlwin Technologies offers comprehensive software development solutions to help you build your own Multicurrency wallet and manage it effectively on the blockchain network.
Our services include -
Multicurrency Wallet Consulting
Our Multicurrency wallet consulting services are designed to help businesses and individuals understand the robust cryptocurrency wallet ecosystem and the best practices for managing their transactions through it. Our team of experts performs extensive research to provide you with the best Multicurrency wallet development solutions that suit your specific business needs.
Digital-currency Wallet Development
Our digital currency wallet development services are cutting-edge and authentic. We develop state-of-the-art digital currency wallets that are private key-based, ensuring secure transactions. We use the latest technology to create a wallet that is easy to use, yet secure.
Supported Cryptocurrencies of Multicurrency Wallets
Here is a sample list of supported cryptocurrencies for your Multi-cryptocurrency wallet application with us.
Bitcoin (BTC)
Ethereum (ETH)
Ripple (XRP)
Litecoin (LTC)
Bitcoin Cash (BCH)
Cardano (ADA)
Stellar (XLM)
Chainlink (LINK)
Polkadot (DOT)
Dogecoin (DOGE)
Binance Coin (BNB)
Tether (USDT)
EOS (EOS)
Monero (XMR)
NEO (NEO)
TRON (TRX)
Cosmos (ATOM)
VeChain (VET)
Solana (SOL)
Zcash (ZEC)
Demands Faced in the Crypto Market Space on Cryptocurrency Wallet Applications
One of the most critical issues in the cryptocurrency market is tamper-proof security, particularly concerning the safety of digital wallets. 
Cryptocurrency wallets are vulnerable to various attacks, including hacking, phishing, and malware attacks. 
Moreover, users need to ensure the security of their private keys, which are used to access their wallet funds.
To address these demands, we must employ robust tamper-proof security measures to your Multicurrency wallet. 
These measures may include - 
Multi-factor authentication
End-to-end encryption
Secure data storage
Frequent security updates
Above all, wallet providers must be transparent about their security protocols and provide the wallet users with tools and resources to help them protect their assets.
How Does Your Multicurrency Wallet Development With Us Meet Those Demands?
At WeAlwin Technologies, we recognize the critical role of tamper-proof security in the cryptocurrency market. 
As experienced blockchain developers, we have developed enhanced security features for your multicurrency wallet application. 
Our security measures incorporate all the necessary digital assets protection traits, which include two-factor authentication, end-to-end encryption, secure key storage, and frequent security updates.
With additional application tools and resources, your powerful multicurrency wallet users can easily access transaction history and real-time account balances at any time for an effective account analysis.
Our team works closely with your project to ensure that your wallet meets all important and updated security requirements as our commitment to security and client satisfaction sets us apart in the blockchain developer market.
Prime Features of Our Multicurrency Wallet Solutions
Private Key Management - One of the most important features of Multicurrency wallet software is private key management. Private keys are used to authenticate transactions, and essentially keep the assets always protected.
Multi-Signature Support - Multi-signature support is a useful feature that allows the platform user's to require multiple signatures to authorize a transaction. This feature adds an extra layer of protection to their individual wallet accounts, making it more difficult to hack.
Double-Factor Authentication - Two-factor authentication is also a security feature that requires wallet users to provide two forms of identification to access their accounts. This feature comes as additional security, making third parties cannot easily gain access to their wallets.
Compatibility With Hardware Wallets - Hardware wallets are physical devices that store the wallet users' private keys offline. For your established Multicurrency wallet services provision, your Multicurrency wallet with us too would be compatible with popular hardware wallets, for example,  Trezor.
Transaction History and Reports - Additionally, your Multicurrency wallet software with us allows users to view their transaction history and generate detailed reports. This feature enables them to track their spending and keep an eye on their account balance.
Multi-currency Support - The multi-currency support enabled with your new wallet empowers the users to store other cryptocurrencies with different cryptocurrencies such as Ethereum, Litecoin, and Ripple in one place.
Cryptocurrency Staking - The wallet also supports cryptocurrency staking for the users to earn rewards for holding their assets in the wallet for a specific period. With staking, they can earn passive income on their digital assets without the need for constant trading or investing in new assets.
Swapping Coin-to-Coin - In addition to holding multiple cryptocurrencies in one place, the wallet provides users with the option to swap one coin for another directly within the platform. It allows them to easily exchange their assets without the need for third-party exchange platforms.
Coin-to-Token Swapping - The multi-currency wallet software with its coin-to-token swapping feature makes it easy for the cryptocurrency holders to exchange the assets for tokens on various exchange blockchain networks.
Multicurrency Wallet Application - A Multicurrency wallet application is a handy feature that allows your wallet users to manage their staked Multicurrencys on the go. Thus, with your Multicurrency wallet mobile app version from WeAlwin Technologies, they can send and receive their stored cryptocurrencies, view the transaction history, and generate reports from their own smart mobile phones.
Choosing WeAlwin Technologies for Your Multicurrency Wallet Development
In today's digital era, cryptocurrency has become a new norm in the financial world, and Multicurrency has emerged as the leading cryptocurrency. With the increasing popularity of Multicurrency, the demand for Multicurrency wallet development has skyrocketed. 
If you're looking for trustworthy development for your cryptocurrency wallet development project, our company can help.
Here are some significant reasons why you should choose WeAlwin Technologies for your Multicurrency wallet development:
Agile development methodology
Professional team
Experience in blockchain technology
Full app customizing solutions
Strong focus on security
On-time project delivery
Always no compromise in the application quality
Competitive price-list
Profitable project completions
Check out our page on Crypto Wallet Development Company