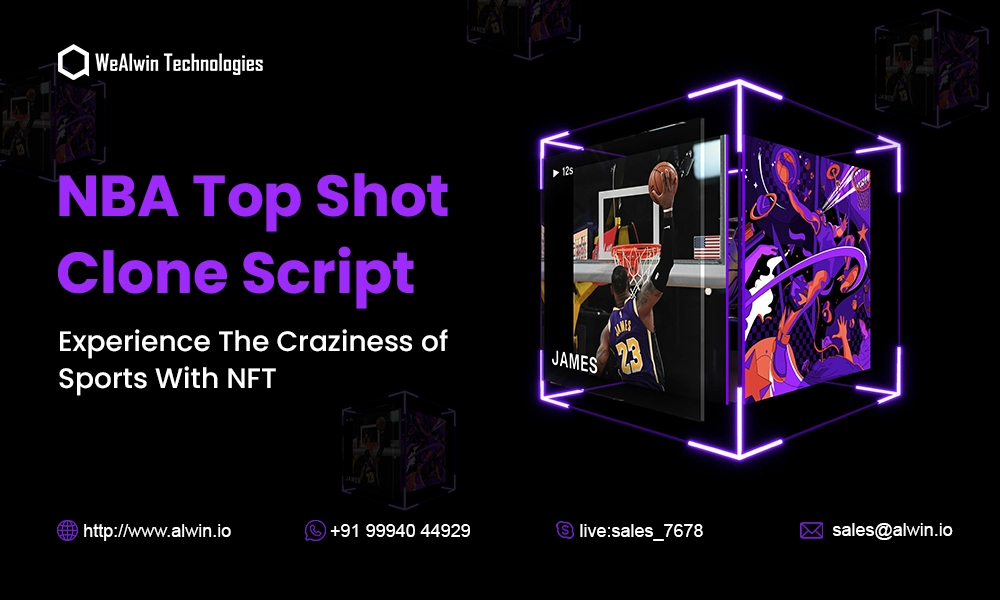 Sports enterprises have begun to expand their firm to the next level, they have kick-started their digital campaign and entered into the NFT platform. NBA Top Shot NFT marketplace is exclusively created for basketball players and their fans. 
NFTs have revolutionized the sports industry by attracting great basketball players. 
Do you know why NBA Top Shot has been popularised?🤔
Let us explore it!
Top Shot created an environment where people interested in NFTs, collectibles, and basketball can assemble in one platform and discover the best moments. This brought people closer to their favorite team, players, and rare moments. 
Whether you are a newbie or an experienced NFT collector, here's everything you need to know before getting involved in it. 👇
An Overview of NBA Top Shot
The NBA Top Shot platform is a blockchain-based virtual trading platform. The combined venture between the National Basketball Association and Non-fungible powerhouse Dapper Labs has globed exponentially. They developed a user-friendly platform to support the next generation of sports and digital assets.
This NBA Top Shot platform allows basketball players to buy and sell sports collectibles that include moments, accessories and cards, etc. The NBA league is the prime factor that has risen its popularity. The league is well-known worldwide and the release of the digital assets amused the basketball players to get involved in the platform and purchase their desired collections.
Then what? Start your collection today!⛹️
So, What is NBA Top Shot Clone?
NBA Top Shot clone is the pre-made replica of the renowned sports NFT marketplace "NBA Top Shot". This clone script allows users to buy, sell and trade NBA highlight moments as unique NFT collectibles. Users are given the option to collect NBA video highlights of their choice like the sports trading card. 
This NFT marketplace platform is specially created for sports players, it promotes trade events, player trump cards, match clips, and hallmark moments from the tournament. NBA Top Shot clone encloses all the features and options that are demonstrated by the top shot platform. 
Why Should you Prefer NBA Top Shot?
One of the key qualities of the NBA Top Shot marketplace is it allows users to buy and sell moments using various payment methods that include cryptocurrency, credit cards, and other online payment apps.
Users and fans are given an extraordinary opportunity to select and gather their ultimate collection of officially licensed NBA video highlights.
More different types of moments are available on NBA Top Shot, which ranges from ordinary to ultra-rare moments.
Apart from buying and selling, users can earn profits by participating in several events and challenges of the platform. Those events can take place in the form of quizzes, tournaments, or other activities. In return, they are gifted rare moments as rewards and prizes.
Consult with our business experts to Build your NBA Top Shot clone script! Chat with us on WhatsApp
Key Features of NBA Top Shot Clone
Authenticated virtual collectibles 
Reap profits
Well-structured guidelines 
Attractive storefront 
Package drops
Waiting room
Showcase
Minute tracking
Advanced search filter
Benefits of NFT Marketplace Like NBA Top Shot
High security
Transparency 
Cross-chain Integration 
User-friendly platform development 
Multiple blockchain networks 
Seamless payment option
Stable revenue system
Immediate liquidity
Workflow of NBA Top Shot 
Check out the steps given below that explains the functionality,
The foremost thing you need to do is to register with the platform by giving the necessary details. They must continue the KYC/AML compliance verification process to confirm their identification.
Users must connect their digital waits to the platform to proceed with transactions.
During the beginning stage of trading, they are allowed to buy a starter pack.
As users begin to build up their own set of collections, they get the opportunity to take part in package drops and receive a new batch of experience from the league.
Users also get the opportunity to sell the purchased league highlights on the market. Exclusively they can display their incredible historical collection and virtual collectibles.
Assets Available as Collectibles
Top superstars
Elite rookies
High secured points
Most valuable player
Signature moves
Game-winning shots
Jaw-dropping blocks
Unbelievable jumps
Different Tiers of NBA Top Shot Moments
Common tier
As the title suggests this tier is common to all, it comprises the most common moments available for the trade-off. It contains up to 10,000 copies of highlights which is open to all.
Fandom tier
There is no percentage set for fandom NFTs in Top Shots, it is based on special events. It can be purchased at the arena, the count varies and may be higher than the common tier or lesser than the rare tier.
Rare tier
The moments that are based on this tier account for the limited edition-based entities and are considered more valuable than the common tier-based entities. Rare moments are exclusive and difficult to acquire as they are historic plays from NBA legends.
Legendary tier
It depicts the extremely rarer moments of legends. Owning the legendary collection uplifts and adds great value to the fan's collection. Most of the epic moments are found in this tier.
Ultimate tier
The ultimate tier is classified into two categories they are, platinum and genesis. Platinum ultimate holds 3 copies of moments while genesis ultimate holds 1 copy of a moment in it.
Concluding Words
Launching a sports-based NFT marketplace like NBA Top Shot would be the best choice due to its great prominence.  You can also get better engagement with die-hard followers of basketball.🤾
Do you want to be part of it and invade your collection? 🤑
Why wait?⤵️
Approach us now! We're a well-known NFT marketplace development company and develop your NBA Top Shot platform using our premium NBA Top Shot clone script. It will grant you to enter the NFT sector and reap the benefits by making a remarkable presence. 
We provide high-quality development services for your lucrative business. Our professional experts offer real-time support to meet the demands of global clients.
Check out our page on NFT Gaming Platform Development
Do you need any further clarifications? 
📞Instantly connect with our experts!📞