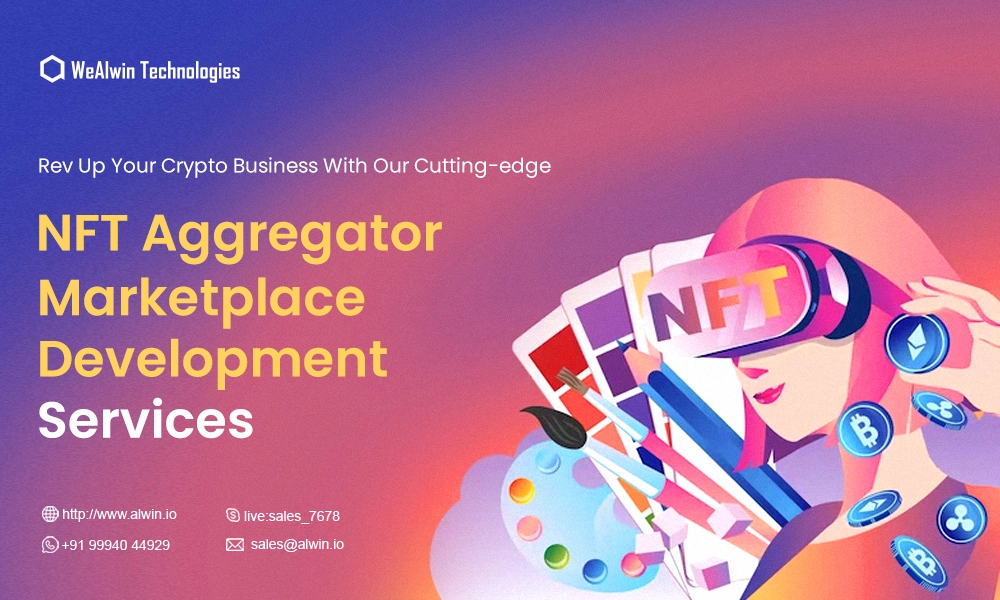 👋 Hey there, 
Fellow NFT enthusiasts! 
Ready to step up your NFT game?
If you're looking for a way to maximize the value of your NFT business, you're in the right place.
Our team of experts is here to help you with our top-of-the-line NFT aggregator marketplace development services! 🚀
We specialize in creating custom NFT aggregators that can help you build an advanced NFT aggregator marketplace, showcasing crypto art in a way that's never been done before. 
Our in-house DevOps have years of experience in creating cutting-edge NFT solutions that can help you stand out from the crowd in the NFT market.
So what're you waiting for? 
Let's get started on revolutionizing your NFT game! 
Go on reading!
What Is an NFT Aggregator Marketplace?
An NFT aggregator marketplace is a platform that collects NFTs from multiple sources, such as different NFT marketplaces or individual artists, and displays them in one centralized location. 
This allows users to browse and purchase a wide array of NFTs from collected data all in one place.
NFT aggregator marketplaces often offer features such as advanced search options, personalized recommendations, and curated collections, making it easier for users to discover new NFTs and artists that they may be interested in.
NFT Aggregators Are on the Rise! 
The world of NFTs has seen explosive growth in recent years, and NFT aggregators are no exception. As more and more NFT creators and collectors enter the space, the need for efficient NFT platforms to buy, sell and showcase NFTs has become highly in demand. 
This is where NFT aggregator marketplaces come in - they offer a centralized location for the users to browse and buy desired NFTs from a variety of different platforms out there. By the way, with the rising popularity of NFTs, the demand for NFT aggregators is only going to continue to grow.
Why Create NFT Aggregator Marketplace?
If you're an NFT entrepreneur looking to expand your NFT market enterprise, creating an NFT aggregator platform can be a game-changer. 
By offering a centralized location for the users to explore and buy NFTs, you're able to reach a global audience means increasing the visibility of your brand. 
In addition, by aggregating NFTs from multiple platforms, you're able to offer the users a more diverse as well as engaging selection of NFTs to smartly choose from. 
Therefore, by creating an NFT aggregator marketplace, you're able to establish yourself as a key player in the NFT market square and can position yourself for long-term success.
NFT Aggregator Platform Development
Developing an NFT aggregator marketplace involves integrating with multiple APIs to pull data, on the other hand, NFTs from various sources. 
This requires a deep understanding of blockchain technology as well as the various NFT marketplaces/platforms that are available.
Consideringly, we specialize in creating custom NFT aggregator marketplaces that are tailored to your specific business needs. 
Whether you're an artist looking to exhibit your work, a business enterpriser looking to expand your NFT business services, or a collector looking for a more streamlined buying experience, we can help you in an effective manner.
White-label NFT Aggregator Marketplace
Our white-label NFT aggregator marketplace is a ready-made platform development solution. Utilizing it, we can customize the existing NFT aggregator platform to match your brand identity. 
It allows you to offer a wide range of NFTs from different blockchain networks and displays them to your targeted audiences without the hassle of developing a new platform from scratch. 
This solution offers a cost-effective way to expand your NFT offerings and attract new users to your platform.
Features of Our White Label NFT Aggregator Platform
Easy-to-use interface
Adaptive software design
Advanced search options
Filters for specific attributes
Integration with multiple NFT marketplaces and platforms
Personalized recommendations
Customizable user profiles
Curated collections
Social media integration
API integrations
Escrow services
Multiple cryptocurrency support
Different payment options
User activity tracking
Reports and analytical tools
Price matching
Royalty support
Lazy minting
Advertising options
Why NFT Aggregator Platform Development?
As per the existing market demands, by aggregating data from multiple existing NFT marketplaces, you can offer unique insights to NFT collectors and investors. You can also charge a commission for NFT sales made through your platform.
Importantly, an NFT aggregator platform can help promote creators who may not have a large following on traditional marketplaces. 
By displaying their work alongside more well-known artists, the creators can reach an extensive audience and potentially make more sales.
Thus, an NFT aggregator platform can be a great way to tap into the growing NFT market. It can provide a valuable service to modern NFT creators and collectors. 
Following these benefits, if you're interested in the world of NFTs, why not consider developing your own NFT aggregator platform? 
Its possibilities are endless!
Revenue Streams of the NFT Aggregator Platform
Commission Fees - This is the most common revenue stream for NFT aggregator platforms. The platform charges a percentage of the transaction fee for each NFT sold on the marketplace.
NFT Minting Fees - If your platform allows users to mint their own NFTs, you could charge a fee for the service.
Premium Membership - Another way to generate revenue is by offering a premium membership subscription to your NFT aggregator. For example, you could offer advanced search filters, access to exclusive NFTs, or even personalized recommendations for the premium members. 
Advertising - As with any online platform, advertising is a viable option for generating revenue. You could sell advertising space on your platform to relevant businesses, or even display sponsored NFTs.
Merchandising - As well, you could partner with NFT marketplaces and earn a commission on every sale made through your platform. This is a great way to generate passive income and grow your user base at the same time.
Why WeAlwin Technologies for Your NFT Aggregator Marketplace Development?
WeAlwin Technologies is a leading NFT aggregator platform developer in the market. Our expert team of DevOps has years of experience in creating cutting-edge NFT marketplace development that can assist your business stand out from the crowd.
With our prime NFT aggregator development services, you can create a robust platform that's tailored to your all specific business model requirements. 
Our team of passionate developers can create anything you want, from a sleek and modern interface to something colorful and gorgeous.
Our solutions are fully customizable, and we'll work closely with you to ensure that your new NFT aggregator platform looks and functions exactly how you want it to. 
Check out our page on NFT Marketplace Development
We look forward in helping you reach new heights of success in the world of crypto art through our NFT aggregator platform development services. Contact us, right from here!