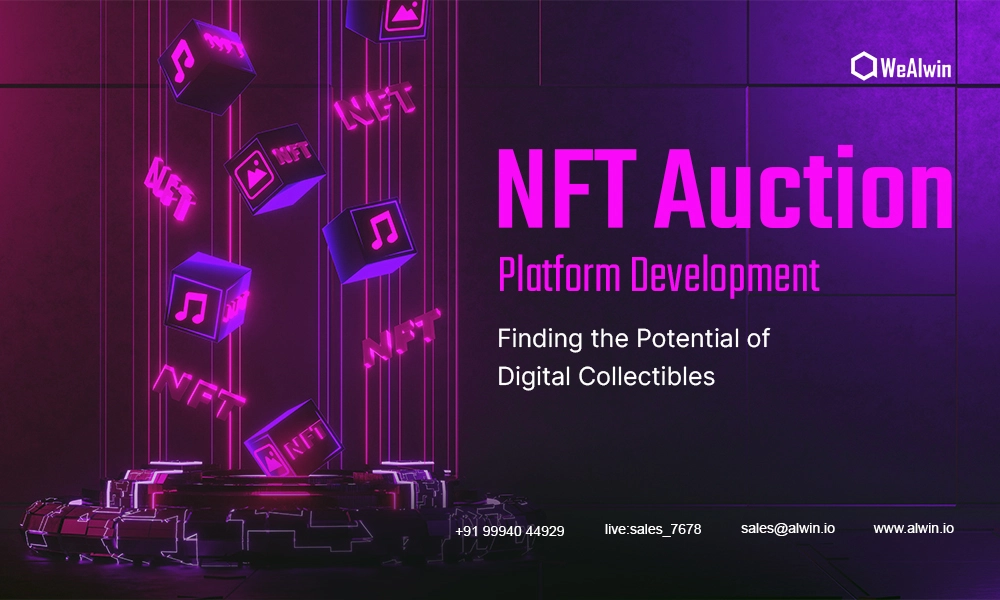 Hello, digital daydreamers!
Are you ready to enter into the world of NFT Auction Platform Development?
Explore the incredible possibilities of digital collectibles and how they are transforming the art world now! 
Discover the secrets behind digital riches, from rare gems to unique tokens! Get ready for an exciting adventure into the worlds of blockchain and creativity.
Let's start by understanding what an Auction Portal is.
What is an Auction Portal?
Auction portals provide a large marketplace for selling, bidding, and trading your assets. This marketplace allows you to exchange a wide range of goods and collectibles all around the world. Because of its high market visibility, users may offer their assets in auction for the public interest, potentially increasing the asset value significantly. 
As the digital era drives sectors to use digital technologies, why can't an auction portal?
We design the platform to serve a diverse audience, which attracts audience and investors to the product and auction platform. The collectibles and assets indicated here will have a potential value, and rivals will offer large sums for the goods. The digital auction platform provides listing options for digital goods such as NFTs and digital art, among others. 
NFT Auction Platform Development
Developing an NFT auction portal involves expertise in blockchain technology, smart contract creation, and web development. Designing a user-friendly interface, connecting with numerous blockchain networks, creating secure payment processes, and offering a seamless auction experience are all part of it.
NFT auction portals have grown in popularity, notably in the art industry, where numerous artists have produced one-of-a-kind digital artwork and sold it for millions of dollars in NFT auctions. They provide a safe and transparent platform for artists, collectors, and investors to exchange one-of-a-kind and precious Non-Fungible Tokens (NFTs).
Vital Features in the NFT Auction Marketplace
Before beginning the process of creating an NFT Auction Platform, consider the following major reasons why NFT and the NFT marketplace, in general, attract the curiosity of individuals. Blockchain technology enables the encoding of rights and the simpler administration of digital assets. NFTs can also be traded freely. Other essential features include:
Storefront 
It is a required feature. Bids, previews, owners, and pricing history should all be represented, among other things.
Token search
Users must be able to obtain reliable information about the items they require promptly and with minimum effort. All items in an NFT Auction platform should be sorted according to certain criteria. Quick searches can contribute to increased customer satisfaction.
Online auctioning
This online auction marketplace software allows you to manage online bids and track all bids submitted by users from a bird's eye view.
Bid deadline
A seller may set a bid's closing time to entice consumers to buy the collectible—another feature of this online auction marketplace software.
List Updating
This option should assist those who offer items in getting them through the verification procedure. It displays the progress of the confirmation operation. This will help add collectible verification.
Collections
Some NFTs sell for a high price when properly displayed in the collections category section. As a consequence, the NFT Auction Platform Development must have a section with crucial information such as features, digital asset qualities, average selling price, seller name, turnover ratio, and total supply.
Wallet
Every Auction Portal Development project should have a wallet that allows users to send, receive, and store NFTs and bitcoins. Users must be able to receive, send, and store NFTs via wallets. To provide a good user experience, the NFT Bidding Portal should either construct its wallet or allow users to communicate with existing wallets.
How does NFT Auctions work?
An NFT auction platform facilitates the purchasing and selling of Non-Fungible Tokens (NFTs) via an auction-based method. This is how it usually works:
Sellers offer their NFTs for sale: The seller uploads their NFT to the auction site and sets a reserve price, which is the lowest amount they are prepared to accept for the NFT.
NFTs are browsed and bid on by buyers: Buyers can view and bid on available NFTs on the auction platform. Bidding usually begins at the reserve price and continues until the auction ends.
The auction concludes with the following winner: At the end of the auction time, the highest bidder obtains the NFT, and the seller receives cash.
NFT ownership is transferred: The NFT's ownership is transferred to the successful bidder via the blockchain network, assuring the NFT's legitimacy and ownership.
NFT auction portals leverage blockchain technology to verify the ownership and legitimacy of NFTs. Smart contracts are used to enforce the auction rules and guarantee that the highest bidder obtains the NFT and the seller receives cash.
NFT auction portals make it easy for buyers and sellers to participate in NFT auctions. They may be accessed via a web browser or a mobile app. The auction platform normally charges a commission fee for arranging the sale.
Overall, NFT auction portals have become a popular tool for artists, collectors, and investors to trade unique and rare NFTs securely and transparently.
Revenue Model of NFT auction portal development
The NFT auction platform gives administrators and investors a variety of ways to make money and profit. You may choose whichever income model best suits your company's needs. The following are some of the most prevalent monetization tactics for the NFT auction site.
NFT Sales Tax
When a listed NFT is sold over the platform, the NFT auction platform charges a fee to the seller. For each NFT transaction, the portal may charge a fixed cost or a variable fee dependent on the sales price.
Processing Fee
As an administrator, you can charge a fixed or customized processing fee for each transaction that occurs on the platform. The more transactions that occur on the platform, the more income you make.
Listing Fee
When artists submit digital assets for auction, you can charge a listing fee as well as a portion of the sale price. The listing price may vary depending on the value of the NFT, or a flat fee may be charged to access platform features.
Benefits of the NFT auction platform
Here are some of the main advantages of utilizing our NFT online auction bidding software:
User-friendly interface: Our software has a user-friendly interface that makes it simple for buyers and sellers to participate in NFT auctions. The platform is meant to be simple to use, making it suitable for both expert and inexperienced users.
Secure and transparent: Our software uses blockchain technology to ensure the ownership and legitimacy of NFTs are confirmed and secure. Smart contracts are utilized to enforce the auction rules, guaranteeing that the NFT is awarded to the highest bidder and the seller is paid.
Multi-platform compatibility: Our software is available through a variety of devices and platforms, including PCs, laptops, tablets, and smartphones, guaranteeing that users may use the platform from anywhere.
Real-time updates: Our software offers real-time updates on the current highest bid, the time left in the auction, and any changes to the auction's terms and circumstances. This keeps bidders and sellers up to date on the status of the auction.
Payment processing: Our platform provides secure payment processing, allowing customers to make payments effortlessly and sellers to receive money quickly.
Commission management: Our platform offers commission management, allowing the auction bidding software provider to charge a commission fee for facilitating the transaction.
Scalability: Our software is designed to be scalable, allowing it to manage high amounts of traffic and transactions without sacrificing performance or security.
Customizable: Our software is adaptable, allowing users to customize the platform to their individual needs and opinions.
Cost-effective: Our software is inexpensive, making it possible for buyers and sellers to participate in NFT auctions.
As a whole, our NFT online auction bidding software provides a safe, transparent, and easy-to-use platform for buyers and sellers to exchange rare and precious NFTs. It has several benefits, making it an appealing alternative for anybody wishing to buy or sell NFTs.
Why did you pick WeAlwin for your NFT auction marketplace development?
WeAlwin is a notable NFT Marketplace Development Company that focused on the development of NFT auction portal services. We provide customized services for the establishment of NFT auction platforms. Our skilled blockchain engineers and specialists understand your objectives and provide services to satisfy them to create relevant outcomes. Contact our specialists to discuss your NFT auction platform development needs.