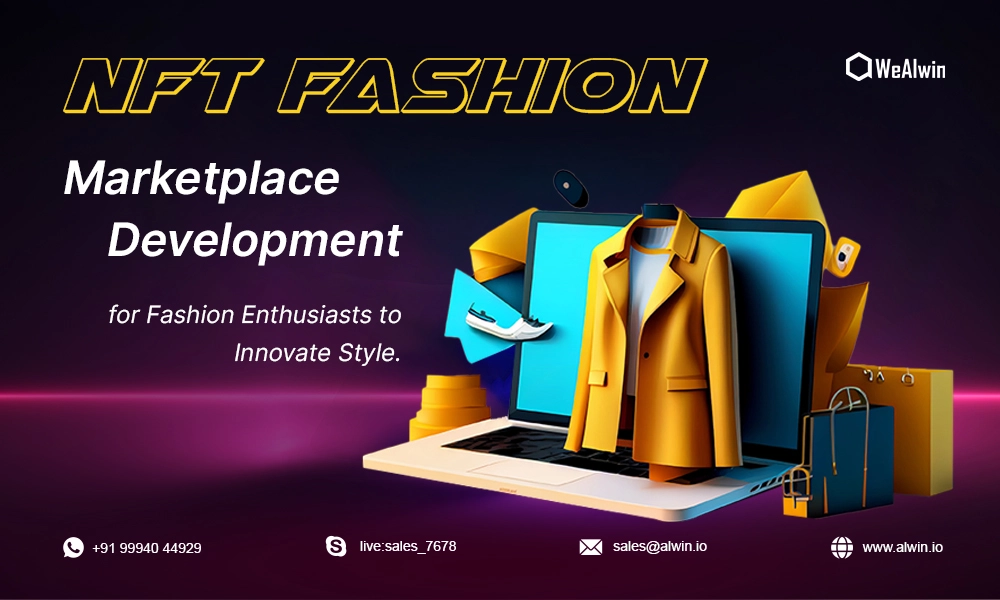 Hello, fashionistas!
Are you ready to start on a journey that combines the exciting realm of fashion with the cutting-edge technology of NFTs? 
In this blog, we'll delve into the intriguing world of Fashion NFTs, learning what they are, how they function, and the incredible opportunities they provide for fashion enthusiasts like you to express your unique style and originality. 
So let's get going!
What is Fashion NFT?
You may be familiar with NFTs, the digital tokens that have captivated the globe. NFT stands for "Non-Fungible Token," which indicates that each token is unique and cannot be reproduced. In the domain of fashion, NFTs function as exclusive digital certificates of ownership for virtual fashion goods or designs. Imagine having a digital haute couture outfit or a magnificent accessory that lives only in the digital domain, yet you can show it off, trade it, or sell it as an authentic collector's item. That is the allure of Fashion NFTs!
NFT Fashion Marketplace Development 
NFT Fashion Marketplace Development is the step-by-step process of building the NFT Fashion marketplace on your preferred blockchain networks such as Ethereum, Polygon, Solana, BSC, Stellar, EOS, and others. Fascinating people who are interested in fashion technology may take advantage of these NFT Marketplaces and expect a great ROI. These Marketplaces inherit smart contract auditing, NFT storage, extra API integration, augmented reality integration, and the ability to purchase and sell garments, accessories, and other game assets.
WeAlwin, an eminent NFT Marketplace Development Company, has a strong team of developers who can assist you in building your own NFT-based Fashion Marketplace. Our best NFT Fashion Marketplace development services incorporate AR/VR support to give consumers an immersive shopping experience.
Consult with our business experts to Develop your NFT Fashion Marketplace! Chat with us on WhatsApp
Brands Participating In NFT Trades
The Fabricant's sparkling suit, acquired for the comparable value of $9,500 in May 2019, is the first fashion NFT to be traded on the NFT marketplace. The first luxury brand to participate was Gucci, with its Aria film, which sold at auction for $25,000 in May 2021.
Let's have a look at some of the well-known businesses that are utilizing NFTs to their advantage.
Gucci: Gucci is one of the first luxurious apparel firms to enter the NFTs industry. Although Alessandro Michele's "Aria" collection was not utilized to style the NFT, it was used as inspiration. The film was auctioned off for $25,000,000,000.
RTFKT: RTFKT, a well-known fashion company, worked with 'Fewocious,' a crypto artist, and began selling virtual trainers in 2021.
Louis Vuitton: On the occasion of its 200th anniversary, Louis Vuitton introduced "Louis The Game." In this Louis Vuitton-created game, players receive NFTs designed by renowned NFT creator Beeple.
Dolce & Gabbana: In the recent past, Dolce & Gabbana released a 9-piece collection. Similarly, Auroboros uses biomimicry ideas, and its unique collection of NFTs may be acquired through Decentraland. The NFT collection Collezione Genesi was launched exclusively on the Polygon blockchain.
Ralph Lauren: In conjunction with Roblox, created the Ralph Lauren Winter Escape collection, a holiday-themed event with virtual clothes. In addition, the company offered suggestions for polo NFTs and metaverse fashion events.
How Do Famous NFT Fashion Brands Profit from the NFT Trend?
Let's look at some of the aspects of NFTs that allow fashion companies to go digital while still providing excellent customer service.
NFT collection based on fashion
Collecting NFT Fashion things will most certainly remain trendy. NFT Fashion collectors may seek rare or antique digital fashion pieces, supporting a secondary market where buying, selling, and trading of NFT fashion collectibles becomes common.
Metaverse NFT Fashion
Demand for NFT-based virtual fashion goods will grow as virtual worlds and metaverse platforms gain popularity. Designers will be able to design unique digital clothes, accessories, and skins for consumers to display in virtual worlds.
Augmented Reality in Fashion
Many sectors' perspectives have shifted as a result of rapid technological advancement. Augmented Reality assists fashion brands in bridging the gap between real-time and virtual experiences. Gucci is an example of augmented reality shopping, in which customers may purchase things from locations that connect to virtual space. Customers may also purchase stylish items by ensuring their sizes.
Features of NFT Marketplace for Fashion
Bidding option
NFT Minting
Storefront
NFT Wallet implemented
Supports Metaverse
Cross-chain linking
Attractive avatars
Search Filters
3D view
Virtual Reality enabled
Augmented Reality support
Collection of digital assets
Payment Gateway Integration
How does a Fashion NFT Marketplace work?
An NFT Fashion Marketplace functions similarly to other marketplaces. However, this marketplace is designed specifically for fashion designers. Virtual creators may purchase and sell products like apparel, accessories, and other game assets on the NFT Fashion Marketplace. The Platform owner may hold Digital Fashion shows by enabling Augmented Reality. The NFT wearables are simple to include using a QR code. We provide a great experience in a 3D animated environment by utilizing modern techniques.
Advantages and Possibilities of the Fashion NFT Marketplace Platform
Fashionistas can have total ownership.
Designers are free to choose and register any type of clothing.
There is a wide range of outfit alternatives.
An extensive variety of buying and selling options are available.
Easier access to investors.
Conclusion
So, fashion alchemists, embrace the enchanted of fashion via the growth of the NFT marketplace. Transform your style into a digital asset, interact with a thriving community, and discover the boundless possibilities of fashion in the digital sphere. This synthetic voyage will awaken your fashion senses, broaden your perspectives, and spark your enthusiasm for style in ways you never imagined. 
Are you ready to dive into the illusion of fashion and embark on an incredible digital fashion adventure?
Don't wait any longer! Get in contact with us immediately to begin your exciting journey of creating your own NFT Fashion Marketplace.
Check out our page on NFT Marketplace Development Company