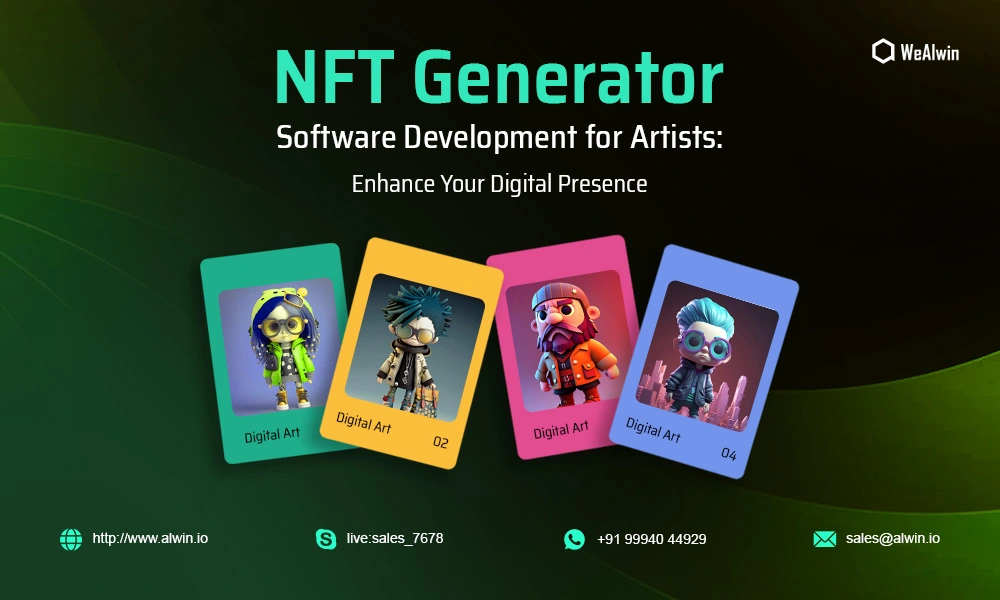 What exactly are NFTs and Generative Art?
Non-fungible Tokens (NFTs) have taken the digital world by storm in recent years, revolutionizing the way we perceive and exchange digital assets. Digital artists are looking for cutting-edge approaches to improve their works and maximize their potential in the NFT market as the popularity of NFTs continues to skyrocket. NFT-generating software is one such option that has become popular. The Development of NFT generator software will be explored in this article along with how it may greatly improve the caliber and distinctiveness of your digital artwork.
Functionality and Features of NFT Generator Software
Explore the main features and functionalities of NFT generator software to fully grasp its potential.
Customization Options: NFT-generating software gives artists control over the ultimate result of their works by allowing them to set numerous factors such as color schemes, patterns, forms, and textures.
Randomization: The program may create diverse combinations of components and ensure that each NFT is unique by using randomization methods.
Variability: Using NFT generator software, artists may produce several kinds of variants for a single piece of art, giving collectors a wide range of alternatives.
Metadata Integration: Software solutions frequently incorporate capabilities that smoothly connect metadata with NFTs, allowing artists to provide detailed information and enable extra functionality.
Consult with our business experts for Develop your NFT Generative Software! Chat with us on WhatsApp
Digital Art Improvement Using NFT Generator Software
The use of NFT-Generator software has completely changed how artists approach their profession and improve the originality and quality of digital art. 
NFT generator software allows artists to create digital art in ways that go beyond the norm. The program introduces an element of unpredictability and surprise into the creative process, allowing artists to break away from artistic restraints and conventional standards. Artists may create spectacular visual compositions by utilizing the capabilities of the program that capture viewers with their originality and aesthetic worth.
Revenue Model of NFT Generator Platform
Providing value-added services to artists and collectors in the digital art market is the foundation of an NFT-generator platform's business plans. These platforms provide the tools and features necessary for artists to produce and improve their digital creations, ultimately turning them into one-of-a-kind NFTs. In trading, the platform produces income from a number of sources, ensuring its survival and expansion.
Platform Charges: Platforms for NFT generators often demand charges for the use of their services and software. When artists sell their NFTs on the platform, these fees may take the form of a one-time payment, a membership fee, or a percentage of the sale price. The payments pay for operating expenses, upkeep, and future software development while also adding to the platform's earnings.
Marketplace Commissions: A lot of NFT generation tools also have built-in markets where creators may offer their NFTs for sale to collectors. In such circumstances, the marketplace platform receives a commission for each transaction that occurs there. This commission, which can either be a flat charge or a percentage of the selling price, guarantees the platform a steady stream of income.
Premium Features: NFT generator platforms frequently provide premium features or cutting-edge technologies in order to give artists and collectors more value. These features could provide users access to additional customizability choices, outputs with greater resolution, improved algorithms, or exclusive templates. Artists who need these premium capabilities can choose a higher-tier membership or pay an extra charge, increasing the platform's earnings.
Partnerships and Collaborations: NFT generator platforms can explore partnerships and collaborations with other organizations in the digital art ecosystem. The platform may be used in partnerships with well-known artists, art organizations, or companies to create and distribute limited-edition NFTs. Such collaborations may result in licensing payments or revenue-sharing contracts, which would add to the platform's income.
Consulting and Support Services: Some NFT generator platforms provide consulting and support services to artists who need assistance understanding the platform's capabilities or maximizing the potential of their digital art. These services, which provide artists with personalized advice and knowledge, can be provided on an ad-hoc basis or as part of a premium support package. The platform may be able to create more income by charging for consultancy services.
Advertising and Sponsorship: As NFT generator platforms create a growing community of artists and collectors, they become appealing locations for targeted advertising and sponsorships. The platform encourages partnerships with companies who want to advertise their goods or services through advertising, sponsored content, or sections featuring certain artists. Advertising and sponsorship deals may help the platform make money while giving artists and companies visibility and possibilities.
NFT Generator Software Development's Future Prospects
NFT Generator Software Development Trends and Innovations
New trends and innovations are continually influencing the development of NFT generator software, which is influencing the future of digital art. One of the most recent developments is the incorporation of AI and machine learning algorithms into NFT generator software, which frequently enables more intricate and dynamic compositions. Additionally, the creation of apps for virtual reality (VR) and augmented reality (AR) in combination with NFTs has the potential to change how digital art is perceived.
Prospective Impacts on the Digital Art Industry
NFT Generator Software Development has the potential to make it easier for everyone to create and share digital art. It enables artists to demonstrate their abilities and establish direct contact with collectors all over the world by giving them accessible tools and venues. This change in the dynamics of the art market may put old models to the test and create new opportunities for creators and collectors to prosper online.
Conclusion
The crypto industry is now at a wonderful phase when everything can be turned into NFT artwork. In the world, digital art is also exploding. For decades, the NFT Generator Software Development's cross-chain interoperability has functioned as a stimulus for the art market. You will awaken in a whole new universe of Generated NFTs Art on just another day. Globally, digital artists are relocating in search of a single-roof solution. 
We frequently offer that! In just a few simple steps, WeAlwin is a leading NFT Development Company that can assist you in creating the NFT Art Marketplace Platform. Our knowledgeable workforce has seen this explosion of technological invention and they are technically well equipped. Any business, entrepreneur, or artist is welcome to get in connect with us and start their own NFT Marketplace Platform. For further information, get in touch with Our Blockchain experts right now!
Check out our page on NFT Development Company to get more information