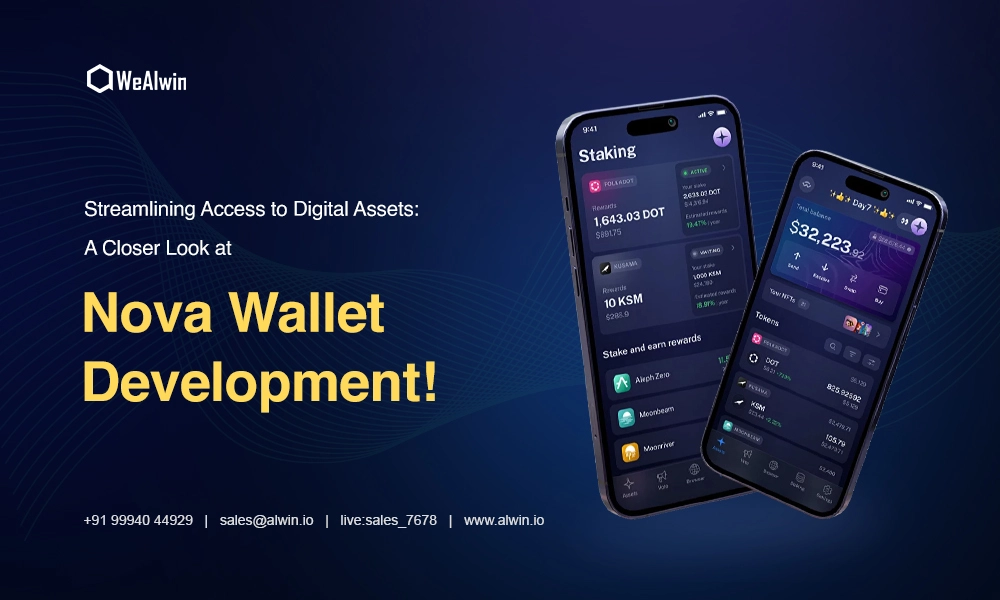 Are you afraid of safeguarding your digital currencies? 
The efficient management of digital assets has become paramount. With the surge in popularity of blockchain technology, the need to streamline access to these digital assets is more important than ever. 
In this article, we will show you the significance of simplifying access to digital assets and take a closer look at Nova Wallet's Development on various blockchain networks.
Introduction to the Importance of Streamlining Access to Digital Assets:
As our lives become increasingly connected with digital platforms, the range and complexity of our digital assets continue to expand. From cryptocurrencies and non-fungible tokens (NFTs) to various forms of digital identity, the management of these assets demands user-friendly solutions. 
Streamlining access to digital assets is not just a convenience, but a necessity in this digital age.
What is Nova Wallet Development?
The Next-Generation iOS/Android Software Nova Wallet offers the best mobile wallet experience for the Polkadot & Kusama ecosystem. 
Staking of assets including DOT, KSM, GLMR, MOVR, AZERO, PDEX, CAPS, TUR, and KMA, as well as supporting over 63 networks and assets, NFTs, significant DApp support (for both Substrate & EVM), and governance. 
Funding for the Community-focused software Nova Wallet comes from the Kusama Treasury, which aims to give users of mobile devices a simple, quick, and secure wallet experience.
Features of Nova Wallet:
Nova Wallet boasts an array of features designed to enhance the user experience. Some noteworthy features include:
1. Multi-Blockchain Support:
Nova Wallet supports various blockchain networks, allowing users to manage different types of digital assets in one place. This eliminates the need to switch between different wallets for each blockchain.
2. Intuitive User Interface:
The user-friendly interface of Nova Wallet caters to both newcomers and experienced users. Its intuitive design makes it easy to navigate through various features and functionalities.
3. Secure Storage:
Security is a top priority for Nova Wallet. It employs advanced encryption techniques to safeguard users' private keys and sensitive information, ensuring the safety of their digital assets.
4. Seamless Transactions:
Nova Wallet facilitates seamless transactions within its platform. Users can send, receive, and manage their digital assets without hassle.
Benefits of Using Nova Wallet for Managing Digital Assets:
The adoption of Nova Wallet brings forth several benefits for users:
Efficient Asset Management:
With Nova Wallet, users can effortlessly manage their diverse digital assets from a single interface. This streamlines the process and saves time.
Enhanced Accessibility:
Nova Wallet's compatibility with multiple blockchain networks ensures that users have access to a wide range of assets and applications.
Simplified User Experience:
The intuitive design of Nova Wallet caters to users of all levels of expertise, making it a user-friendly option for both beginners and advanced users.
Consult with our business experts to know more about Nova Wallet Development! Chat with us on WhatsApp
How to Develop the Nova Wallet?
Developing a NOVA Wallet involves creating a secure and user-friendly platform for users to manage their cryptocurrency assets. Here's a high-level overview of the steps involved in developing a NOVA Wallet:
Conceptualize the Wallet
Choose the Technology Stack
Security Architecture
Cryptocurrency Integration
User Interface (UI) and User Experience (UX)
Wallet Generation and Recovery
Transaction Management
Backup and Restoration
Real-time Updates
Testing and Quality Assurance
Launch and Deployment
Continuous Improvement
The Challenges Faced in Accessing Digital Assets Efficiently:
Despite the advancements in blockchain technologies and challenges associated with inefficient access to digital assets:
The Complexity of Blockchain Networks:
Different blockchain networks often require users to use specific wallets, resulting in fragmentation and a lack of cohesive user experience.
Security Concerns:
The security of digital assets remains a concern. At the same time, users need a solution that prioritizes safety without compromising accessibility.
A Closer Look at the User-Friendly Interface of Nova Wallet:
The user-friendly interface of Nova Wallet is one of its best qualities. Whether you're new to blockchain technology or an experienced user, the platform's design ensures a smooth and intuitive experience. 
The simplified navigation allows users to explore different features without feeling overwhelmed.
Exploring the Security Measures Implemented in Nova Wallet Development:
Security is the foundation of Nova Wallet's Development. It employs robust encryption and secure key management practices to ensure that users' private keys and sensitive data are protected from potential threats. This focus on security establishes Nova Wallet as a reliable option for managing digital assets.
Future Developments and Updates Planned for Nova Wallet:
As the blockchain landscape continues to evolve, Nova Wallet is dedicated to continuing to lead the way in innovation. The development team is actively working on introducing new features and improvements to enhance the platform's functionality and security.
Conclusion:
When it comes to handling digital assets, Nova Wallet shines as a solution that addresses the challenges of accessibility and security. Its multi-blockchain support, user-friendly interface, and emphasis on security make it a compelling choice for users seeking a streamlined approach to managing their digital assets. As Nova Wallet continues to evolve, it promises to play a significant role in shaping the future of digital asset management. WeAlwin Technologies is one of the leading Cryptocurrency Wallet Development Company, that provides you with step-by-step technical assistance to build your own Nova wallet.
Introducing the era of secure, convenient digital transactions!!
Want to develop your own Crypto Wallet?