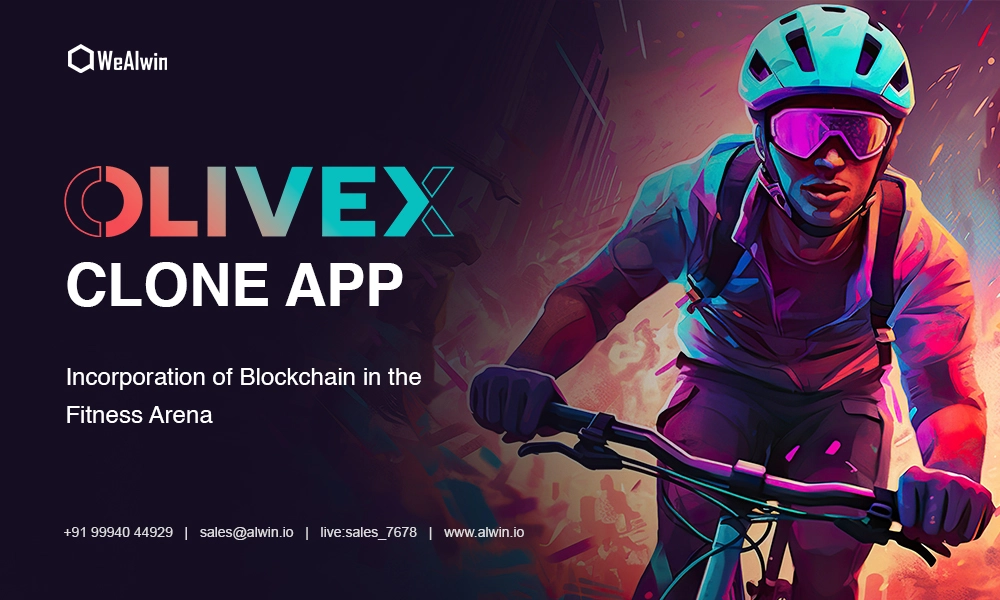 Amidst all the promising M2E platforms and applications, our spotlight is on the OliveX Clone App, a fascinating digital solution that parallels its predecessor while carving out a distinct identity of its own.
Set aside the buzzwords, and let's get down to the nitty-gritty. We're here to unwrap the inner workings of the OliveX Clone App. Get ready to uncover its unique features, mechanics, and seamless fusion of blockchain technology. In this article, we'll peel back the layers, exploring the core attributes and the technical finesse that powers the OliveX Clone App.
What is OliveX?
OliveX is a Move-to-Earn (M2E) app that motivates users to stay active and reach their fitness goals. This app rewards users with cryptocurrency or other tokens for being active. When users complete fitness challenges or activities in these apps, they earn DOSE tokens. OliveX is an NFT game too.
 In the case of OliveX, the NFTs are used to represent in-game items, such as shoes, clothing, and accessories. These NFTs can be bought, sold, and traded on NFT marketplaces.The app uses blockchain technology to track fitness data and rewards. This ensures that rewards are secure and transparent, and it also allows users to own their fitness data. 
What is the OliveX Clone App? 
An OliveX Clone App is a copy of the OliveX fitness metaverse platform. It is a new platform that uses the same gamification and blockchain technology as OliveX, but would have its own unique features and branding.The OliveX Clone App is a viable option for businesses of all sizes. It is a scalable platform that can be customized to meet the specific needs of each business. The OliveX Clone App is also a secure and reliable platform that is backed by the latest blockchain technology. 
Features of the OliveX Clone Script
Gamification: The OliveX Clone App uses gamification mechanics to make fitness more fun and engaging. Users can earn rewards for completing fitness challenges, such as running a certain distance or doing a certain number of squats. These rewards can be in the form of in-game items, such as new avatars or equipment, or they can be in the form of cryptocurrency, such as DOSE tokens.
Social features

The OliveX Clone App includes social features that allow users to connect with friends and family, compete against each other, and share their fitness progress. 
Virtual reality integration

The OliveX Clone App can be integrated with virtual reality (VR) technology. This allows users to experience different fitness environments, such as running through a forest or swimming in the ocean. 
Dashboard
The dashboard is the main screen of the app and it provides users with a summary of their fitness data and it  also displays the user's goals and progress towards those goals.
Goals
Users can set goals for themselves, such as losing weight, running a marathon, or simply getting more active. The app can help users track their progress towards their goals and provide them with motivation to stay on track.
Movement Tracking
The app tracks the user's movement using a variety of sensors, such as the accelerometer, gyroscope, and GPS. This data is used to calculate the user's steps taken, distance traveled, calories burned, and other fitness metrics.
Social Media Integration
The app can be integrated with social media platforms, such as Facebook and Twitter. This allows users to share their fitness data with their friends and family. It can also help users to stay motivated by seeing how their friends are doing.
Smart Watch Integration 
This feature allows users to track their fitness progress in real time and earn rewards for their activities. The data from the smartwatch is synced with the app, which allows users to see their progress and see how they are doing compared to their goals. The rewards can be used to purchase in-game items or to upgrade their avatar.
Consult with our business experts to develop an NFT M2E game app like OliveX! Chat with us on WhatsApp
The Workflow of the Clone App 
The user can download the app from either the App Store or Google Play.
The user creates an account and enters their basic information, such as their name, email address, and password.
The user allows the app to access their fitness data. This can be done by connecting the app to a fitness tracker or by using the app's built-in sensors.
The app starts tracking the user's fitness data. This data includes the user's steps taken, distance traveled, calories burned, and other metrics.
The app rewards the user for completing challenges or reaching fitness goals. These challenges can be as simple as walking a certain number of steps or as complex as running a marathon
The user can use the rewards to purchase in-app items, such as new avatars or equipment. They can also use the rewards to purchase cryptocurrency.
The user can share their fitness data and progress with friends and family on social media. This can help to motivate the user to stay active and reach their fitness goals.
How Does the OliveX Clone App Gear Up Your Business?
Increased engagement

Gamification is a proven way to increase engagement, and the OliveX Clone App takes this to the next level by rewarding users with tokens for completing workouts. This gives users a sense of accomplishment and motivation, and it can help them to stick with their fitness goals.
Attraction of new users

It's a unique and innovative fitness app, and it can help you to attract new users to your business. People are always looking for new ways to stay fit and healthy, and the OliveX Clone App offers a fun and rewarding way to do it.
Improved brand image

The App is associated with cutting-edge technology and innovation, and it can help improve your brand image. By being associated with this app, you can show potential customers that you are a forward-thinking company that is committed to providing the best possible fitness experience.
Increased revenue

It uses a play-to-earn model, which means that users can earn tokens by completing workouts. These tokens can then be used to purchase in-app items or redeemed for real-world rewards. 
Why WeAlwin is the Ideal Pick for the OliveX Clone App?
We are a leading NFT Gaming Platform Development company with years of experience in developing and launching successful NFT game apps. We have an adept  team of developers who are pro in creating top-tier gamified fitness apps.
When you choose us to develop your OliveX Clone App, you can be confident that you are getting the best possible service. We will work with you to understand your needs and goals, and we will develop an app that meets your specific requirements. We will also work with you to launch your app successfully and to promote it to your target audience.
Check out our page on NFT Gaming Platform Development