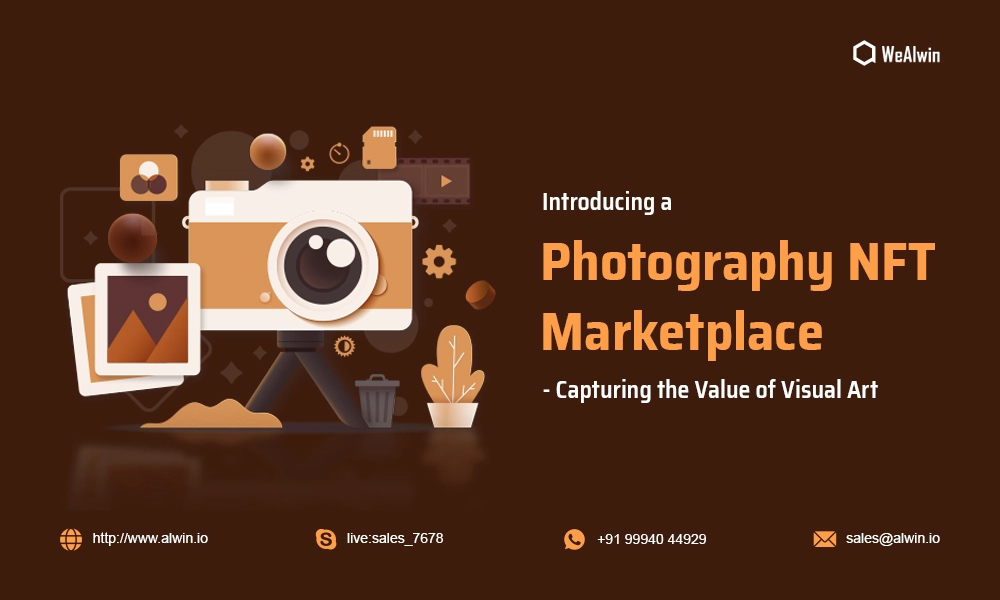 Are you a photographer interested in learning more about the ever-expanding NFT marketplace?
The marketplace for NFT photography is rapidly expanding and is destined to explode shortly.
First of all, you have to know what is NFT photography marketplace is,
What is NFT Photography Marketplace?
Non-fungible tokens (NFTs) are currently on a mission to permanently alter the present scenario, and the photography business is no exception. NFT photographs can be both moving and static images of people, animals, places, things, events, and the natural environment. The benefits of using photography as an NFT are clear: it establishes ownership, encourages uniqueness, and pays creators.  
In the form of NFTs, Photographers may showcase their pictures and digital art, sell them and trade them as NFTs on the platform, Photography NFT marketplace. NFTs offer a distinct digital ownership experience by utilizing blockchain technology, which secures the scarcity, authenticity, and traceability of the artwork.
NFT photographers may upload their photographs to a marketplace for NFT photography and subsequently sell them on the blockchain. On the other hand, after they have acquired and saved photographic NFTs in an online gallery, investors and collectors may own and keep them. They may even resell them in the future and benefit from them.  
Stock photography and NFT photography are quite similar. The fundamental distinction is that both NFT investors and producers may profit from the cryptocurrency exchange market.  Photographers may earn a lot of money using NFTs.
Consult with our business experts to develop your Photography NFT Marketplace! Chat with us on WhatsApp
How can photographers take advantage of the NFT Marketplace?
Celebrities such as Eminem, Paris Hilton, Snoop Dogg, and Naomi Osaka have acquired pieces of art for millions of dollars on the NFT market. However, the market also sells well-known brands like Gucci, Burberry, Dolce & Gabbana, and Nike. 
In 2021, the NFT photography sector produced over $23 billion, up from less than $100 million the previous year. The NFT photography marketplace is a thriving industry and one of the best ways for photographers to make a living by selling their work online. 
Throughout this process, photographers have several options and potential solutions. 
Photographers are permitted to seek out curated marketplaces, which assure that their work will be presented with other exceptional images rather than being one of many on an open market. 
NFT photographers may sell their work as limited-edition prints, unique prints, or unlimited-edition pieces. 
As part of the NFT transaction, they can opt to apply copyright rules to the image, which adds value to the buyer because they would be the exclusive proprietors. 
Photographers can choose to change the price to one that better suits their goals or accept the standard 10% royalty that they will get from any subsequent sales of their NFT photographs. 
How can I sell Digital Art or Photography as NFT?
It is simple to submit and sell your images on a photographic marketplace among other NFT photographers. Even though the technique differs somewhat between various platforms, the concept and basic functioning remain the same. 
To begin, connect your Bitcoin wallet to the NFT marketplace and get ready to sell your digital artworks and limited-edition photographs. Since cryptocurrencies are essential to the NFT market, all NFT transactions must be created, sold, and processed using them.  
Second, you must create an object. The only challenging aspect of the process is filling out all of the essential information. The cost, a description of the images NFTs, your full name, the user name, external links if desired, and more. 
One fascinating aspect is that several websites in the photography NFT marketplace allow for free lazy minting of your artwork. In essence, you make your NFT images for free and then sell them to offset your gas expenses. 
You may be interested in learning how to create an NFT and be paid for it. If you no longer want your NFT to be advertised on the NFT marketplace, just discontinue it. However, you must pay for petrol while using the Burn approach. Minting Non-Fungible Tokens is a straightforward function that you may rapidly become accustomed to after the initial encounter. 
Best NFT Marketplaces for Photography to Sell Photos
While there are several Photography NFT Marketplaces, here are a couple to consider for photographers:
OpenSea: Authors may submit their NFT photos on OpenSea for free and only be paid when people buy them.
Rarible: Rarible is an open marketplace where photographers may make, sell, and collect non-traditional photographs (NFTs). It has customizable features and a decentralized approach.
SuperRare: SuperRare is a curated marketplace noted for its high-quality digital art and photography. It provides limited editions, artist royalties, and a community-driven experience.
Foundation: The Foundation provides financial assistance to aspiring artists and photographers. It has a selective curation process, bidding systems, and a robust creative community.
Why Did You Pick WeAlwin for Your Photography NFT Marketplace Development?
As picture copyright became more contentious as the world became digital, and original proprietors received little to no credit, the NFT marketplace for photography needed to solve the situation. 
The NFT marketplaces indicated above might be interesting possibilities to examine because they are integrated into blockchains, ensuring transparency and authenticity.  However, if you are seeking the greatest online markets to purchase, sell, and invest in digital artwork on your own, contact WeAlwin right now to obtain the best guidance and outstanding assistance from their dedicated professionals. they offered and delivered successful NFT Marketplace development services to their worldwide clients.  
NFT photography is here to stay, and it will undoubtedly define photography's future!
Check out our page on NFT Marketplace Development Company