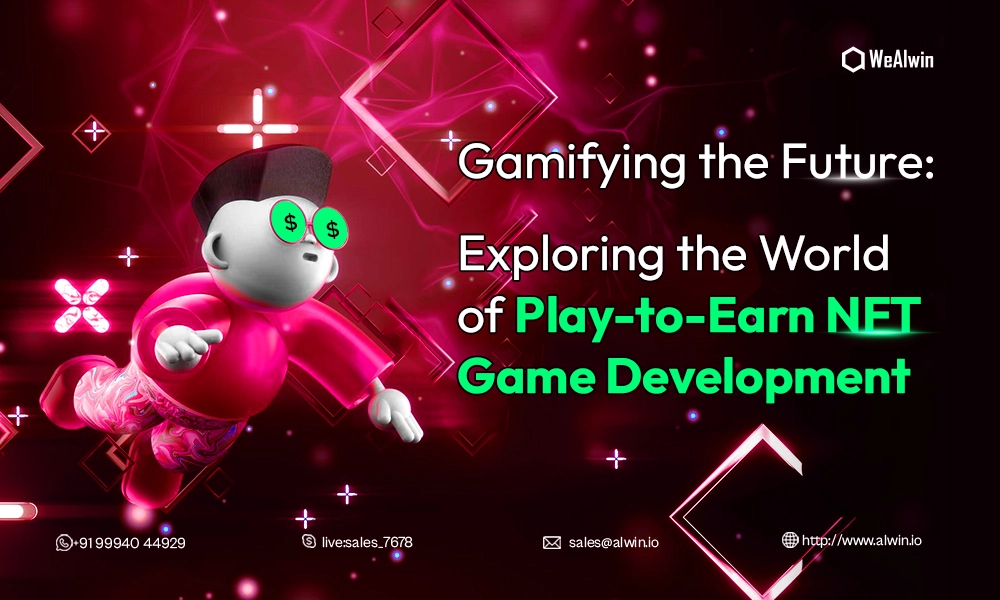 Use the fully-functional P2E NFT game creation services to leave your imprint on the lucrative play-to-earn NFT gaming sector. In this blog article, we will dig into the enthralling arena of P2E games, examining their concept, our skilled P2E development services, the numerous types of P2E NFT gaming platforms we provide, and the unique characteristics that set them apart from the rest. Wealwin Technologies' goal is to empower you as a Leading NFT Gaming platform by directing you along a route that will lead to unheard-of success and rewards.
Play-to-earn Game Development Company
Expertised Play to Earn Game Development Company, WeAlwin offers exciting P2E Game Development Process solutions. NFT representing Play to Earn games would be the best option for you as a gaming business owner to boost your earnings. As NFT representation of games reaches its height in the current gaming landscape, this is the ideal moment to enter the blockchain gaming industry. We provided amazing Play to Earn game creation services, including clone development.
What is Play-to-earn Game?
Play-to-earn games, commonly known as P2E games, are a pioneering union of gaming and blockchain technology. These games allow players to earn real-world value through their in-game achievements and actions. By utilizing non-fungible tokens (NFTs), players may trade, sell, or deploy their digital assets both within and outside of the game environment, transforming their gaming skills into a profitable endeavor.
Our P2E Game Development Services
Wealwin Technologies is passionate about using P2E game development to revolutionize the gaming industry. We provide a wide range of services to help you realize your creative visions and design fascinating gaming environments. Our services to develop P2E games include:
Conceptualization & build: Our skilled team of game developers works with you to brainstorm and build innovative and interesting P2E game concepts that are geared to capture and delight NFT gamers.
Development of Smart Contracts: We create reliable and secure smart contracts that ensure fair rewards distribution, transparent gameplay, and smooth integration of NFTs into the gaming environment.
Blockchain Integration: Using the power of blockchain technology, we connect your P2E game with an appropriate blockchain platform, providing safe asset ownership, decentralized trading, and provable scarcity of in-game objects.
Game Development and Testing: Our professional game developers use cutting-edge technology and tools to create fascinating P2E games that are optimized for a flawless user experience. An immersive and bug-free gaming experience is guaranteed through thorough testing.
Tokenomics and Economy Design: We help you create a well-balanced in-game economy by creating tokenomics that encourage player engagement, tactical thinking, and skill development. This improves the play-to-earn component of your game.
Consult with our business experts to Build your own Play-to-earn NFT Game Marketplace! Chat with us on WhatsApp
Different types of Play-to-earn NFT Game platforms we offer
We believe that diversity is essential when it comes to catering to the specific interests of NFT gamers. As a result, we provide many P2E NFT gaming platforms, each with its unique set of gameplay features and concepts. Our range of P2E NFT gaming platforms consists of:
Fantasy RPG P2E Games: In our fantasy RPG P2E games, you may engage on epic expeditions, battle fearsome creatures, and discover treasures. Build your character, obtain rare NFTs, and win real-world benefits as you conquer new regions.
Strategy P2E Games: In our strategy P2E games, you may strategize, compete, and conquer. Lead armies, forge alliances and make tactical decisions to outsmart opponents and win crucial rewards.
Sports P2E Games: Immerse yourself in the exciting world of virtual sports with our sports P2E games. Show off your abilities, take part in competitions, and receive recognition and honors for your accomplishments.
P2E Simulation Games: Play our P2E simulation games to discover the rewards and difficulties of running virtual environments. Build, exchange, and monetize your inventions to see your efforts translate into real-world value.
Features of P2E NFT Game Platform Development
Our P2E NFT game platforms are thoroughly developed and tailored to provide NFT gamers with outstanding gaming experiences. You may anticipate the following crucial aspects from the development of our P2E NFT gaming platform:
Seamless NFT Integration: Engage your thoughts in a universe where in-game assets are represented as NFTs, allowing for ownership, trade, and verifiable scarcity. Each object has a special worth that may be profited from outside the game's environment.
Multiplayer Functionality: Through multiplayer functionality, you may interact with a lively community of gamers. Create a dynamic and social gaming environment by competing, working together, and trading with other players.
Reward systems: Our P2E NFT gaming platforms use strong reward systems to ensure that your efforts and successes are recognized and rewarded. The possibilities for earning range from uncommon NFT drops to in-game currency.
Decentralized Marketplace: Our decentralized marketplace offers you an opportunity to buy, sell, and trade NFTs while also enabling the possibility for the growth of real-world value. Learn about an economic boom where supply and demand determine market conditions.
Secure and transparent: Our P2E NFT game platforms, which are based on blockchain technology, create a safe and transparent environment for gamers. Smart contracts that are trustworthy and have auditable transactions assure fairness and eliminate fraud.
How much does creating a P2E NFT game cost?
The price to develop a P2E NFT game relies on a number of variables, such as the complexity of the game, the features that players want, and the level of customization needed. Wealwin Technologies provides customizable price options customized to your unique requirements. Contact us and we'll offer you an entire cost estimate depending on your game development needs.
Benefits of our P2E Game development
For NFT players, selecting us as their P2E game development partner has a number of benefits:
Knowledge and experience: Our team consists of skilled professionals with substantial experience in game creation and blockchain technologies. We have a thorough grasp of P2E dynamics, which enables us to design outstanding gaming experiences for you.
Customized Solutions: We are aware of the particular needs of NFT gamers. We work together with you to make sure that our P2E game development services are customized to your vision and compatible with the preferences of your target audience.
Cutting-Edge Technology: To create excellent P2E games, we make use of cutting-edge tools and technology. Our dedication to remaining at the forefront of innovation ensures that your gaming experience is both seamless and fascinating.
Exceptional Support: Our commitment to client satisfaction extends beyond the development process. We offer complete support, ensuring that your P2E game works well and that you receive timely assistance when needed.
What makes our Wealwin technologies the best choice for your P2E game development?
Choosing a reputable NFT game development company is critical to the success of your P2E game. Here are some of the reasons why Wealwin Technologies is the ideal choice:
Our portfolio proves our expertise and skill in creating immersive gaming experiences.
We take a comprehensive approach to P2E game development, ensuring that every component, from idea to deployment, is thoroughly designed. We stand out because of our focus on accuracy and dedication to quality.
Our top goal is your satisfaction. We believe in building solid client connections and keeping lines of communication open throughout the development process. Your suggestions and goals serve as our compass.
We remain up on the most recent developments and breakthroughs in the gaming and blockchain sectors. Our comprehensive market experience enables us to offer insightful analysis and practical solutions for your P2E game.
Finally, The world of play-to-earn NFT game creation has enormous possibilities for you as NFT Gaming platform owners. We encourage you to go on an exceptional gaming and earning adventure with our skilled P2E game creation services, numerous P2E NFT game platforms, and persistent effort to excellence. Let us work together to change the future of gaming by embracing the potential of play-to-earn NFT games.
Check out our page on NFT Gaming Platform Development
Join us right away to open up a world of countless opportunities in the NFT Gaming industry!