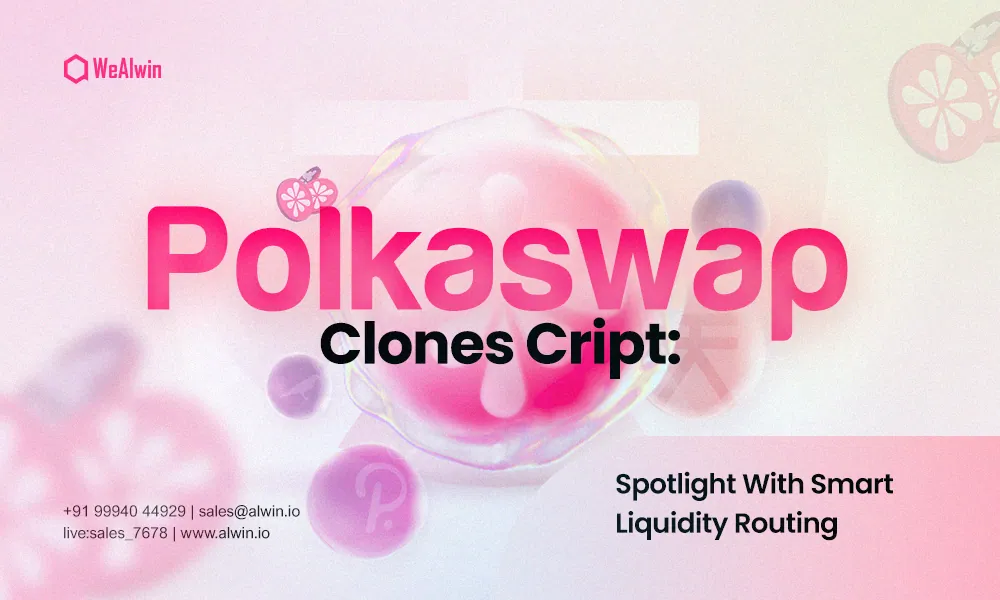 Hey Blockchain enthusiast,
In the greater cryptocurrency world, decentralized exchange is a necessary solution in the crypto field.
And it also emerged as a booming startup proposal in the blockchain world. 
Among these, Polkaswap has taken the spotlight as a cutting-edge decentralized exchange platform, and today we delve into the intricacies of the Polkaswap clone script. 
This comprehensive guide will not only introduce you to Polkaswap but also provide a detailed understanding of its functionalities, features, and the innovative Wealwin's Polkaswap clone that has been making waves in the industry. 
So, fasten your seatbelts as we embark on a journey through the world of decentralized finance!
Polkaswap Clone Script
PolkaSwap clone script is designed to foster seamless and secure token swapping, liquidity provision, and yield farming for users across the globe. With its unique architecture and emphasis on interoperability, the Polkaswap clone script stands as a beacon of innovation, reshaping the way we engage with digital assets.
Consult with our business experts to Build your own DEX Clone! Chat with us on WhatsApp
Exploring Polkaswap's Stellar Features
Token Exchange
On our PolkaSwap platform, users of our exchange can quickly exchange SORA tokens (XOR) with a variety of digital tokens. By employing Asset ID, one can select a cryptocurrency asset with great precision and switch tokens to various blockchains.
Rewards
Traders can profit from their investments of money. Liquidity providers receive PSWAP tokens as payment. A VAL token is given as compensation to validators and proposers.
Low Gas Fee
The Polkadot blockchain, which is based on DEX, is where transactions are eventually completed, making them quick and efficient with little gas cost.
PolkaSwap Pool 
The Liquidity Aggregation Algorithm enables quick and seamless trade execution.
Smart Liquidity Routing
For traders to profit successfully, Smart Liquidity Routing automatically selects the desired pool.
PolkaSwap's Overview
At the heart of the burgeoning decentralized finance (DeFi) movement lies Polkaswap, a game-changing decentralized exchange.
PolkaSwap is a decentralized exchange that uses AMM (Automated Market Maker) DEX with a cross-chain which extends its level of service into the non-custody Liquidity aggregate. 
PolkaSwap is based on the PolkaDot Ecosystem and operates in the SORA network. In line with current crypto trends, PolkaSwap's bridging property enables it to link up different chains and process assets from those chains.
What is SORA?
SORA is based on Substrate, a fundamental framework for building decentralized applications and cryptocurrencies that is declared to be far more efficient than Ethereum. It is a network with built-in Defi tools for the Polkadot Chain and other blockchains.
How Polkaswap Works: Breaking Down the Mechanics
Polkaswap operates on an automated market maker (AMM) model, eliminating the need for traditional order books and enabling users to trade directly against liquidity pools. This ensures continuous liquidity and reduces the likelihood of market manipulation. The platform employs a weighted pool mechanism, where the price of a token adjusts according to its supply and demand. Explore it through the step-by-step process below
Traders with Exchange are allowed to buy and sell cryptoassets.
Staking, pooling, and other activities require users to use Defi Wallet.
Utilizing XOR tokens, liquidity is offered by liquidity providers.
VAL tokens are given as compensation to the liquidity providers.
Now, users can take part in token swaps.
Users of the cross-chain network can exchange tokens with those of other blockchain networks.
The kind of asset, time period, active nominators, etc., all have a significant impact on the stacking returns.
Components of PolkaSwap Clone Script 
Any DAO or AMM's capacity to describe a fundamental collection of crucial components will appropriately characterize PolkaSwap Clone Script. Our PolkaSwap clone script has the following elements:
ETH and BTC compatible 
Sequential upgrades 
Proof-of-stake 
On-chain DApp service 
Parachain implementation
Multichain 
compliance
Multipoint authentication
DAO provisions 
Multitoken ecosystem
Check out our page on DeFi Development
The ingenuity of WeAlwin's Polkaswap Clone
The Polkaswap clone script holds immense potential for driving innovation and growth in the DeFi Development sector. Its adaptability and feature-rich architecture make it an ideal choice for aspiring entrepreneurs and businesses keen on venturing into the decentralized exchange space.
WeAlwin's Polkaswap clone emerges as a powerful contender. Leveraging the robustness of the original Polkaswap, Wealwin has customized the clone script to offer a white-label solution for entrepreneurs and businesses aiming to launch their decentralized exchanges. This clone script encapsulates the core features of Polkaswap while allowing customization to meet specific business requirements.