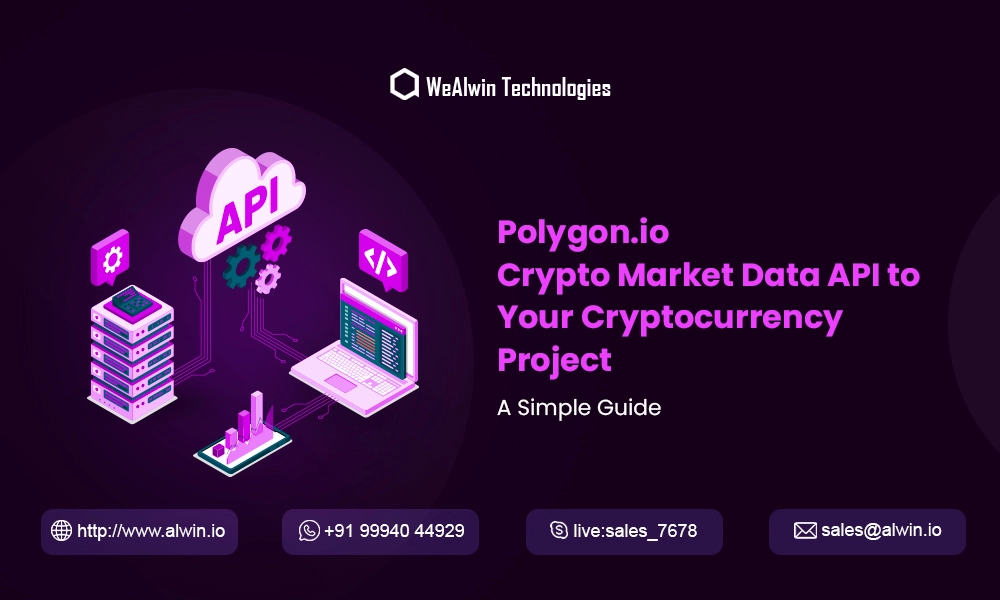 What will come to mind when we suddenly think of cryptocurrency other than that it's the future of all currencies?
It's "CRYPTO TRADING".
Right?
Whether you're a crypto enthusiast and planning for a business or a business person who owns or is going to establish a crypto exchange, you should be aware of streaming real-time crypto market data.
Yes.
This is where Polygon.io assists every business owner with its new and advanced crypto market data API, today.
Let's discuss it further in detail.
What Is Polygon.io Crypto Market Data API?
Polygon.io is a leading market data platform that provides low-latency crypto market data for exchanges. Its REST endpoints allow users to query the latest market conditions of your region's crypto exchanges. They can find a cryptocurrency's scope; its complete details, white paper, corporate actions, aim, and so on.
The REST APIs are based on entitlements that control which end-points the users can use and what kind of data they can access. With this, they are free to access data references and in-depth reports on the day's market.
Why Polygon.io Crypto Market API?
When using Market APIs usually these challenges are often faced by all, in the crypto market square👇.
Data Accuracy And Reliability
It is important to ensure that the data provided by the API is accurate and reliable, as it can have significant impacts on investment decisions.
Security
Cryptocurrency market data APIs often handle sensitive financial information, so it is important to ensure that the API is secure and that user data is protected.
Integration
The API must be easy to integrate with the user's existing systems and workflow.
Scalability
As the cryptocurrency market is highly volatile, the API must be able to handle large volumes of data and traffic without downtime or latency.
Cost
The cost of using a cryptocurrency market data API can vary significantly, so it is important to carefully consider the costs and benefits before committing to a particular service.
Legal and Regulatory Compliance
Depending on the jurisdiction, there may be legal and regulatory requirements that must be taken into account when using a cryptocurrency market data API.
Following these, utilizing Polygon.io crypto market API for your project provides effective solutions for all the concerns. So it is worth choosing Polygon.io crypto API for your business compared to any others.
What Are the Features of Polygon.io Crypto Market Data API?
It's a fact that Polygon.io provides excellent quality data for crypto exchanges through a modern API. Subsequently, let's discuss its features in the following.
Real-time & Historical Data
Polygon.io's crypto data API comes with a tick-by-tick feature. With that, the users can review each and every trade and quote happening in your business platform's region, in real-time. In addition, they can be accessed with trillions of rows of historical tick data instantly with the powerful crypto API.
Low-Latency Market Data
The crypto market data API offers low-latency real-time data with a mean latency of 20ms. The orders of magnitude are so speedy compared to other service providers out there.
Unlimited Use of API
The API creates limitless access to data for users' wellness. There are no maximum queries per minute or daily limits for calls. It increases their engagement with your crypto exchange platform with more comfort.
Transparency in Pricing
Polygon.io crypto data API enables the users to get the data directly from the source and assists them in what they want to pay without wasting their time and money by depending on sales or middlemen.
Level2 Book
By integrating the Polygon.io - crypto data API, you can smartly combine the level-2 book into a single, uniform order book. So the users' reviewing a book of the entire market within your exchange is really easy.
Benefits of the Crypto Data API from Polygon.io
Polygon.io's crypto market data API provides a number of significant benefits. They are as mentioned below.
Crypto API
Crypto trades
Daily market open/close
Snapshot of gainers and losers
Ticker snapshot
Ticker full book (Level2) snapshot
All tickers' snapshot
Last trade for a crypto pair
Aggregate bars
Grouped daily bars
Our Polygon.io Crypto Data API Integration Service
The crypto market data of polygon.io features real-time access to every crypto trade, quote, and custom aggregate bar via REST API. It's an industry-leading tech to the crypto market. The innovative API also incorporates open interest, greeks, and historical contracts.
If you want to build a crypto exchange — want to integrate this enhanced Polygon.io crypto market data API into your platform, then we can effectively assist you with our expert in-house developers.
WeAlwin Technologies: We're in the field of blockchain development for more than 5 years. We have the strongest experience working on 300+ crypto exchange projects for our happy clients around the world.
Following up, your Polygon.io crypto data API integration for the exchange business with us would be so efficient and profitable.
Conclusion
As from what we explained in this blog post, Polygon is on a mission to make financial market data accessibility easy for everyone in the crypto industry. It overcomes the challenge of data access rules in the crypto exchange market.
If you're planning to integrate the API into your existing crypto exchange or want to build a new exchange platform with the Polygon.io crypto market data API, we can assist you forcefully.
You can contact our experts for further details.
Book your free live demo now!!!
Hope you found it informative.