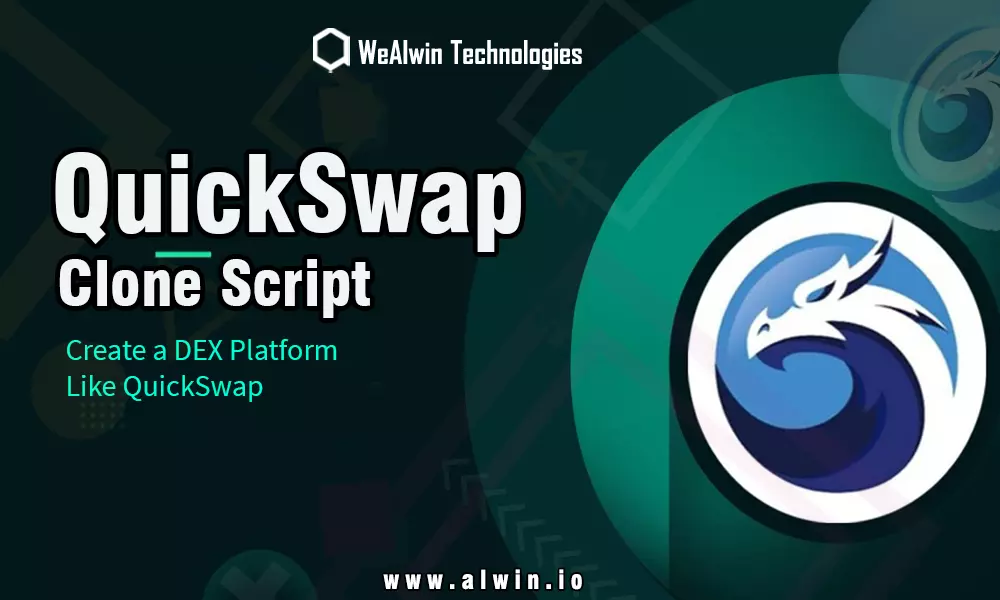 Build your DEX platform like QuickSwap with the QuickSwap clone script that acquires all the essential features and plugins of the original QuickSwap platform from us, We also develop Defi exchange scripts like Pancakeswap, Uniswap, Bakeryswap, sushiswap, justswap, Julswap, etc…
In the modern era, Defi users are increasing at a rapid phase because of its lucrative business model. So many investors have started to invest on the Defi exchange like Quickswap and earn more profit.
 If you are also among those interested in starting the DEX platform, the best option to choose a notable Defi exchange platform is Quickswap, Let us discuss deeper into this useful article.
QuickSwap Clone Script
QuickSwap clone script is an already well-developed and designed software script that helps you to create the next generation's decentralized exchange based on the ethereum blockchain powered by layer 2 scalability infrastructure of the Polygon (Matic) network. This QuickSwap clone script acquires all the specialized features of the original QuickSwap platform. 
Using this QuickSwap clone a decentralized P2P exchange can create for the purpose of trading ERC-20 tokens at a speedy transaction and a very low gas fee of nearly zero. If you wish to create a cost-effective and quicker decentralized exchange effortlessly, the QuickSwap clone script is an ideal solution. 
Working procedure of QuickSwap Platform:
QuickSwap is an AMM(automated market making) protocol running on the implemented system of smart contracts on the Ethereum blockchain. It eliminates the necessity for trusted middlemen, importance giving to decentralization, censorship resistance, and security.  
In QuickSwap exchange, smart contracts help swap the automated tokens which do not involve a person to carry out the transaction. We will see in the step-by-step procedure how the QuickSwap platform works in a user-friendly manner
QuickSwap is helpful for exchanging QUICK tokens on a polygon network. It similarly supports wrapped tokens like WETH(Wrapped ETH), WBTC(Wrapped BTC), and stablecoins such as USDC and DAI which are similar to the US dollar currency and others.
In QuickSwap, if you want to buy or sell tokens or cryptos using metamask, then they must be sent to QuickSwap's smart contract for automatic token swapping.
And then the smart contract selects the tokens you want to buy or sell from the trader.
Assuming the trader wants to buy a token means, the token will automatically be sent to their wallet.
In this place, a transaction happen means the most important thing is liquidity.
It is there no liquidity, then it indicates "Insufficient Liquidity for this trade".
Why use Polygon (Matic) Blockchain?
The Polygon (Matic) network is the finest solution for the scalability issues which are faced on the Ethereum Blockchain. The important aim of this platform is to increase the scalability using proof of Stake sidechains and it is considered that once the scalability problems are determined, the transaction fees will obtain lesser with quicker approvals and many other added benefits.
Additional resolution scalability issues, the Polygon (Matic) network targets to increase usability without loss of the benefits of decentralization. They are also trying to embrace enhanced DApp functionality and enhanced user experience with the assistance of the existing developer community.
Nowadays, there will be mass adoption of DApps by traders, and in order to handle it, the Polygon (Matic) network is allowing its user interface with features that are highly accessible and good-looking. Partially, the traders of the Polygon (Matic) blockchain take their transactions confirmed within a second, at the affordable cost of $0.000002 USD which means 480000x times smaller compared with the cost of the Ethereum mainchain. These are the reasons why use Polygon (Matic) blockchain for your QuickSwap clone platform development.
Consult with our business experts to launch your QuickSwap Clone instantly! Chat with us on WhatsApp
Why create a DEX platform like QuickSwap?
QuickSwap is a DEX platform that is working with the help of the Polygon (Matic) network. The reason for initiating the QuickSwap clone on the Polygon (Matic) is to shorten the transaction fees. 
Usually, Ethereum has a greater gas fee so authorizing the QuickSwap function on Polygon (Matic) builds an easier trade for the traders at an affordable price. In addition to information, one of the important features of QuickSwap is that the QUICK token includes governance rights over the protocol.
Why choose the QuickSwap clone?
QuickSwap provides lightning speed at a convenient transaction cost. This famous AMM(Automated Market Maker) uses layer 2 scaling solutions to improve substantially with enormous network activity. In QuickSwap scaling solutions are developed for decreasing gas fees and As rewards, some additional incentives are provided to the liquidity providers. Using these incentives, the QUICK tokens are earned as revenue.
QuickSwap dex clone:
QuickSWap DEX clone script is an advanced DeFi exchange platform development solution. By using this, you can create your DEX that is so alluring to the existing Defi traders in the crypto space. It is prefabricated software with a complete customization option. Even though this QuickSwap clone has been already developed with all the efficient features, you can modify it according to your business requirements. The QuickSwap DEX clone will be more secure, profitable, and affordable for launching your Defi business.
Core Features of our QuickSwap clone software:
Our QuickSwap clone script acquires all the features that are missing factors in some other DEX platforms like transactions happening in high speed, transfer tokens, and zero transaction fees. 
Permissionless Listing:
In QuickSWap, the traders can list any ERC20 token by providing liquidity for make trading both of them. In this, there is no necessity to get permission from any other person or entity before listing a token.
Layer 2 Transactions:
The QuickSwap clone is backed by the Polygon (Matic) network which is a Plasma-supported Layer 2 Ethereum scalability solution. This permits the swapping of tokens to occur within this means token swaps can be terminated within a few seconds and with a small part of the gas fee compared to the Ethereum main chain.
Non-Custodial Trading:
Traders can trade their tokens on personal wallets dissimilar to other centralized exchanges. Also, there is no need to deposit tokens on the exchange platform before trading.
Tokens:
You can create a platform like QuickSwap that will be incentive-based by the liquidity pools and token distribution. This promotes the rise of a robust liquidity-providing community.
Yield farming:
The feature of swapping fee will be done for every transaction on the platform. The traders who offer liquidity to the platform will obtain a part of trading fees in shares to their liquidity pool stake.
Community Governance:
The tokens will be owned by this governance process. The token holders will be able to submit bids for modifications to the protocol and vote factors like the liquidity pools for mining and more.
Revenue streams of creating Decentralized exchanges like QuickSwap: 
According to the QuickSwap website, per day there are more than 100,000 transactions happened on the QuickSwap and the daily trading volume is $24 million.
The native token of QuickSwap is QUICK and traders can use it for voting on proposals concerning the platform or stake it to receive incentives in the form of transaction fees. Liquidity providers obtain a 0.25% trading fee proportional to their share of the pool.
Additionally, gather more information from CoinMarketCap.com which is mentioned below.
Market Cap - $19,207,688
24hr Trade Volume - $5,009,694
Max Supply - 1,000,000
Circulating Supply - 327,100.00 QUICK
How much does it cost to create a Defi exchange platform like QuickSwap?
Everyone who is looking to develop their own QuickSwap clone software would think about the development cost which is the main thing to be deemed. The cost of development is based on your best method. Developing from scratch needs a lot of time and the cost of development is a little high. Accordingly, QuickSwap clone solutions may cost around $5000 with its core features and may be changed when you customize your clone solution as per your business ideas.
Benefits acquired in our QuickSwap exchange clone script:
Using our immerse QuickSwap clone software for your new DEX development brings many benefits to your business like
Cost-Effective:
QuickSwap clone software advanced in all app features makes it quick to launch with cost-effective.
Impeccable app model:
This QuickSwap clone is a highly securely coded, completely tested, and trendy Defi exchange script model.
Very Secure:
QuickSwap clone script is highly secure and has multi-layer software protection.
Highly Scalable:
Compared with other DeFi exchange clone scripts, this is the most scalable software model.
Begin your lucrative Decentralized Finance platform like QuickSWap with WeAlwin Technologies
WeAlwin Technologies an elite professional DeFi Development Company can assist you to develop a Decentralized exchange on Polygon (Matic) blockchain easily. With the help of our QuickSwap clone script, you can easily launch a platform like QuickSwap.
Our expert team will assist you with blockchain solutions easily. We have more than 5 years of experience in blockchain development and we have successfully assisted many clients all over the world in developing their crypto-based business platforms.
Launch Your DEX platform like QuickSwap With WeAlwin Technologies.
Book your free live demo now!!!
Check out our blog on Defi Insurance Development Company for more valuable information
We also provide other popular Defi-based clone scripts like