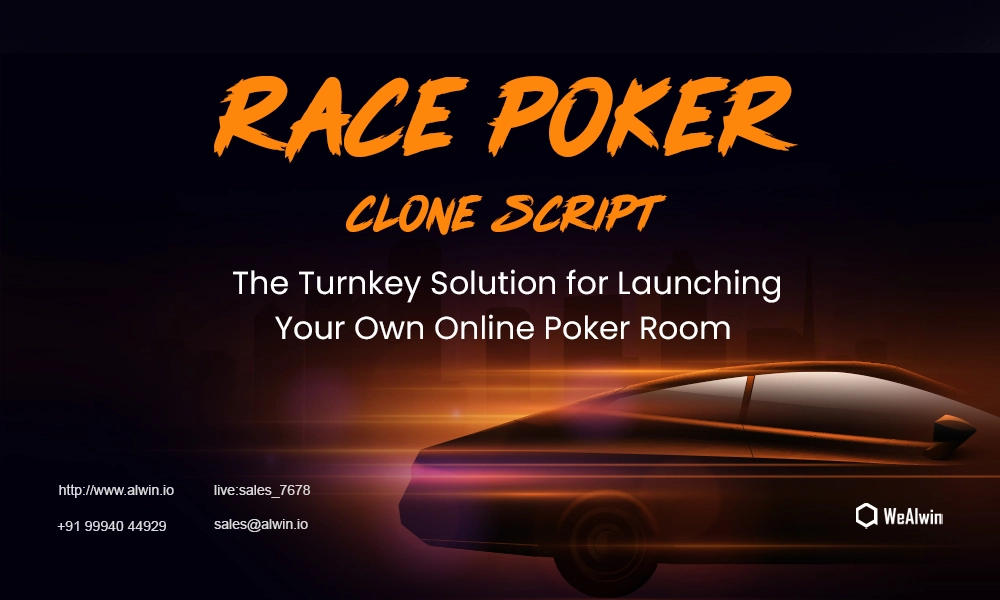 Do you dream of owning your own virtual casino but don't know where to begin? The Race Poker Clone Script is what you're looking for! This powerful solution can create a flourishing online gambling experience for your users that rivals even the biggest giants. 
So why wait? Get started today and see how fun running your digital casino empire can be!
What is Race Poker Clone Script?
So what exactly is a Race Poker Clone Script? It's a ready-made poker software solution that lets you launch your own real-money online poker site. This turnkey product has everything you need to get started, from the front-end website to the back-end management tools.
With Race Poker Clone Script, you get a fully customizable poker platform where players can enjoy popular games like Texas Hold'em, Omaha, and Open-Face Chinese Poker. The software supports options like cash games and tournaments in a secure environment.
The Benefits of Using Race Poker Clone Script
Using a ready-made script like Race Poker is the fastest way to launch your own online poker platform. Here are some of the major benefits:
Save time and money: Developing poker software from scratch requires a huge investment of resources. Race Poker Clone Script provides a complete turnkey solution to get your poker site up and running in just a few days. You'll have a fully functioning online poker platform ready to go without the hassle of development and testing.
Customizable and scalable: The script is highly flexible and can be tailored to your specific needs. You can easily change elements like graphics, layout, and features. The platform is also built to handle a large volume of players and transactions as your site grows.
Secure and reliable: Race Poker Clone Script is built on a robust platform with advanced security features like encrypted transactions, DDoS protection, and fraud detection systems to ensure a safe playing environment for your players. The script is also rigorously tested to provide a seamless experience.
Some of the main benefits of using this clone script:
It's a proven, ready-to-use product that can get your poker site up and running quickly. There's no need to build software from scratch.
It's highly scalable and can handle a large volume of players and transactions. The platform is built on robust, enterprise-level technology.
It offers a great experience for both recreational players and poker pros. Features include VIP programs, achievements, chat, and more.
It's fully compliant with industry regulations like KYC. The software incorporates fraud detection and anti-collusion measures to ensure fair play.
It provides a full set of management tools, so you can easily operate your poker site. Features allow you to monitor games, generate reports, manage promotions, and control all aspects of your business.
With so many benefits, Race Poker Clone Script is the smart choice for any entrepreneur looking to start their own online poker business. The ultimate solution will have you up and running in no time with a world-class poker product.
Consult with our business experts to get to know more about Race Poker Clone Script! Chat with us on WhatsApp
Features of Race Poker Clone Script
Betting on cryptocurrencies
Multiple games
A variety of tables are available for play
A unique animation
A video chat session
Club creation
Match booking

Staying up-to-date with the latest updates ensures your players have an optimal experience on your site. It also guarantees your poker site leverages the newest capabilities as the script continues to evolve. Updates keep your platform running smoothly and on the cutting edge.
How Can WeAlwin Help You Create a Race Poker Clone Script that's Hit the Market?
WeAlwin's Race Poker clone script is built on a robust, secure framework that can handle high volumes of traffic and transactions. You'll have peace of mind knowing your players' funds and personal details are safeguarded.
Player-Focused Features
WeAlwin aims to provide an engaging experience for players. Their script includes features like:
Seamless gameplay on desktop and mobile
Multi-table options 
Private and public chat rooms for social interaction
Detailed player statistics and rankings
Bonuses, promotions, and loyalty programs to reward players
With WeAlwin's Race Poker clone script solution, launching your own online poker site has never been easier. Our team of professionals will guide you through the entire process, so you can get up and running quickly. Offer your players a world-class experience, and watch as your poker room takes off!
In Closing,
So now you know how to get your own online poker room up and running in no time at all. If making money from the massive online poker market sounds appealing, stop dreaming about it and start doing it. Get your Race Poker clone script today and become the next big name in online poker. The players are waiting!
Reach out to us today to learn more about our Crypto casino game development services.