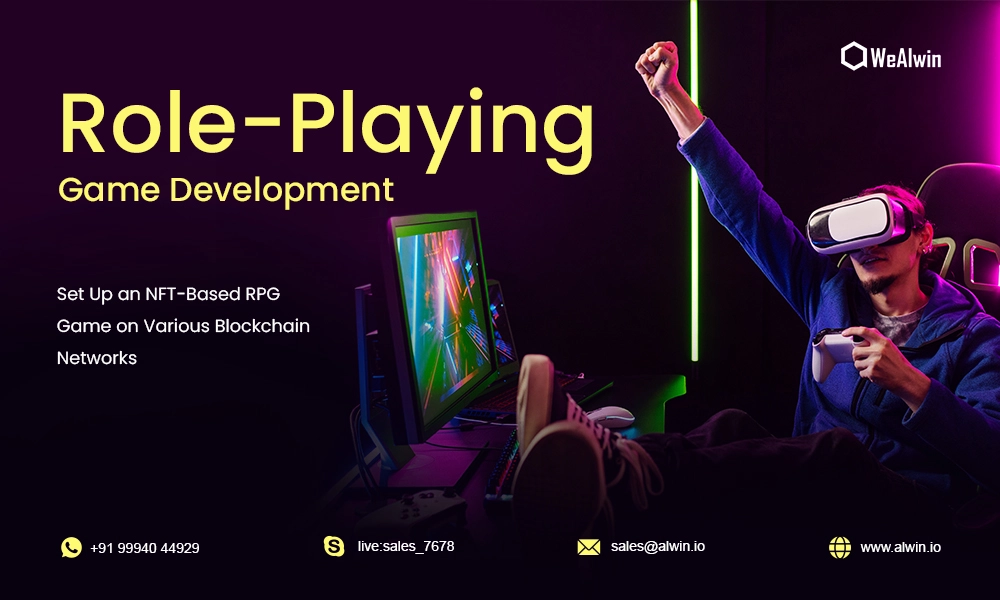 Do you enjoy playing video games and have ever imagined making your own role-playing game (RPG)? With the emergence of blockchain technology and Non-Fungible Tokens (NFTs), now is the ideal moment to make your RPG concept into a reality. 
This blog will guide you through the exciting world of role-playing game production with NFTs. So saddle up and prepare to go on the exciting road of developing an NFT-based RPG platform on several blockchain networks!
What is a Role-playing game?
Let's start by going through the fundamentals of NFT-based RPG development before we get into the specifics. In a role-playing game (RPG), generally, in a fantasy or science fiction setting, players take on the roles of fictitious characters. RPGs provide players with an engaging plot, character advancement, and interactive gameplay that allows them to make decisions that influence the game's ending.
Role-playing game development
Creating an RPG takes a unique combination of imagination, narrative, and technological knowledge. With NFTs joining the gaming business, game creators now have the potential to add another dimension to their RPGs. NFTs, being unique digital assets on the blockchain, provide gamers unprecedented access to own, trade, and use in-game characters and objects.
Consult with our business experts to Build your own Role-playing NFT Game Development! Chat with us on WhatsApp
Outstanding features of NFT for Role-playing game
NFTs provide many remarkable features to the realm of RPGs, boosting the gaming experience for players and creating exciting new opportunities for developers. These features include:
Inventory Administration 
Inventory is an important part of RPG games. The fact that there are so many objects available for the characters to utilize in the game to unlock features or complete missions adds to the game's fascination. 
Exploration and Quests 
An effectively structured and well-defined world keeps players involved in the activities, which is entirely up to the game's developers. They are provided opportunities to explore the gaming world to have a deeper understanding of the concepts. 
Fighting System 
A standard turn-based system in which only one character can act at a time, and real-time fighting in which each move or command issue has a time restriction or two of the combat systems we provide. 
Combat Levels 
To keep gamers interested in outstanding gaming, our game designers apply ways for increasing the player's character performance. Players may make their avatars more powerful by acquiring new skill sets and other components that aid in mission completion through increased levels and experience.
Types of RPG Platform Development
There are several sorts of Role Playing Games (RPG) that are produced in diverse areas and with distinct game techniques. Because of the availability of various types of computers and cultural differences, there was initially a significant gap between Japanese RPGs (JRPGs) and Western RPGs. Final Fantasy is one of the most well-known JRPGs. Most RPGs are now available internationally.
RPGs on video game consoles
Game console RPGs use game mechanics and, in many cases, settings inspired by classic role-playing games. There are various console alternatives available nowadays, ranging from Xbox to Nintendo and PlayStation. Current video game systems can handle high-production games with a plethora of minigames and side missions.
Strategy role-playing games
Battles take place on a map, and character troops are deployed against opponents.
Character and party growth are more crucial than combat decisions since tougher, higher-leveled foes tend to overpower undeveloped groups.
Action role-playing games
With a major emphasis on fighting, this RPG genre focuses on fights rather than characters or plots. The Legend of Zelda, Dark Souls, and Mass Effect are all examples of action RPGs with popular fighting systems.
RPGs with a sandbox setting
These RPGs are intended for world exploration and take the longest to complete due to their size and complexity. The Elder Scrolls, Disco Elysium, and the Fallout series from Bethesda Softworks and Interplay Entertainment are examples of popular RPGs in this genre.
Tactic RPGs
This type of RPG draws heavily on strategic games like chess and tabletop war games like Risk.
Rogues-like role-playing games 
This role-playing subgenre can be identified by gameplay mechanics rather than theme or style. A dungeon crawler character who navigates difficult levels, the main character's irreversible death, and randomized material are all frequent rogue RPG characteristics.
Advantages of Role-playing NFT Game
Infinite Revenue 
The amount of money you can make by designing role-playing games is limitless. The sophistication of your app's features raises the potential income. 
Immutability 
The blockchain technology employed in the production of RPG Games provides players with an immutable and secure platform to preserve their in-game cash. 
Interoperability 
Since they work on a number of platforms and browsers, our role-playing games enable customers to play them whenever and wherever they choose. 
Transparency 
RPG games are more resistant to hacking since the game assets are held on the blockchain and are not vulnerable to assaults like traditional gaming platforms.
Scalability 
To further develop your games, you will need to introduce new features to your gaming business regularly. You may engage with different sorts of users by developing a range of role-playing games.
Where to build your own Role-playing NFT Game development?
WeAlwin Technologies is a prominent NFT Gaming Platform Development Company with considerable experience producing RPG games for a variety of platforms and systems, as well as multiplayer gaming servers.
Hire our RPG developers that have extensive expertise in developing NFT RPG platforms using cutting-edge technology to meet the demands of our clients. RPG programmers might be acquired on a part-time, full-time, or hourly basis.
After discussing the requirements with you, we propose a suitable cost and delivery schedule. We created, managed, and delivered the project. We conduct status calls on a daily and weekly basis. You approve designs and releases.
Are you going to launch the NFT RPG platform? Or would you want to employ a team of RPG developers? 
Check out our page on NFT Gaming Platform Development
Contact us to successfully launch your business.