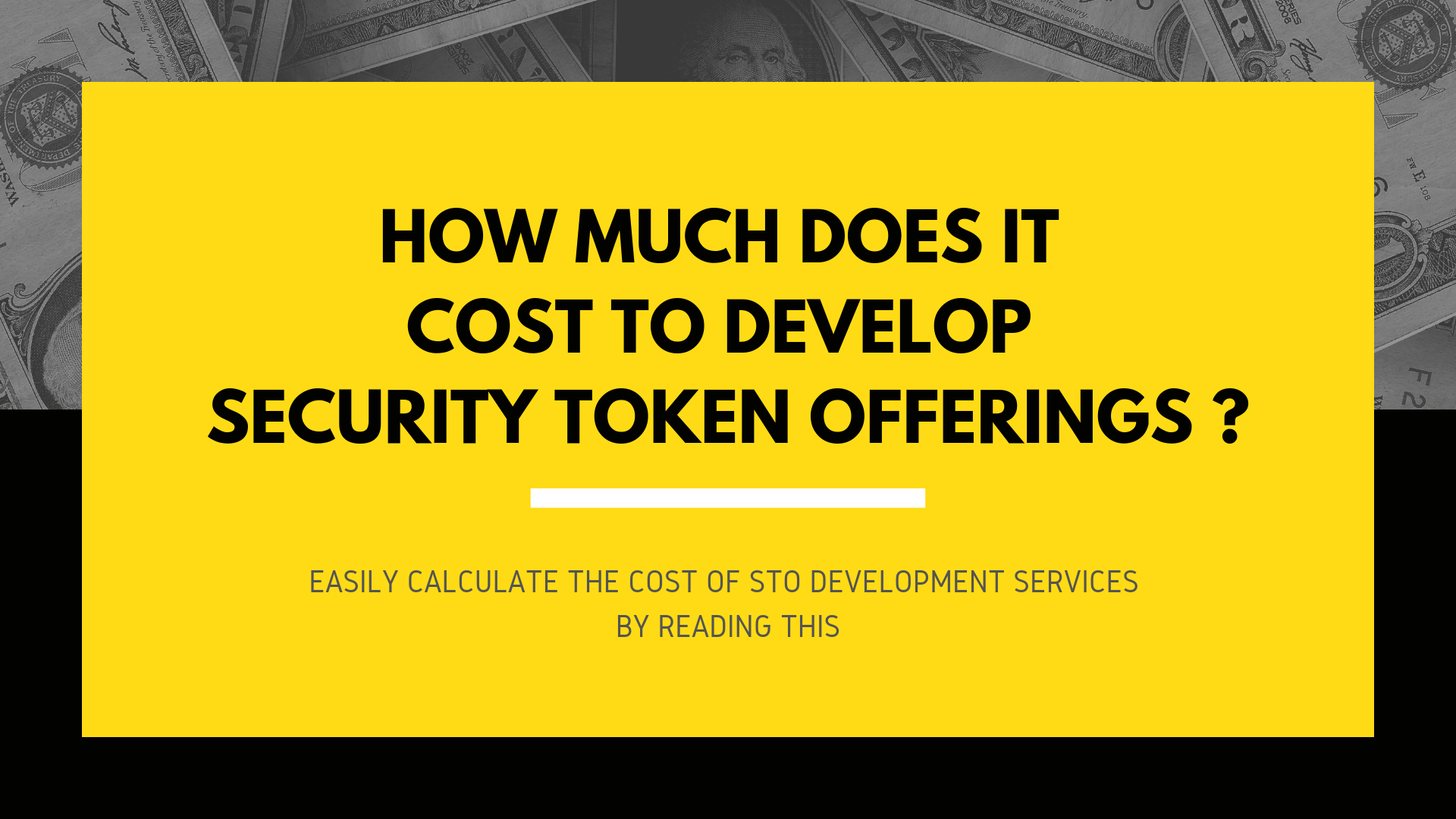 Whenever a business talk happens, few prime factors like passion, cost and knowledge always need wide ground to be cleared before finding the right amount of shine. The brightness that one dwells may differ but nothing can replace the power that the shine renders.
This ground can't be navigated alone as Steve Jobs said: "Great things in business are never done by one person. They're done by a team of people."
Same goes with the STO which require a competent; enthusiastic and knowledgeable team. But this costs and it needs to be magnified; how much actually it cost to develop a security token. Let's keep the security development under a microscope to get the costs involved and money needed to get it done.
Cost of STO development services depends on the below things :
Developing and Drafting the Concept phase :
Selection of token standard: A nice token development requires solid selection of standard to build it on. The list of tokens can be long from ERC20 to ERC1450 and even beyond due to ever-growing needs and active working of Ethereum community. Sometimes these standards require clubbing and further working to meet the needs of creating a unique and valuable token.
All this could be easy with the availability of the consultant. Apart from standard, consultant could be helpful in legal and everything required for attracting institutional and retail investors both. The wiser the consultant is, the more it would add cost to the project. So due diligence and finding an optimum balance between cost and solution is the direction to be headed in.
White paper :
A whitepaper is the storyteller of the STO project. It should contain all the elements which not only keep the person engaged but should be able to turn a reader into an investor. The founders and issuers can have the best description but wording those ideas & drafting a nice whitepaper and its review require expertise for successful STO.
Expertise level and experience in the industry in amalgamation with the length and graphics define the cost. The whitepaper drafting can cost as low as $100 but its reflection is visible in the end product. The number of pages does not matter much but the information does.
Development Phase :
Development phase attracts a major cost. Development phase includes everything from the creation of smart-contract, its deployment till the creation of full-fledged investor panel. All this is as crucial to STO as air to humans.
A development team compromising of UI and UX expert, product expert and blockchain engineer comes at varied costs, depending on the experience and knowledge in this not so old technology.
Smart Contract Using Business Logic
Development of smart contract is not so costly if it is a basic one.
The twist is including complex and crucial business logics in the form of conditions. The more conditions smart contract will have the more complex it would be to develop; and to keep it bug-free and safe. This requires experience and proficient team of developers. It might look okay to have a novice developer but it can ruin the long-term prospects of the STO and having a loop of conditions, just consuming cost and energy. Though the cost doesn't guarantee excellence; the too low cost always remains a bad idea to go with. The great way to find the right cost is comparing cost charged and experience possessed by the team.
Investor panel
Having a feature rich investor panel is crucial for providing a simple and interesting dashboard to an investor. It should have all the points checked security, integrated marketing feature, admin features and token storage. An investor panel makes it easy to issue, send and receive tokens; a common panel to manage everything for investor and issuer as well.
A nice investor panel not only includes all the mentioned features but needs to be flexible enough to accommodate required changes and/or integration as per the requirements. This requires professionals who have an extensive and deep understanding of what investors look for. This panel development requires cost that may be felt heavy, but it not only attracts investors due to ease of functioning but makes STO deployment easy.
Testing & Security Audit :
Testing cost is also one of the components of the total cost involved. Testing before the main launch is a crucial point in the whole STO project journey. Testing checks for the bugs and coding issues along with monitoring of the whole project. Testing runs a check to know the scalability related issues which make STO launch risk free and successful one.
The testing phase needs to have an internal as well as third-party and/or community audit. Also, it must be checked that the end security tokens are compatible with major available exchanges. It might add little more to the cost of an STO project but not doing it would cost failure of the project.
Legal, Marketing and Public Relations :
Legal Aspect
STO does not just need development and blockchain experts but legal support as well. An STO proportionately require legal, marketing and technical view. A legal support team requires considerable knowledge about cryptocurrency - its legality and exemptions available throughout the world.
In addition to this, legal team should have an idea of what all regulates STO and rules like KYC and AML that project should abide by. Additionally, in some cases being incorporation is compliance as well, which require further expenses. A cost will be high for legal support but to keep STO project going for long-term and avoid being a trash, it is necessary to remain compliant and so the clever legal team.
Marketing and PR
A website developer and experts those are able to curate awesome landing pages places STO project on higher ranks. Specifically and thoughtfully curated website having all the details regarding the project and members behind it, along with planned landing pages serve a great way to reach out investors and lure them to be the part of a token sale.
This step also requires legal assistance to make everything GDPR compliant, avoiding which may cost more than hiring subtle leaders whether a developer or a designer.
Marketing needs to be done with the digital world in mind and must involve community engagement. Online presence should be navigated and explored in full context. It requires content developers and managers along with copywriters. These experts help reach STO projects everywhere whether social media platforms like Twitter, Facebook, Medium or Instagram or communication channels such as slack or telegram.
Remaining active on specialized forums and Reddit extends the reach even more and in a specific direction. Another way to maximize reach is through digital advertisement through Google, Facebook or YouTube ads and E-Mail marketing. It is easy to find cheap self-claimed digital marketers and content creators which might look attractive but are not able to suffice the professional and quality needs.
The idea is to find a good as well as a cost-effective solution which may be found by looking at the portfolio or active clients. It is the worst idea to bet for the lowest bid when it comes to marketing and especially digital marketing.
Finding Supporting Pillars :
Tech support and customer support
An intelligently planned STO need to have a tech support functionalities. This require diligent checks and channelized engineering power in collaboration with proactive approach to handle unforeseen problems like hacking and other technical glitches with proper server management.
Apart from issuers, customers do need support as well, which require customer support specialist to have every query solved of all the persons getting engaged in the STO, no matter at pre-sale, post-STO or airdrop stage. It looks like adding a burden with subscribing to features like these, but it's only in the short-term and doesn't feel same in the long-term. It's a seed which takes time to become a tree.
The Cost Analysis :
Making STO launch from the scratch need a panel of experts and thoughtful of features which include but is not limited to exploring all the use cases, thorough research and selecting the best bouquet of payment options to integrate with. This involves a wide array of costs based on the project size, knowledge and experience of the selected professionals.
The cost involved varies through a wide range but a good range can be defined as $8,000 – $20,000 . There is no thumb rule to find the cost and may vary depending on various factors and as per the situations' requirement. But an ideal cost structure would look something like this.
STO development services will have obviously different functionalities and features depends on the business requirements, with some consistent pricing methods. Alwintechnologies as STO development company created simple STO development cost calculation just for you with basic features & functionalities.
Click to get a free quote for STO development from WeAlwin Technologies