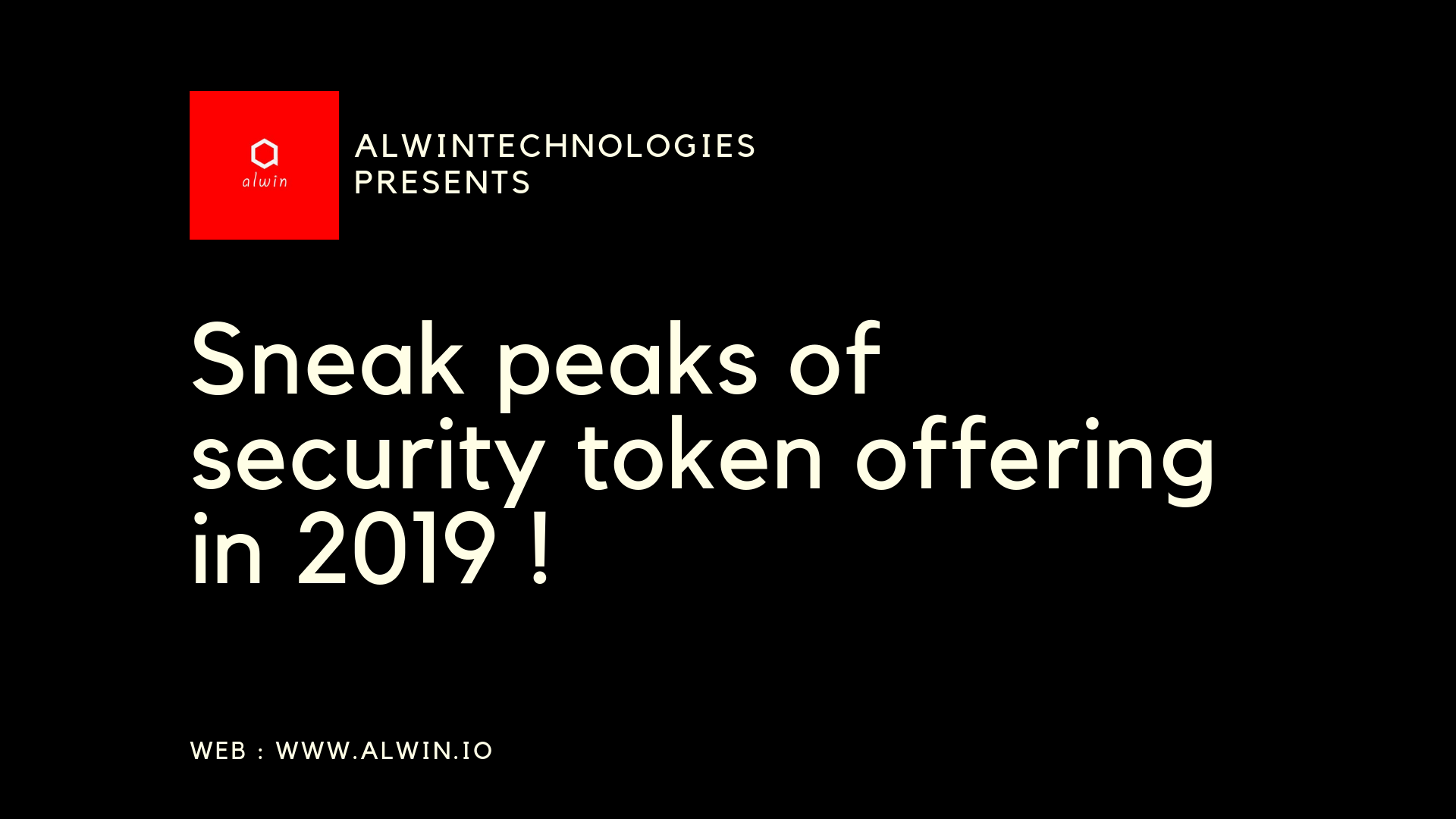 2019 is the year of security tokens. This is accepted by all the industry experts including those at STO development company, Alwin Technologies.
As our own experts supported the notion, we were in no doubt regarding this. Therefore, to prove that this notion is solid and not a lead balloon, our team imitated an investigation. Through this, we focused on events and happenings going around STO.
Though the increase in the number of projects at our end somewhat supported the fact yet we looked deeper. We wanted to have a look at world level. We found that literally things are going the STO way. To provide you with the insights of our work, we are presenting the top events which affected STO at large.
Jumbo Size Offerings - STO :
It's true that STO got a warm welcome. Rather much more than that. So, how anything in 2019 should make any difference? It can and it is. STO is becoming the first love of the large organizations. STOs started, gradually climbed the ladder and are making the mark in 2019. There is an increase in the number of companies getting inclined towards STO. There are numerous companies en route to raise funds via STO.
In recent, there is news regarding the Sumner Group. The Sumner Group is making headlines with its plan to raise funds through STO, hard cap of which is kept at $100 million. For this, they have already got offers for $20 million investment from just two investors. Another company, BTG Pactual is looking to raise $15 million through STO as well.
All these instances in the current dimensions are indicating positive signs. This certainly means that there is an increase in the interest of companies towards STO; as an investor and as an issue
Increased Support and Acceptance of STO :
Another interesting thing we found was the scope of STOs. Now security tokens are finding newer lands to shower its benefits. More and more countries are pouring in their support in favor of STO. In 2019 regulatory authorities of various countries have legalized Security Token Offerings.
At first, the Cagayan Economic Zone Authority [CEZA] is ready with regulation Digital Asset Token Offerings (DATO). Thereby, settling all compliant related issues in the Philippines and allowing STO to foster. At the same time, Thailand is also taking steps to legalize STO.
This support is coming from all the corners of the world. To join the league of supporters, Germany is in the play as well by witnessing its first STO. The STO is from Bitbond that is expecting to raise €100 million using security tokens. These are a complaint to European Union prospectus laws and approved by BaFin.
This is not all! Even island country like Barbados is coming forward to support STO. Recently BSE (Barbados Stock Exchange) is working to upgrade its infrastructure to make it STO and crypto compatible. There are many more names in the list of counties which are making required tweaks to welcome STO.
Varied Uses of STO :
Apart from gaining traction, STO is getting into new and diverse uses as well. There are more numbers of people diving into the ocean of STO and finding enhanced ways to derive benefit from it.
In such offerings, KABN services are making the name. They intend to offer a baking solution of neo style. Also, it has partnered with Visa to launch a crypto-based card and wallet. KABN is a security token offered by KABN Limited.
Another is a totally different approach. This is STO plan drafted by Almond, which promotes the use of sustainable products. This company offers incentives in exchange for buying goods that carry special code and belongs to the sustainable category. The company allows its users to convert rewards in cash or in security token ALMA once in a while.
One such offering we saw was not an STO but will definitely change Security Token Offerings in future. That's an offering from AXA XL in collaboration with Assurely, which is a technology startup working in the insurance sector. The product CrowdProtector is in place securing issuers from complaints and lawsuits lodged by investors while on the other hand lets a helping hand to investors for safeguarding them against the loss that could arise due to misleading or fraudulent acts of Issuer. This product is specifically designed for STOs and equity crowdfunding style of offerings.
Advancing Current Offerings & Tough Fight To Peers :
STO is changing the way current financial markets work. The current scenario is tough and going public is not easy for small companies. According to various figures, going public in the US can cost approximately $5 million just in the form of fees. Apart from this, there are many one-time and recurring cost associated with IPO. This is not a cost that a small company can incur, which restricts their access to a large crowd of investors.
To solve this issue, STO can be used as an alternate. For this, ABE global is taking initiative and is planning to bring a new token exchange. They want those small-cap companies should not be left behind just with venture capital funding. They are trying to bring the cost of public funding with STO to as low as $200,000.
There are old options available like IPO; and newer options like Consumer Token Offerings (CTOs) are emerging. Apart from this ICO is still not dead and still enjoys its part of market share. Even after the availability of multiple options, STO is still able to stand-out, without any hassle. Benefits of crowdfunding in a regulated manner make STO unique and help it to race ahead of competitors.
Benefits for hiring AlwinTechnologies
We are a group of blockchain experts and developers. With our years' of experience, we help people to bring ICO & STO. Additionally, we build advanced exchanges and platforms based on the blockchain. This information was presented with the intent to make folks aware of the success of STOs. Hope we were able to exhibit in the right manner.
If you feel the need for consultation regarding STO, ICO or any of the blockchain and crypto related issues, then we facilitate you with a free consultation. We Know the Importance of Structuring ICO & STO correctly in bringing down the cost of the offering. Our blockchain experts will help you in the best possible manner.