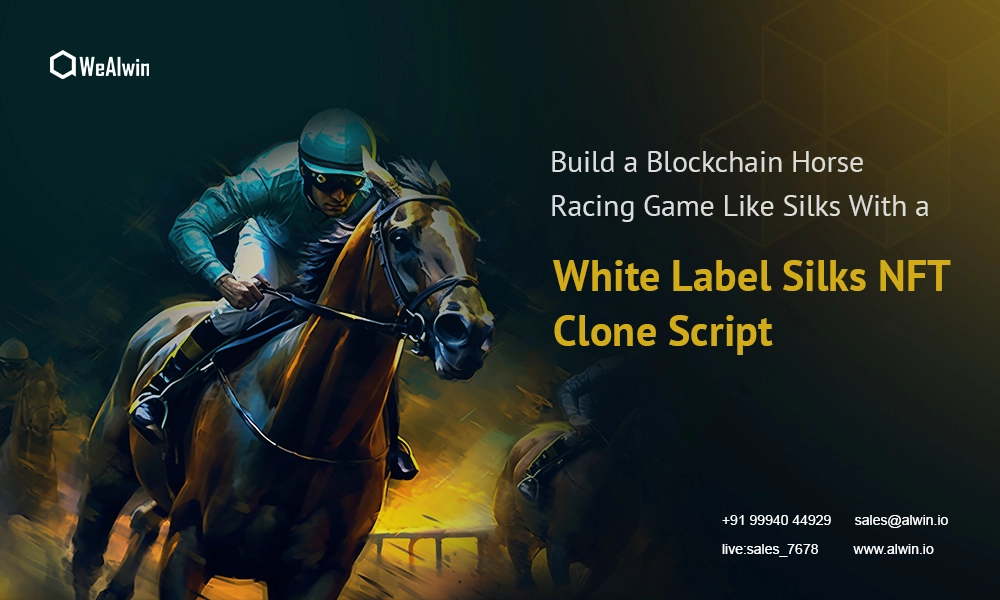 Game fans have always loved horse racing, from classics like Silks to newer titles that let them breed and trade virtual horses. What if you could build your own horse racing game where players own and trade NFT horses, place bets using cryptocurrency, and compete in weekly virtual races? With a White label Silks NFT clone script, you absolutely can. In just a few months, you can launch your own blockchain-based horse racing game.
Players will be able to purchase NFT horses with unique attributes, breed them to produce foals with rare traits, place bets on races using your game's cryptocurrency, and cheer their horses on from the sidelines. As the game creator, you'll earn revenue from every NFT and virtual currency transaction. A White label solution means you can customize the artwork, add your own branding, set race schedules, and configure the game's economy to match your vision. If you've ever dreamed of building a virtual world where players can own and race digital horses, this is your chance to make that dream a reality. With the right development team, you can gallop into the world of blockchain gaming and build a horse racing game your players will love.
What Is the Silks NFT Horse Racing Game?
The Silks NFT horse racing game is an exciting blockchain-based game where you can breed, train, and race digital horses. As an owner, you'll purchase horse NFTs, breed them to produce foals with desirable traits, and train your horses to prepare them for races.
To get started, you'll need to purchase at least two horse NFTs of the opposite sex to breed your first foal. Look for horses with complementary strengths and traits you want to pass on, like speed, stamina or jumping ability. Breeding your horses requires a breeding fee paid in the game's native SK token.
Once your foal is born, you can train it to increase its abilities and prepare it for races. Different training regimens can improve a horse's speed, stamina, jumping, etc. The more you train, the more skilled your horse becomes.
When your horse is ready, you can enter it into races to compete against other players and their horses. Races offer the chance to win SK tokens, trophies, and other rewards. The type of race depends on your horse's abilities. For example, enter jumping races for horses with high jumping skills or sprints for lightning-fast horses.
Owning, breeding, and racing digital horses on the blockchain offers an exciting opportunity for horse enthusiasts and gamers alike. Build your stable of champion horses and dominate the racetrack in the Silks NFT horse racing game!
Key Features of the Silks NFT Clone Script
A white-label Silks NFT clone script comes packed with essential features to build your own blockchain horse racing game. Here are some of the key features:
You get a ready-made NFT marketplace where players can buy, sell, and trade virtual horses. Players can bid on rare, high-stature horses to build their stable. The horses are tokenized as NFTs on the blockchain, so players truly own their horses and can prove their scarcity and value.
A full 3D virtual racetrack where players can watch their horses compete in live races. You can set the number of races, schedule, and race types like hurdles or sprints. The races are fair and transparent since the results are determined by the horses' attributes and stats, not any kind of rigging.
Secure player wallets to store digital assets. Players can deposit funds to bet on races or buy horses, and all transactions happen on-chain for full transparency. You don't have to handle any sensitive player funds or data.
Flexible admin controls to set race schedules, betting odds, entry fees, and more. You can also whitelist certain NFT horse types to keep the game balanced and engaging for players.
Detailed horse statistics like speed, stamina, and jumping ability keep players engaged in breeding and training to improve their stability. Players can enter their best horses in races to compete for big prizes and status.
A white-label solution means you can launch your blockchain horse racing game under your own brand. Customize elements like the user interface, terminology, and assets to suit your needs. Your players will never know you're using a clone script underneath.
With these key features and full customization options, a white-label Silks NFT clone script enables you to build an exciting blockchain horse racing game to attract players and generate revenue through NFT trading, betting, and more. The possibilities for your gaming project are endless!
Consult with our business experts to Build your Silks NFT clone script! Chat with us on WhatsApp
How Does the Silks NFT Clone Script Work?
The Silks NFT clone script is built to help you launch your own blockchain-based horse racing game. It provides an end-to-end solution to build, manage and scale your game.
How it Works
The script lets you create digital horses as NFTs (non-fungible tokens) on the blockchain. Players can then purchase these horses on your in-game marketplace. During live races, the horses race automatically based on their attributes like speed, stamina, and agility. The race results are fair and transparent since they're determined by a random number generator.
When a race ends, the winning horses and their owners earn prizes in the form of in-game tokens or collectibles. Players can then use these tokens to breed new foals, train their existing horses, or enter more races.
The gameplay is addictive and competitive, keeping players engaged for a long time. The script also has built-in features like leaderboards, live streaming, and chat rooms to foster an active community within your game.
You can customize and white-label the script to suit your needs. Choose your own branding, set race schedules, determine prize pools, enable horse breeding, and more. The script is flexible and modular, so you're in full control of your game universe.
With an NFT-based game model, you can generate revenue through initial NFT sales, transaction fees on your in-game marketplace, and advertisements. The script provides you with powerful admin tools to manage your entire gaming business from A to Z.
So if you want to build an innovative blockchain game, look no further than the Silks NFT clone script. It gives you everything you need to launch a full-fledged horse racing game like Silks and disrupt the gaming industry.
Why You Should Use a White Label Silks NFT Clone Script
A white-label Silks NFT clone script is a ready-made blockchain-based horse racing game solution that you can customize and launch under your own brand name. Here are a few reasons why you should consider using a White label Silks NFT clone script:
Save Time and Money
Building a blockchain game from scratch requires a huge investment of time, money and resources. A White label solution has already done all the heavy lifting for you. You just need to customize the UI, add your brand assets and deploy. This can help you get your horse racing game up and running in a fraction of the time and cost.
Focus on Business Growth
Instead of focusing your efforts on development, you can direct your attention to growing your business. Things like building partnerships, attracting users, and improving the gameplay experience. A white label script handles all the technical aspects so you can work on high-impact business activities.
Ride the NFT and Blockchain Wave
Non-fungible tokens (NFTs) and blockchain are poised to transform gaming. A white label Silks NFT clone script allows you to take advantage of these cutting-edge technologies without needing to become an expert. You get a ready-made solution built on blockchain that incorporates NFTs.
Continuous Upgrades
Reputable white-label providers continuously upgrade and improve their solutions. This means your horse racing game will automatically benefit from the latest features and security patches at no additional cost. You get an enterprise-level product with ongoing support and enhancements for a fraction of the price.
Using a white-label Silks NFT clone script is the fastest and most affordable way to build a blockchain-based horse racing game. You get a fully functional solution you can rebrand and deploy in weeks rather than months. Focus on growing your business, not building technology from scratch. Ride the blockchain and NFT wave without needing to become an expert. And benefit from continuous upgrades that keep your game state-of-the-art.
Why choose WeAlwin for your Silks NFT clone development?
WeAlwin is a pioneer in Blockchain Technology and NFT Development. We have developed 50+ NFT marketplaces and DeFi platforms on various blockchains like Ethereum, Binance Smart Chain, Polygon, etc. Some of our noteworthy clients are NBA Top Shot, CryptoKitties, and Axie Infinity.
Expertise and Experience
With over 5 years of experience in blockchain and NFT development, WeAlwin has unmatched expertise in building NFT games and marketplaces. Our 100+ blockchain developers have hands-on experience in developing complex dApps using Solidity and Vyper smart contract languages.
End-to-End Services
WeAlwin offers end-to-end NFT development services right from conceptualization to launch and maintenance. Our services include:
NFT Marketplace Development
NFT Gaming Platform Development
Smart Contract Development
NFT Designing and Minting
Marketing and Community Building
Advanced Tech Stack
We utilize the latest blockchain technologies and tools to build highly scalable and secure NFT platforms:
Ethereum, BSC, Polygon blockchains
IPFS for NFT storage
MetaMask, TrustWallet for wallet integration
React, Vue.js for frontend
Node.js, Express for backend
MongoDB, and Redis for database
Dedicated Support
Our dedicated team of blockchain experts provides continuous support and guidance even after the launch of your NFT platform. We help in troubleshooting issues, and provide software upgrades, security patches, and new feature integration to keep your platform up-to-date with the latest trends in the NFT space.
With in-depth knowledge, expertise, and experience in blockchain and NFT development, WeAlwin is the ideal partner to build your Silks NFT Clone platform. Get in touch with our experts today to discuss your project requirements!
Conclusion
You now know everything you need to know about building your own blockchain horse racing game like Silks. With a readymade Silks NFT clone script, you can launch your game in no time and give players the thrill of owning and racing virtual horses. The opportunities in this space are vast if you're able to tap into people's interests in crypto, gaming, and sports. Get started now, gather a team to help bring your vision to life, and you'll be well on your way to building the next big thing in blockchain gaming. The race is on!
Check out our page on NFT Development Company