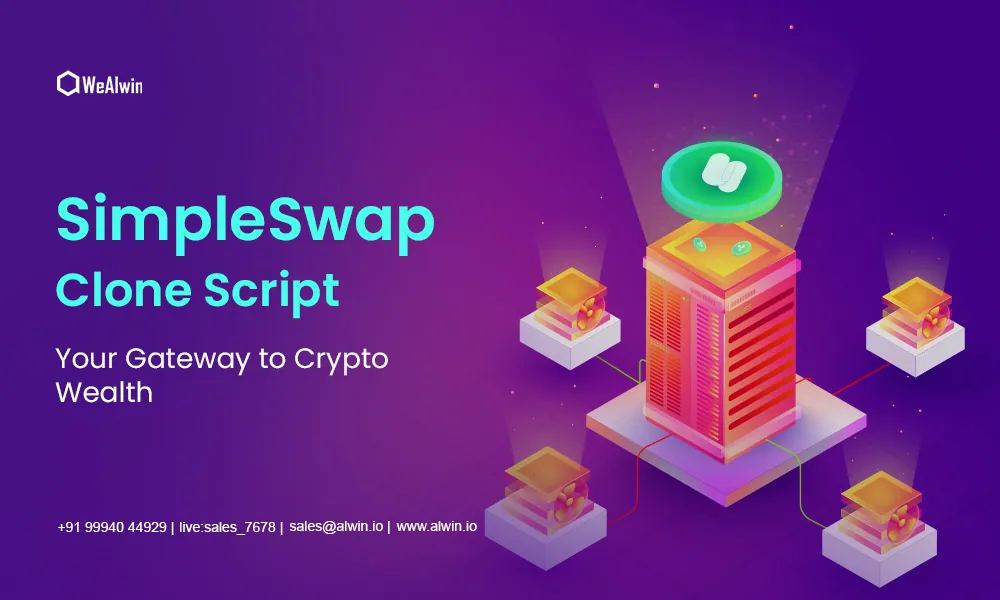 In the evolving world of cryptocurrency and DeFi, the demand for efficient and user-friendly swapping platforms is on the rise. 
Simpleswap, a renowned cryptocurrency exchange platform, has captured the attention of crypto enthusiasts worldwide. 
To tap into this growing trend and launch your exchange, consider the Simpleswap clone script. 
Now, we will explore what Simpleswap is, the benefits of a white-label Simpleswap clone script, its key features, and its development cost.
White Label Simpleswap Clone Script
A white-label Simpleswap clone script is a ready-made solution that allows you to replicate the functionality and features of Simpleswap. With a clone script, you can launch your own cryptocurrency exchange platform quickly, save more time, and reduce development costs.
It provides you with a customizable and scalable solution to enter the DeFi market with confidence. Furthermore, our script incorporates strong security features to help prevent fraud on your exchange platform.
Simpleswap is a cryptocurrency exchange platform that allows users to swap one cryptocurrency for another effortlessly. It boasts a user-friendly interface and supports a wide range of cryptocurrencies, making it a popular choice among traders and investors. The platform's simplicity and convenience have contributed to its success.
Features of Simpleswap Clone Script
1. User-friendly Interface: Just like Simpleswap, your clone script will feature an intuitive and user-friendly interface, making it accessible to both novice and experienced traders.
2. Multi-Currency Support: Support for a wide range of cryptocurrencies ensures that your platform attracts a diverse user base.
3. Security Measures: Robust security features, including encryption and two-factor authentication, protect user assets and data.
4. Liquidity Management: Ensure sufficient liquidity by integrating liquidity providers and market-making mechanisms.
5. Real-time Updates: Keep users informed with real-time price charts, market data, and transaction history.
6. Admin Dashboard: Easily manage and monitor platform activities through a comprehensive admin dashboard.
Consult with our business experts to Build your SimpleSwap Clone Script! Chat with us on WhatsApp
The process to Create a Clone Script like SimpleSwap 
1. Market Research
Start by conducting thorough market research. Understand your target audience, their needs, and preferences. Analyze your competitors, including SimpleSwap, to identify gaps and opportunities.
2. Legal Compliance
Ensure your exchange complies with the regulatory requirements of the countries you plan to operate in. Consult legal experts if necessary to navigate the complex world of cryptocurrency regulations.
3. Cryptocurrency Integration
Integrate a wide range of cryptocurrencies and tokens into your platform. Establish partnerships with major blockchain networks and ensure your exchange supports popular cryptocurrencies like Bitcoin, Ethereum, and more.
4. User Interface (UI/UX)
Invest in a clean and intuitive user interface. Design a seamless user experience that allows users to navigate your platform easily and complete transactions quickly.
5. Security Measures
Implement robust security measures, including two-factor authentication (2FA), cold storage for funds, and regular security audits. Security is paramount in the cryptocurrency exchange industry.
6. Liquidity Management
Ensure your exchange has sufficient liquidity to handle orders of all sizes. Partner with liquidity providers and market makers to maintain a healthy trading environment.
7. Payment Methods
Offer a variety of payment methods to cater to a global audience. Include options like bank transfers, credit/debit cards, and popular payment gateways.
8. Testing and Quality Assurance
Thoroughly test your exchange platform to identify and fix any bugs or vulnerabilities. Conduct both functional and security testing to ensure a smooth user experience.
9. Continuous Improvement
Keep updating and improving your exchange based on user feedback and market trends. Stay updated with the latest developments in the cryptocurrency industry.
Cost for Developing SimpleSwap clone
The cost of developing a Simpleswap clone script can vary based on your specific requirements, features, and customization. Factors such as security, scalability, and user experience contribute to the overall development cost. However, opting for a white-label solution significantly reduces both time and expenses compared to building a cryptocurrency exchange platform from scratch.
Why WeAlwin for Your Simple Swap Clone Script?
WeAlwin is a trusted name in the field of cryptocurrency and blockchain development. Choosing WeAlwin for your Simpleswap clone script offers several advantages:
Expertise: Our team of skilled developers has extensive experience in DeFi and cryptocurrency development.
Customization: We provide highly customizable solutions tailored to your unique business needs.
Security: Security is paramount in the crypto world. We implement top-notch security features to protect your users and assets.
Cost-Efficiency: WeAlwin offers competitive pricing, ensuring that you get value for your investment.
With WeAlwin's expertise in DeFi Development solutions, you can bring your vision to life and tap into the growing demand for cryptocurrency swapping services.
Finally, in the DeFi landscape, the Simpleswap clone script emerges as a powerful tool to launch your cryptocurrency exchange platform quickly and efficiently. Don't miss out on the opportunity to be part of the DeFi revolution with your Simpleswap clone script.
Check out our page on DeFi Development