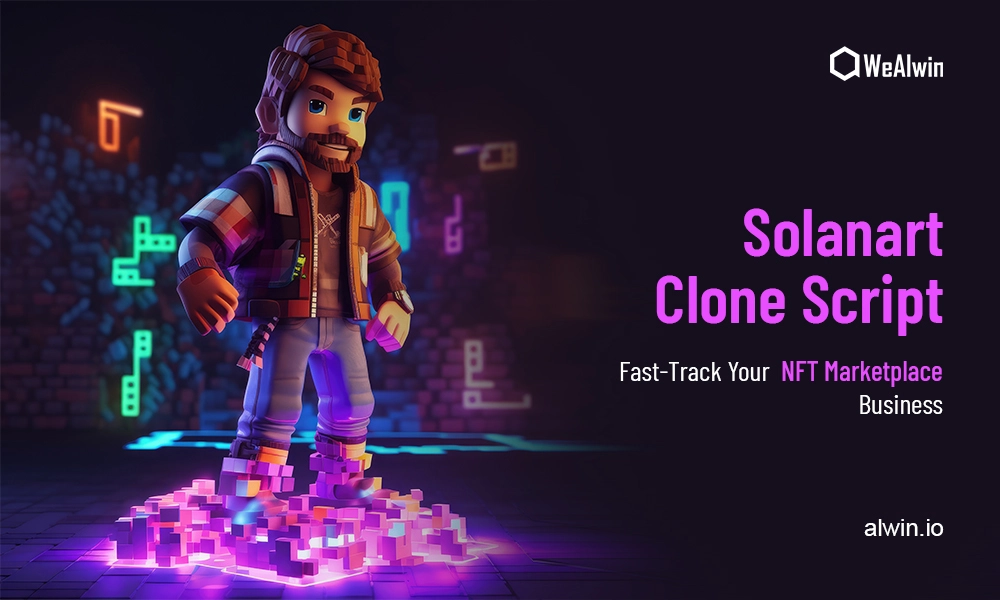 The cryptocurrency had shifted the focus from mere fungible tokens to non-fungible tokens. Now the entire crypto market is crazy about inventing or creating some interesting NFT's that can sell off for high profits. That is not a wonder in the cryptocurrency market as the market implodes to make an exploding effect on the crypto market. Do you know what the present mantra of the entire crypto market is? It is Solana. Solana is the coin in the cryptocurrency market that has come up with stunning technologies. One of their inspirational yet significant business platforms is Solanart. In which an innovative development option called Solanart clone script is now a so favarouble choice of many budding entrepreneurs.
Let's explore it in a clear manner!
What is Solanart? 
Solanart is a high-performing nft marketplace that is built on the Solana network that allows the trade of buying and selling of solana based NFT's. It is one of the best and trusted marketplaces that helps the user to connect to the wallet and sell or buy their nft's easily without any restrictions. You do not rely on any other external wallets as the solana themselves help you to create your solana wallet while creating your account in solanart. 
People are relying on the solana based blockchain because of its high transactions per second and with less amount of transaction fees and the block time. Yes, it can handle nearly 65,000 transactions per second with a block time of 0.14 seconds and transaction fees of 0.0025$ per transaction. 
You know what, Solana is a proof of stake mechanism that has positioned itself as a highly scalable and effective blockchain network. With the increase in gas costs and low transaction speed, it is best to look for an alternative to the Ethereum blockchain network and hence the best solution is the solana blockchain network. 
If you want to start your nft marketplace like solanart, it is best to start with the help of solanart clone script. Before that you need to know about the crypto wallet that the solanart supports. Let us get into it and know them
Crypto wallets that the solanart supports
There are certain types of crypto wallets that solanart supports. They are
Phantom wallet
Solflare
Sollet
Among the three the most used is the phantom wallet. Sollet is a kind of crypto wallet that is best suitable for advanced traders and crypto exchange users. 
If you have a Metamask wallet, then integrating your phantom wallet is a piece of cake. If you do not have a metamask wallet, no problem, it is best to install metamask and integrate the phantom wallet. 
How can a user get SOL into the phantom wallet?
All your user needs to do is to buy solana coin-supported exchange and transfer it to the phantom wallet address. You should note that solana coins are not available in decentralized swapping platforms like the Uniswap or Sushiswap at present. 
The user can buy solana coins from either Binance or OkeX and withdraw it to the phantom wallet address by sending the wallet address to the Binance wallet during the withdrawal mechanism. You will need to pay withdrawal fees. So, make sure that you mark extra solana coins so that you can get the accurate amount to the phantom wallet.
Popular NFT marketplaces where you can buy Solana NFTs
It is obvious that you can trade on solana nft on solanart. But there are other specific nft marketplaces where you can buy or sell nft. They include
Digitaleyes.market
Solsea.io
Solana monkey business
If you are an entrepreneur who is aspiring to start your nft marketplace, I recommend you start your nft marketplace like solanart using the solana blockchain. Let me weigh the pros and cons that will help you to justify the reason for it.
Pros
High transaction speed
Low fees for the trade  (Efficient than Ethereum)
User-friendly wallet (Phantom wallet) which is highly efficient than the metamask.
Growing adoption
Different from the traditional Ethereum blockchain and designed completely on the solana framework.
Cons
It is a new blockchain and hence have lower demand.
Lot of catching up is needed in the development side that could make the functions efficient.
Solanart clone script
Weighing the pros and cons, the best decision for a successful entrepreneur is to start an nft marketplace that functions like solanart. That is possible if you have your solanart clone script in your hand. Solanart is the exact replica of the original software with the establishment of all the essential features of the marketplace with the customization options. 
Where to get the best solanart clone script for my nft business?
WeAlwin Technologies is the best nft marketplace development company with specialization in installing highly performing software for your business from time to time. They have successfully completed the research in inducting solana blockchain-based nft marketplace. They provide customization options and hence you can add or remove any of the features or security options as per your business requirements. Reach out to them to kickstart your nft business with a highly effective and functional blockchain network - solana.