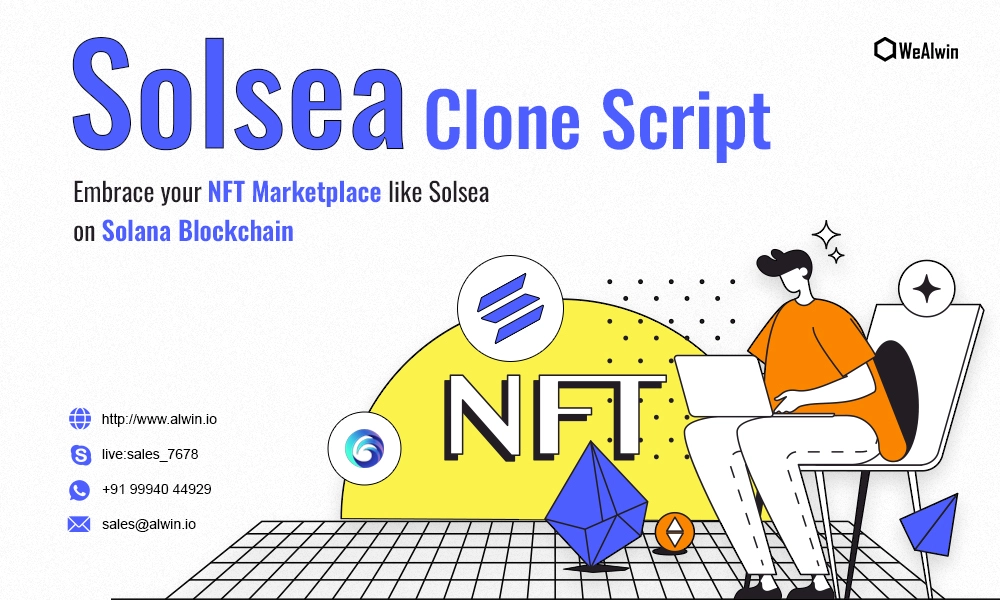 Are you ready to enter the exciting world of NFT marketplaces?
The popularity of the NFT marketplace on the Solana Blockchain has grabbed the public's attention, and in this article, we will discuss how you may use the Solsea clone script to establish your own NFT marketplace comparable to SolSea. 
So, let's get started on reaping the benefits of NFTs together!
SolSea Clone Script
SolSea Clone Script is a ready-made software solution that replicates the functionality of the Solsea NFT marketplace. SolSea is an NFT marketplace where creators may mint, list, and sell their NFTs. The SolSea Clone Script intends to provide a rapid and cost-effective solution to build your own NFT marketplace without the need for substantial software development. SolSea is built on the Solana blockchain, which allows it to perform quick and efficient transactions at a low cost. Solana is a high-performance blockchain that contributes to SolSea's success by offering a quick and secure environment for NFT transactions.
Creating an NFT market from the ground up can be a  time-consuming task. That is why many entrepreneurs and developers prefer clone scripts to build their own marketplace. A SolSea clone script can help you quickly and simply establish a marketplace comparable to SolSea. You may save time and money on development expenditures by using a clone script while still providing your users with a unique and inventive NFT marketplace.
How to Create an NFT Marketplace like SolSea?
We will develop your NFT Marketplace with all the functionalities you require to launch. We provide two important options for launching an NFT marketplace like SolSea. 
Option 1: Create a Solsea-like NFT Marketplace from scratch.
option 2: Whitelabel Solsea clone script
Building the SolSea-like NFT Marketplace from scratch allows users to contribute their own unique features for a more personalized experience. When using a SolSea clone script, the NFT Marketplace may be launched instantly. The SolSea-like NFT Marketplace will be created on top of the existing source code, and more features can be added as needed.
Consult with our business experts to Build your SolSea clone script ! Chat with us on WhatsApp
Elegant Features of the SolSea Clone
NFTs with a license
The benefit of this SolSea clone is that it allows users to include licenses in their NFTs or digital collectibles. It is also the only platform in the industry that currently offers this licensing option.
Listing
This network supports both public and private NFT postings. Creators can sell their digital masterpieces for a reasonable price to a friend anonymously. Alternatively, they may select the public listing option, which allows any of the platform's buyers to acquire the collection.
Calendar
Users must be able to track the price of digital collectibles after they are listed on the site. The calendar function of this platform makes it simple to keep track of the value of digital treasures.
Multi-currency support
Users may list and sell items in SolSea using a number of currencies (token standards), such as SOL, USDC, SRM, and others.
3D view
In general, the 3D perspective of everything will be attractive. An NFT marketplace, such as Solsea, has a function for viewing digital items in 3D format.
Rarity index
Of course, the assets in every NFT marketplace are unique. However, each digital collectible should be assigned a rarity index. SolSea considers each digital collectible's characteristics before assigning it a rarity index.
Bulk minting
NFT developers that join this platform can create a large number of digital collectibles at once. Because the platform is supported by Solana, even enormous numbers of NFTs may be generated quickly and easily.
In addition, the platform is about to deliver a series of additional features such as a collector toolset, an AR viewer, serum order book integration, a launchpad, a sophisticated license management system, and so on.
How Does Solsea NFT Marketplace Clone Script Work?
There are procedures to operate the SolSea clone NFT marketplace. 
Make a Solana-compatible wallet in Phantom or Sollet.
Set up an account and connect your wallet. 
Produce your NFTs and include the licenses in the code. 
In return for Solana, you can sell your artworks as NFTs. 
Future Benefits of Using the SolSea Clone App
The advantages of the SolSea clone script are as follows:
Reduced transactional and minting costs
Long-term potential with Solana
Extremely Quick Transaction Speed
Customization
Exceptional ROI
Why Do You Choose WeAlwin for Your SolSea Clone Software?
WeAlwin can assist you in developing an NFT marketplace similar to SolSea. We are a prominent NFT marketplace development company with a team of skilled developers that can assist you in creating a custom marketplace from scratch or clone scripts. We'll work with you to understand your exact needs and specifications, and then we'll customize your requirements and fulfill those demands. If you choose us to develop the SolSea clone script, we can assist you in integrating blockchain technology into your marketplace. In addition to development, we provide continuous support and maintenance to keep your marketplace functioning properly. Therefore, WeAlwin is the ideal choice if you're seeking a partner to assist you in developing an NFT marketplace similar to SolSea.
Check out our page on NFT Marketplace Development Company