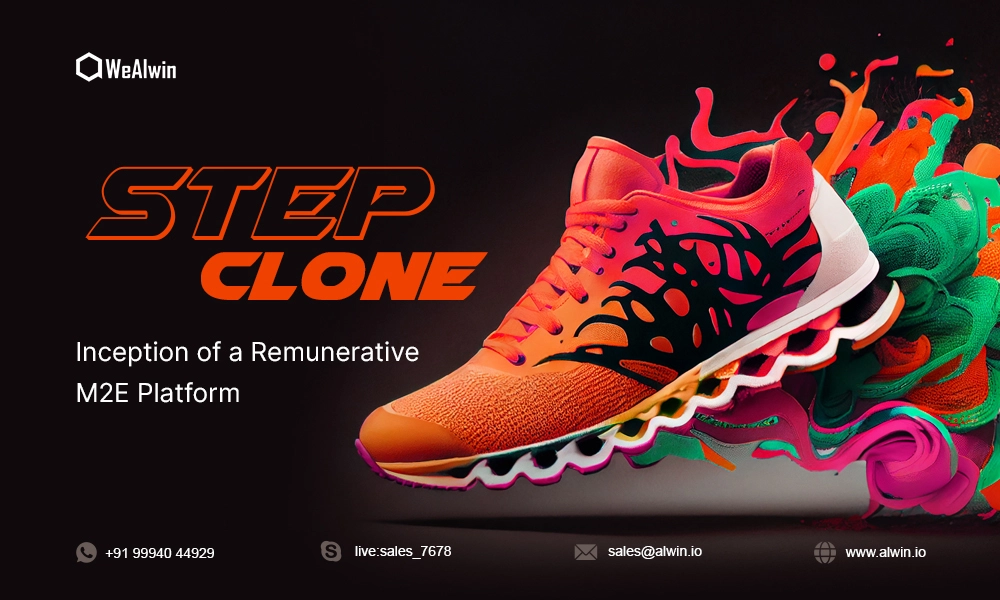 This generation is quite ironic with the idea of fitness and the taste of junks! "A sound Mind in a sound body" reminds us that it's high time we checked on our health. You don't need to lose your sleep over fitness; rather eat and sweat! The brand new M2E application, Step, has brought about a compelling abstraction of fitness interwoven with earning! Flick through this article reporting on the Step Clone App and its enormous conveniences. 
What is the Step App?
Step App is a move-to-earn (M2E) platform powered by the Avalanche blockchain, which rewards users with its native cryptocurrency, KCAL for carrying out outdoor fitness activities like walking, jogging, and running. 
The users of the Step App must first purchase a pair of NFT sneakers to start earning. The amount of KCAL that users earn is directly proportional to the distance they travel, the rarity of their sneakers, and the current state of the Step App economy.
Step Clone Script 
A Step Clone Script is a professionally crafted software solution encompassing the core functionality and features of the popular Step App. It provides entrepreneurs and businesses with a ready-to-launch platform that mirrors the concept of the original app. With a Step Clone Script, users can create their own move-to-earn mobile application, catering to their specific branding and customization requirements.  
Features of the Step Clone Script 
NFT sneakers: Users can purchase NFT sneakers that come in different rarities and attributes. The rarity and attributes of the sneakers will affect the amount of cryptocurrency that users can earn.
Move-to-earn mechanics: Users can earn cryptocurrency by walking, jogging, and running. The amount of cryptocurrency that users earn will depend on the distance traveled, the rarity of their sneakers, and the current state of the platform's economy.
Blockchain integration: The Step clone app is integrated with a blockchain, such as Ethereum or Avalanche. This allows users to store their cryptocurrency and NFT sneakers on the blockchain.
Admin dashboard: The Step clone app includes an admin dashboard that allows you to manage the platform. This dashboard will typically include features such as user management, transaction history, and analytics. 
Here are some additional features that can be added to the Step clone:
Social features: The app can be integrated with social media platforms, allowing users to connect with each other and compete for rewards.
Game-like elements: The app can be gamified, adding quests, challenges, and rewards to keep users engaged.
Multi-currency support: The app can be made to support multiple cryptocurrencies, allowing users to earn and spend a variety of tokens. 
Talk to our experts to know more about Step Clone! Chat with us on WhatsApp
Benefits of the Step Clone 
Get rewarded for being active: The Step clone app allows users to earn cryptocurrency by walking, jogging, and running. This is a great way to encourage users to be more active and improve their fitness levels.
Participate in the move-to-earn economy: The Step clone app is part of the move-to-earn (M2E) economy, which is a new way to earn cryptocurrency by being active. 
Faster time to market: You can launch your own M2E app in a matter of weeks or months, rather than the years it would take to develop from scratch.
Lower development costs: Step clone apps are typically much cheaper than developing an M2E app from scratch.
Reduced risk: Step clone apps have already been tested and proven to work, so you can reduce the risk of your project failing. 
Things to Consider in Step Clone Development 
Target audience: Who are you developing the step clone for? What are their needs and requirements?
Features: What features will be included in the step clone? What features are crucial, and what features can be integrated afterwards?
Technology: What technology will be used to develop the step clone? What platforms will it support?
Cost: How much will it cost to develop the step clone? What is your budget?
Timeline: When do you need the step clone to be completed?
Monetization: How will you make money from the step clone? Will you charge users for the app, or will you generate revenue through advertising?
Step Clone Development 
Step clone app development can be a great way to launch your own M2E app quickly and affordably. It is the process of creating a new app with similar features to the Step app.
The following are the steps involved in Step Clone App Development:
Ideation: The first step is to come up with the idea for the game. This includes brainstorming different concepts and features, as well as researching the move-to-earn space to see what other games are out there.
Design: Once the idea is solidified, the next step is to design the game. This includes creating concept art, wireframes, and prototypes.
Development: The development phase is where the game is actually built. This includes coding the game, creating 3D assets, and implementing the move-to-earn mechanics.
Testing: Once the game is developed, it needs to be tested to make sure it is working properly. This includes both internal testing and external testing with beta testers.
Launch: Once the game is tested and ready, it can be launched. This includes marketing the game and making it available to players. 
Conclusion 
In conclusion, the Step clone represents a seamless and efficient platform for managing daily activities. With its customized enhancements and intuitive features, it provides users with a user-friendly experience. The app's robust development ensures stability, security, and scalability, making it a reliable tool for individuals, businesses, and organizations alike. Its integration with M2E platforms further enhances its capabilities and expands its potential for growth. With ongoing support and updates, the Step clone app is poised to make a significant impact on personal productivity and goal achievement in today's digital landscape.