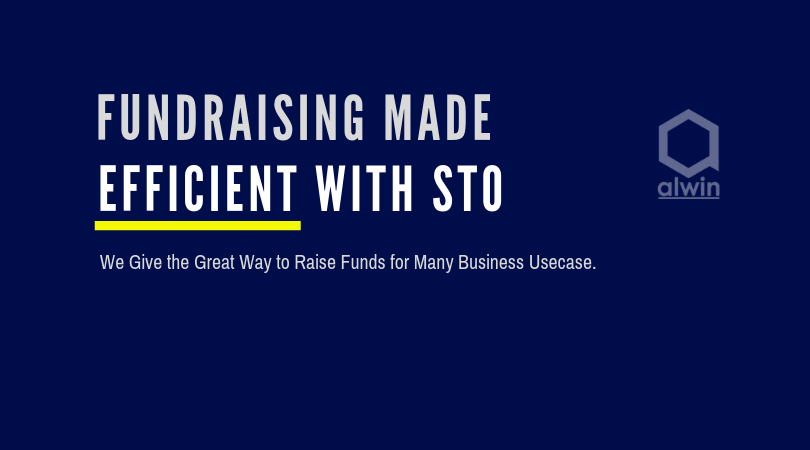 Security Token Offerings (STOs) have become a popular route for fundraising for many businesses around the world. While Blockchain purists do not find the untoward lean of Cryptocurrency from being a decentralized system into being warped towards legal adherence and centralization, STOs are undoubtedly gaining traction because of the very same reasons – better liquidity, confirming to legal regulations, and offering higher credibility to investors.
Here's a closer look at STOs and the reason we, at Alwin, believe that they are on the road to becoming a faster and bigger crypto fundraising business model in the future:
STOs harness the advantages of Blockchain and put it into legally compliant business models to reduce fraud, corruption, and scams. This acceptance of legal regulations in the world of Blockchain came into existence when Cryptocurrency owners realized that the coins may hold little or no value in real-world transactions.
Most governments found Cryptocurrencies to be too risky to introduce into their economies. Some countries banned the use of Cryptocurrencies while some accepted them quickly for their futuristic technology.
The only problem that governments everywhere faced, was legal, Cryptocurrencies failed to comply on many levels. As a result, STOs replaced Initial Coin Offerings (ICOs) which were touted to be the Cryptocurrency version of Initial Public Offerings (IPOs). At Alwin, we provide clients with services related to Blockchain technology, including the creation and deployment of STOs.
What makes STOs more futuristic than ICOs?
Rome wasn't built in a day. The use of Blockchain is still in its very nascent stages, what we are experiencing in the Cryptocurrency world is probably just the setting up of the foundations with an entire building yet to be constructed on it. For the foundations to be strong, they will utilize several materials and ingredients and will consist of many layers.
ICOs were like an early layer. They fully utilized the benefits of Blockchain, but they also benefitted from misusing the abilities of Blockchain to scam users or to undertake projects that ended up as failures. Many users lost the money invested in ICOs and this reduced the overall credibility of Cryptocurrencies and the use of Blockchain technology for everyday financial transactions.
A solution was found in the form of STOs. With business owners having to comply with legal regulations for the formation of security tokens, people are less likely to be scammed of their monies. STOs may experience more changes and would eventually evolve to become technologically more robust and reduce the gray areas which usually characterize Blockchains. Alwin continually studies and researched the transformations of Blockchain technology to ensure that our clients get the best of services.
How can a business benefit from STOs?
Trading and business have become more global now than what it was before. People are constantly looking for smooth operations with businesses, no matter where they are geographically located. By using a mobile app or a desktop app customers end up connecting to businesses anywhere, but at the same time, they need the security laws to be carried out in an orderly way even when a smart contract involves parties from two or more different jurisdictions.
A lot of business startups using ICOs in the USA were shut down because of a lack of regulatory compliance. STOs avoid this scenario because it requires businesses to list their tokens as securities right from the start. These security tokens can even be programmed to be issued to users who have authenticated their identity and have a valid address on file. This gives businesses greater peace of mind knowing that their business will be financed by responsible investors. The Know Your Customer (KYC) and Anti Money Laundering (AML) protocols are strictly adhered to by STOs to avoid scams and corruption.
At the same time, investors have greater transparency when it comes to their investments. They can get complete details about the issuer and about the number of tokens that will be given or have been promised.
Start Your Own Crowdfunding Site With Blockchain Technology from WeAlwin Technologies!
Conclusion
Several STOs have been launched since 2017 and the market for STOs continues to grow as it strengthens its performance and expands its reach to cover more governments, economies, markets, and industries.
WeAlwin Technologies conduct exhaustive research in the highly dynamic cryptocurrency market to identify the best opportunities available for new and existing businesses. STOs, with their low barriers to entry, allow more businesses to take advantage of crowdfunding than IPOs. As Blockchains evolve to incorporate legal regulations and make cross-border trading more feasible, We at Alwin Technologies will help you establish a blockchain business that will be destined to succeed.