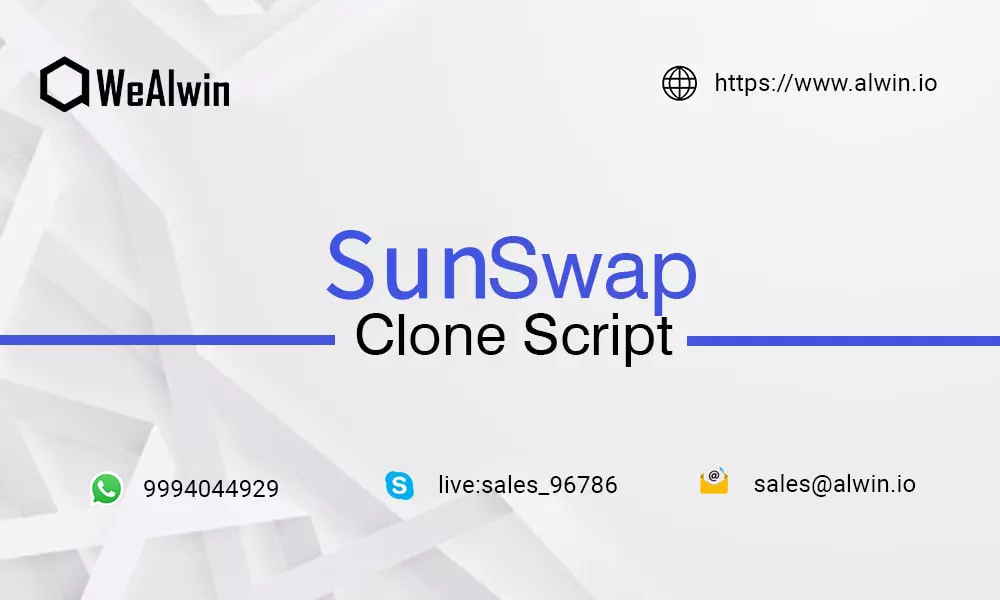 Decentralized finance is the talk of the global financial trend. It is not confined to a particular business model and suits all business verticals to escalate to a non-regulated and highly effective digital business arena. 
Specifically, the decentralized finance is getting upgraded in the exchange platforms making it more user-friendly to the trader. Right from the initiation of the swapping mechanism to the present conversions among two blockchains without any technical hassles or data loss, we can realize the growth of the Defi sector.
This blog speaks about the SunSwap clone script, its significance, and all the information surrounding it that would help you to start your decentralized exchange like SunSwap with us.
What is SunSwap?
SunSwap is a decentralized exchange protocol that runs on the Tron blockchain. It is trending among crypto and other business entrepreneurs because of its liquidity automation, interconnectivity, and transferability, meaning they allow exchange between trc20 coins.
Yes, the most prominent thing about SunSwap transfers the tokens and coins as per the liquidity protocol, but the main thing regarding SunSwap crypto exchange is they offer the trading fees directly to the liquidity providers rather than focussing on the protocol.
One interesting thing is that you need not need to register to the SunSwap account to stake or pool cryptocurrencies. Just log in to the account using your decentralized wallet link. They currently endorse the Tronlink wallet.
SunSwap clone script
SunSwap clone script is a decentralized Tron-based protocol that runs efficiently on the Tron blockchain like SunSwap. It has all the essential features of the SunSwap ecosystem like the liquidity provisions, staking, pooling, and rewards options without deteriorating the copyrights of the original software. 
It is 100% customizable and one can modify as per one's business requirements. They will allow the users to transfer trc20 tokens instantly and the user can earn trading fees and mining rewards. This will provide high scalability and reduced gas fees as they run on tron blockchain.
Why SunSwap clone script for your DeFi business?
SunSwap runs on the smart contract developed on the Tron blockchain and hence it is professional enough to create outstanding decentralized applications and DAO. Some of the unique perspectives of the SunSwap clone script are
Unlimited liquidity - SunSwap facilitates high-end liquidity thereby allowing the traders to conduct the transactions faster.
High-speed transactions - Due to high scalability and liquidity in the tron blockchain, the transactions are conducted in a much faster way.
Open-source software - Being an open-source decentralized software, the SunSwap allows every trader to conduct their transactions irrespective of their transaction variability. 
High ROI - The trading fees would be paid to the investors in the SunSwap rather than focussed on the protocol.
Exchange among trc20 tokens - You can transfer the data among the trc tokens in the tron blockchain instantly without any interruption.
These are some of the unique areas why you should choose to start your crypto DeFi business like SunSwap. WeAlwin Technologies helps you to kickstart your crypto business like SunSwap instantly and earn huge returns from your decentralized Tron-based software.
SunSwap clone app
In this present technological world, starting software alone is not beneficial. The present generation uses smartphones more than laptops or desktops. So, it could be mandatory to start your clone app like the SunSwap app to facilitate your traders to trade on your decentralized exchange protocol. 
Some of the features of our SunSwap clone app are
Pop-up notifications
Geo tracking 
Attractive UI
High security 
Muti-lingual assistance
Multiple payment methods
Multiple OS compatibility - Android, iOS, or Windows.
Dapps
How SunSwap clone script works?
SunSwap is a decentralized and highly automated liquidity protocol with unlimited liquidity features. 
There is no necessity for the interference of any organization or authority for matching orders as they are decentralized. It allows instant exchange without any matching orders for the traders. 
SunSwap supports tokens for a swap between two TRC 20 tokens and TRX and TRC 20 tokens are supported.
If you are exchanging tokens, you will have to pay a minimum fee of 0.3% trading fee to the particular liquidity provider.
SunSwap manages its operations by smart contracts, and hence each and every trading pool supports the exchange of tokens. 
It offers many traders, particularly thousands and hundreds of projects with liquidity (NO limitations). It basically handles the function x*y=k to assure the legality of transactions(whereas x=token1, y=token2, k=constant number). 
Every swap is conducted by substituting some of the tokens with some of the other tokens. 
As k remains idle without change, the remaining tokens get updated accordingly. 
Benefits of SunSwap clone script
SunSwap clone script software comes with all the updated features and benefits and WeAlwin Technologies brings up updated benefits for your users with your SunSwap clone script software. Some of the notable benefits in starting your SunSwap clone script are
SunSwap is the state-of-the-art decentralized token exchange protocol and is highly-designed for all DeFi users ( as it is an open-source platform) by making it more secure and effective.
Our Tron-based DeFi SunSwap Clone Script protocol has core strengthens in their infrastructure and high liquidity API that can build your platform with the following benefits.
DeFi SunSwap Clone Script allows traders to instantly exchange the TRX and TRC20 tokens between their blockchain. Therefore, Market makers have the highest probability to earn ROI without any difficulties in entry.
Unlimited Liquidity: Our DeFi SunSwap Clone Script is equipped with unlimited liquidity which is of paramount importance to all the essential crypto markets, trading platforms, and even the whole industry. This is the reason why our SunSwap Clone script software and the app provide thousands of traders information and hundreds without any interruption in the data and transaction at high speed. 
Great comfort for users: SunSwap Clone Script provides exceptional lighting exchange without executing only the matching orders.
Complete Availability: DeFi SunSwap Clone Script is easily accessible and can be managed by everyone as it is an open-source platform. It offers a truly fair and open financial marketplace as for your platform promised by TRON.
High profitability: DeFi SunSwap Clone Script allows users will get ongoing processing fee without any commission.
High Returns on investment – Permanent amount of trading fee paid to the user with no sort of commissions from the trading protocol.
Features of SunSwap clone script
Defi transactions
Defi operability
Transactions have become effectively faster and efficient ( 200x faster)
Reduced gas fees and trading fees
Decentralized and censorship and untampered data
High security
Cryptocurrency and tokens in the SunSwap clone script
SunSwap supports conversion between two tron tokens. Both TRX and TRC20 tokens are supported for the transactions. Some of the cryptocurrencies and tokens that are supported by SunSwap cone script are 
BTC
USDT
USDJ
HT
PEARL
LIVE
UTU
FIST
LIVE
WBTT
Choose WeAlwin Technologies for your SunSwap clone script
Create your high-performing decentralized crypto exchange protocol like SunSwap from WeAlwin Technologies. We are one of the leading DeFi development company and have a team of developers and designers who have excelled in decentralization and their updates and a strong research team who cares about your software and produces updated and well-performing cryptocurrency exchange software like SunSwap.
Our SunSwap clone script is 100% customizable that you can customize and modify your software at any stage of development as per your business requirements. We use state-of-the-art DeFi technology tools to create the SunSwap clone software and app and hence you can expect a ready-made software instantly and start your business.
YOU KNOW WHAT?
We can provide your SunSwap clone script software within 48 hours and you can start your decentralized Tron based exchange within 5 days. 
Hurry up. 
Reach us now and start your Tron-built DeFi Platform like SunSwap now!!!