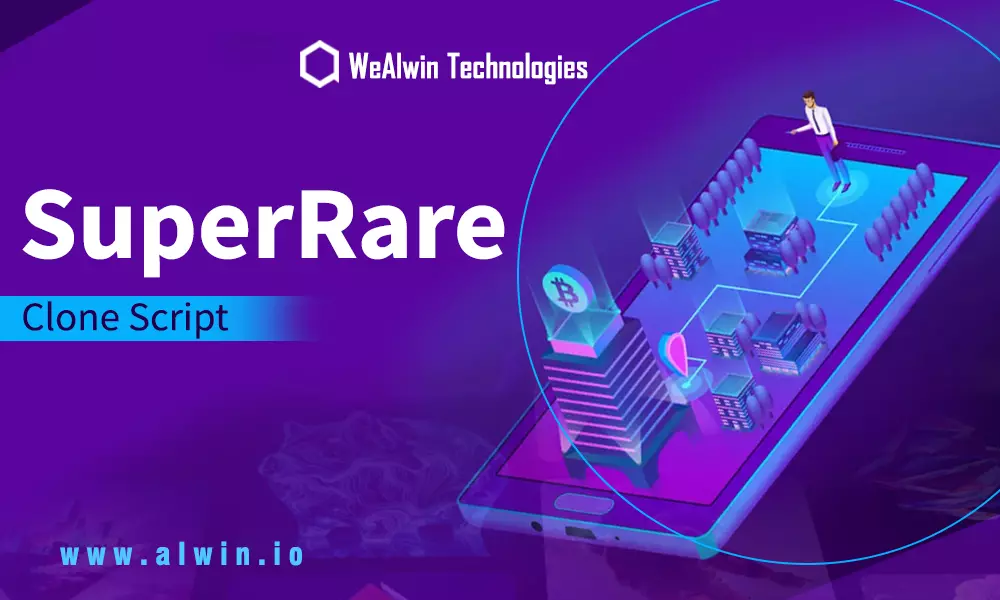 Blockchain-based transactions at present are getting popular among users around the world. People in modern times are highly get interested in investing in digital assets focusing on their increasing value. Consequently, the NFT marketplaces to buy, sell and trade their assets became so established today.
As of now, different kinds of artwork in the blockchain network sell for millions of dollars repeatedly. It sounds quite interesting, right? Consequently, let's get all its details in the following.
What Is SuperRare?
SuperRare is a decentralized NFT marketplace. It primarily runs on the base of the Ethereum blockchain. The platform is used to list and trade unique crypto assets. Each of them is authentically created by digital artists and tokenized as crypto-collectibles, meaning any crypto enthusiasts can buy, own and trade them in the market space.
The platform also introduced its own marketplace token called $RARE. The curation token is a means to represent and entitle new curatorial talents. Aside from just tracking and empowering, the SuperRare smart contract system lets the actual creators earn a fee from resale prices, on the basis of royalty.
What Is SuperRare Clone Script?
The SuperRare clone script is an exact replica of the SuperRare NFT platform. It is a ready-to-shift development source that obtains all the trendy features and options, which are currently available in the successful SuperRare marketplace.
Even if it has all the necessary components as default, as a software owner, you can fully customize the framework at a 360° angle. Thus, you can create NFT marketplace website effectively as long as it has a full outlet on the basis of your complete business plan and idea.
Why SuperRare Clone Script?
SuperRare is one of the renowned NFT marketplaces that acquires all the latest user-centric characteristics and catchy UI/UX for a magnificent user onboarding experience. Additionally, it is an easy-to-use platform, so your users practice no hard in its overall interface structure and actual framework design.
SuperRare clone script facilitates artworks that could be easily purchased via OpenSea, the well-established NFT marketplace in the crypto world. By filtering the NFTs available at the categories such as recently active, freshly minted, and on auction, digital artworks could be simply sold on OpenSea too in an equal amount of commission range.
How Does SuperRare clone script Work?
To have an effective platform operation, functionality experience with an NFT marketplace like SuperRare, a wallet is must be integrated prominently, i.e. Metamask, the most prevalent with SuperRare. Because the transaction in SuperRare performs in Ether, buyers need to obtain ETH in their wallets. 
While arts are added to the platform, it gets tokenized, which are unparalleled, unique, generated by specific artists that buyers can purchase. Such artworks linked tokens represent standard records containing the ownership of each NFT individually. Now, the digital collectibles are secured by cryptography and tracked on the blockchain ledger.
On their tradings, except for the market fees, the SuperRare NFT marketplace charges a 3% commission commonly on each purchase that happens on the platform. As well, SupeRare gains 15% of commission on a primary sale. In which, lessening 10% loyalty for the artists, the remaining 85% goes to respective creators.
Importance Features of SuperRare Clone Script
Stunning Storefront
Beta Phase Benefits
Commissions Over the Art Gallery
Trading Fees for NFT Marketplace
Option for Bidding
Transparency in Auction
Open Market for Trading Cryptos
Advanced Site Architecture
Enriched Secondary Market Benefits
Rating Credibility
Benefits of Developing Your NFT Marketplace Using the SuperRare Clone Script
The achievement of an NFT marketplace like SuperRare is ensured no doubt. To explain it in an elaborate manner, find some significant benefits that you derive from your NFT marketplace developed using the SuperRare clone script from WeAlwin Technologies.
A platform like SuperRare becomes highly beneficial for the creators especially. So that they can simply list their artworks on your platform and get paid instantly.
And, one of the biggest benefits that your NFT marketplace offers to the creators is decentralized transactions. That fully avoids a middleman in the overall service operation.
Majorly the transparency in business. As an owner, you could smartly view the history of complete bidding and active process in a secure way on the blockchain ledger.
At last, the demands among contemporary digital artists that pursue a fortune platform like SuperRare in the market space could be fulfilled by your effective startup.
Through these, your NFT marketplace online possesses a high user value in a short period of time, which means, the productivity increases fast accordingly.
How to create NFT Marketplace Like SuperRare?
Creating your own NFT marketplace like SuperRare would be so smart and get a better outlet while you contact an expert developer in the market. By the choice of the powerful SuperRare clone script for your NFT platform, you could simply derive several enhancements right from the development to the P2P cryptos service business via secure blockchain. 
Following, here is some importance that you should consider before approaching a developer from the global domain.
Market Analysation - It is crucial to analyze your selective marketplace and prepare a business plan and software interface requirements before contacting your developer. 
Expertise Developer - Next, approaching an expert developer is always needed for a progressive NFT marketplace creation.
Latest Features - It is also essential to get all the contemporary features and options which are available in the crypto world also to be available with your NFT marketplace.
Quick Launching - Primarily, it is so advantageous while you launch your NFT marketplace quickly very after your actual business plan.
Following these major factors, you can effectively introduce your enhanced P2P NFT marketplace for the crypto enthusiasts at present and win in your selective market space.
Where to Get the Best SuperRare Clone Script?
We, at WeAlwin Technologies, acquired an expert developer team, and have been expertise in the field since we present in the global cryptocurrency market territory. We completed more than 100+ projects for our successful clients around the world.
We offer a full tailoring option to your NFT marketplace development from winning SuperRare clone script. By contacting our business team, you can easily build your completed business plan so relevant to the latest market analysis and trends.
As well as, our SuperRare clone script possesses all the latest features and options which are currently available in the crypto-collectibles or NFTs world market. So that your software in the development segment faces fewer testing requirements. 
As a result, you get your fully developed NFT marketplace like SuperRare within days for a quick business launch online.
Wrap It All Up
The global blockchain market space is getting elevated among users day by day. In which, if we want to mention anything specifically, we can tell the NFT Marketplace immediately considering its gigantic development in the P2P blockchain network territory. 
Following, your NFT marketplace creation choosing us (WeAlwin Technologies) and our effective SuperRare Clone Script for a fruitful enterprise brings you all the advantages as discussed in the entire blog.
Contact our business team right from here for your valuable discussion Whatsapp | Telegram