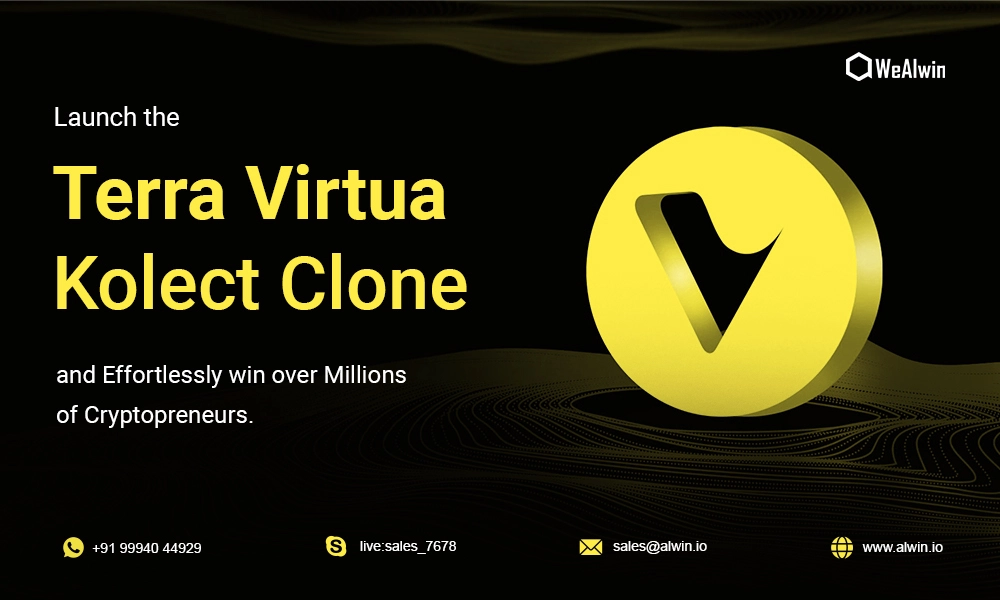 If you've been following the world of NFTs and blockchain, you've probably heard about Terra Virtua Kolect (TVK), an innovative platform that has taken the crypto world by storm. 
TVK has captivated the attention of millions of crypto fans and investors with its unique approach to digital collectibles and engaging user experience. 
In this article, we will look in depth at the TVK clone and how you may establish your own TVK-like NFT marketplace to get into the expanding world of Non-Fungible Tokens.
An Overview of Terra Virtua Kolect
Terra Virtua Kolect is a blockchain-based platform that lets users to produce, purchase, trade, and display rare digital collectibles in the form of NFTs (Non-Fungible Tokens). Unlike regular cryptocurrencies, NFTs reflect ownership of unique objects, artwork, virtual real estate, and other digital assets. TVK has grown in popularity owing to its immersive Virtual Reality (VR) features, which give users a new experience when engaging with their NFT collections.
What is a TVK Clone Script?
A TVK clone script is a pre-built software solution that fetches the essential operations and features of the Terra Virtua Kolect platform. It enables ambitious entrepreneurs and businesses to build their own NFT markets without having to start from scratch. By embracing a TVK Clone Script, you may save time and money while still providing an excellent platform to users.
Consult with our business experts to build your own Terra Virtua Kolect Clone! Chat with us on WhatsApp
How Can You Launch Your TVK Like NFT Marketplace?
The launch of a TVK-like NFT marketplace is a multi-step process that demands meticulous preparation as well as execution. Here's an easy guide to get you started
Market Research
Understand current trends in the NFT industry and determine your target audience. Analyze your competition to identify market gaps that you can fill with your distinctive attributes.
Selecting the Best Blockchain
Select a blockchain that meets the needs of your project. Although Ethereum and Binance Smart Chain are popular choices for NFT markets, other blockchains like Flow and Tezos are gaining interest.
Choose a TVK Clone Script
Invest in a high-quality TVK clone script that includes crucial features such as NFT creation, wallet integration, VR support, and marketplace functions.
Customization 
Modify the clone script with your branding, UI/UX upgrades, and other features that distinguish your platform from others.
Smart Contract Development
Create and audit smart contracts to assure the security and validity of NFTs issued on your platform.
Testing
Before an official launch, do extensive testing to iron out any problems or difficulties.
Launch and Marketing 
Make your TVK-like NFT marketplace available to the public, and create a full marketing campaign to attract customers and producers to your site.
Community Building 
Engage with your community, listen to feedback, and constantly enhance your platform according to the changing demands of your users.
Elite Features of Terra Virtua Kolect Clone
TVK Clone Script is a script that is intended to replicate the features and functions of the famous social media network TikTok. Here are some of the important features of TVK Clone Script:
User-friendly interface: 
The TVK Clone Script includes a basic and user-friendly design that makes it simple for users to explore and utilize the platform.
Virtual Reality Integration: 
Provide VR compatibility, allowing users to explore and interact with their NFT collections in an immersive virtual world.
Cross-Chain Support: 
Enable seamless transactions and NFT transfers across various blockchains to broaden the scope of your platform.
Gamification Elements: 
Incorporate gamification mechanics to make the platform engaging and rewarding for users.
Video creation and sharing: 
The script allows users to make and share short-form videos using filters, effects, and music.
Drops of Limited Editions: 
Implement special limited edition drops to generate a sense of rarity and collectability among NFTs.
Social Sharing: 
To attract new users, make it simple to share NFT collections on social networking networks.
Community Events: 
To encourage a lively and engaged user base, organize community events, contests, and challenges.
Security precautions: 
Implement strong security measures to secure users' digital assets and prevent unauthorized access.
Benefits of Creating a TVK Clone App
Early Mover Advantage:
By establishing a TVK clone, you may position yourself as an early entry in the fast-rising NFT sector, giving you a competitive advantage.
Profitable revenue Method: 
NFT markets earn money through transaction fees, NFT minting fees, and platform commissions, resulting in a profitable business model.
Broad User Base: 
Appeal to a broad group of artists, collectors, and fans, building a healthy ecology on your platform.
Business Exposure: 
A successful TVK clone may increase the exposure and repute of your business in the blockchain and cryptocurrency arena.
Empowering Artists: 
Give artists an exciting and creative platform to promote their work and monetize their creativity.
Digital Ownership: 
NFTs offer a novel mechanism for artists and collectors to demonstrate ownership of digital goods. Businesses and individuals may encourage confidence in the digital asset trade by establishing an NFT marketplace such as TVK.
Conclusion
WeAlwin's NFT Marketplace development solutions are thoroughly unique and are currently garnering popularity in the digital arena. We extend an incredible chance to all blockchain enthusiasts and people who're interested in smart contracts.  As a consequence, optimizing our top-tier NFT Marketplace development company is crucial to taking your digital business to the next level, making a comprehensive NFT niche, and allowing the business platform to experience something that's really new.
Check out our page on NFT Marketplace Development Company