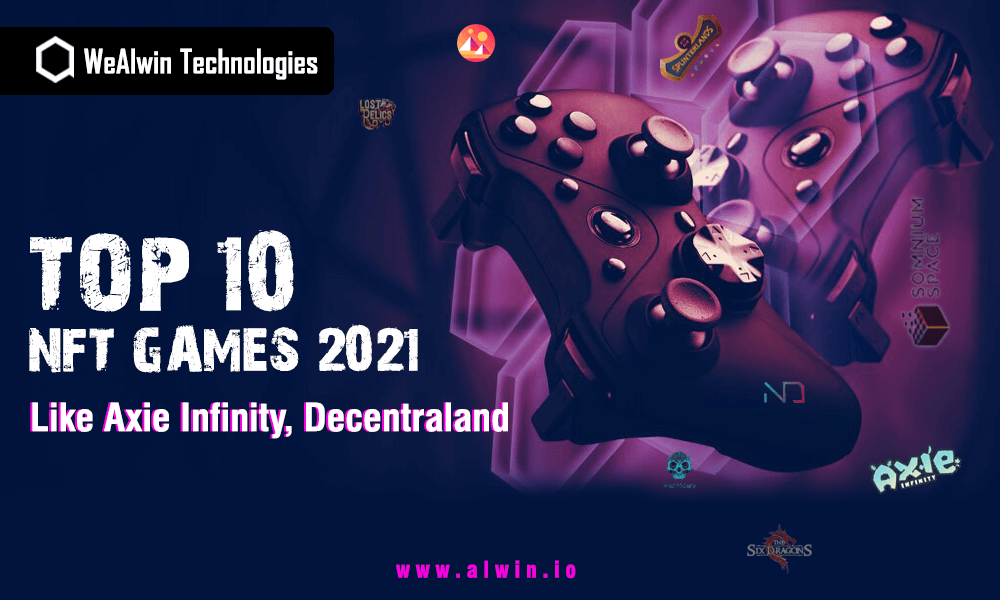 Games are fun. Nothing is fun in getting you PS or Xbox. Games help us to relieve our boring real life and enjoy and be a hero in the virtual world. After several advancements in the gaming industry including VR gaming, it is now the turn of the cryptocurrency sector to bring its kind of advancements. And you know what, it has worked out well.
NFT gaming is attracting a huge fan base all over the world. NFT supports creativity and its participation in the gaming industry has really amazed the gamers. If you are an entrepreneur and want to start your creative business, I would suggest you start your NFT gaming business.
Yes, I can feel that you need credibility. Here I have come up with the top 10 nft games in 2021 which are in hype right now. Let us get into the list
10 Most Popular NFT games 2021
Axie Infinity - Axie infinity is one of the most popular nft games in recent days. Have you ever tried the pokemon game that hyped the whole world some years ago. It is the same as this but it has some special features too. It runs on the ethereum blockchain. They have a specific scaling solution called Ronin which makes the gaming more unique and effective.
Start your NFT gaming business like Axie Infinity with Axie Infinity Clone Script
Lost Relics - Came out to stun the adventure gamers, this game is an eye-catcher and a stunner. If you love Tomb Raider, then this game is for you. Same as Tomb raider, the nft game runs on the enjin wallet. This game is similar to the blockchain game Diablo which allows the user to check the inventory and buy relevant items through blockchain. Like the previous one, the game does not charge your transaction fees and you can transact with reduced gas fees because of the enjin blockchain.
Neon District - Are you a neon lover, then you can create your NFT game in this sort. Neon district is similar to the blockchain game called Final Fantasy. This became the playable version recently with many followers and fan base. This runs on the ethereum blockchain but it does not attract much transaction fees for trading the NFT assets. The gas fee might be a bit high, but if you are creating an NFT game like Neon District, WeAlwin technologies will provide you layer2 solutions and rollups to reduce the ethereum fees drastically. 
Somnium space - If you want to indulge your real life in a VR atmosphere, then this NFT game can help you to do it. You can indulge yourself as a real estate agent and do real estate business in somnium space more effectively. Every section of the virtual reality in the game can be tokenized and can be sold as a non-fungible token. That means if you can sell your real estate piece in the game to anyone in the ethereum blockchain by putting them in their marketplace.
War Riders - Are you interested in time trave or apocalypse. Do you admire Dart or predestination? Then this game is for you guys. You can create your NFT game like War Riders with WeAlwin Technologies as we help you to create a fully post-apocalypse game for your users thereby making them glued to their seats and play like a freak. Built on ethereum, it helps you to buy or sell game assets like guns or tanks from the users within one another in the ethreum blockchain with no transaction fees.
Book a Free Demo of Axie Infinity clone script
Decentraland - If you are a guy who wants to purchase land outside the world or in a parallel universe, get into the nft game "Decentraland" immediately. This game allows you to buy and sell land in the metaverse which is the main reason for their success in the NFT gaming platform. Create your NFT game like decentraland with WeAlwin Technologies and add your desirable features in your NFT gaming marketplace.
The Six Dragons - This is one of the popular NFT games with the epic usage of Enjin blockchain where you can sell or buy game assets using ERC1155 gaming token. The game is also equipped with MFT token usage that you can buy or sell your token via MFT tokens too.
Gods Unchained - This is one of the most terrific nft games that you would have played. This is similar to Hearthstone, which is a blockchain game, but the uniqueness is that this game allows you to create an auction for your game where you can put your assets into auction if they satisfy the criteria. It runs on the Ethereum blockchain.
Get a live demo of Axie Infinity Clone Script - Whatsapp | Telegram
Splinterlands - If you are a fan of the game Magic the gathering, then you might definitely love splinterlands. Create products and sell them and trade in the NFT marketplace easily and effectively. It works on the HIVE blockchain and all the trade can be conducted on the hive blockchain.
9 lives Arena - This is one hell of an nft game that puts more reality into a game that the developer says is a game without a second chance. Once you are dead, you are permanently dead and you will have to start from the beginning. This game runs on the ethereum blockchain and the trade is conducted on ethereum tokens.
How can I start my NFT game in 2021 and grab the top slot?
Cool, you are in the right place. You could start your NFT game all by yourself but it may not be as competitive as you desire. You need to reach a top-notch NFT gaming development company to get your game that reaches millions' hearts. 
WeAlwin Technologies offers you instant nft gaming development solutions on demand so that you can create your desired game. All you need to do is to reach our Business executive and they will guide you to get your NFT game. You are just one call away from a successful business initiative.
No worries! Our NFT gaming development services are much affordable and best suitable for startups and entrepreneurs.