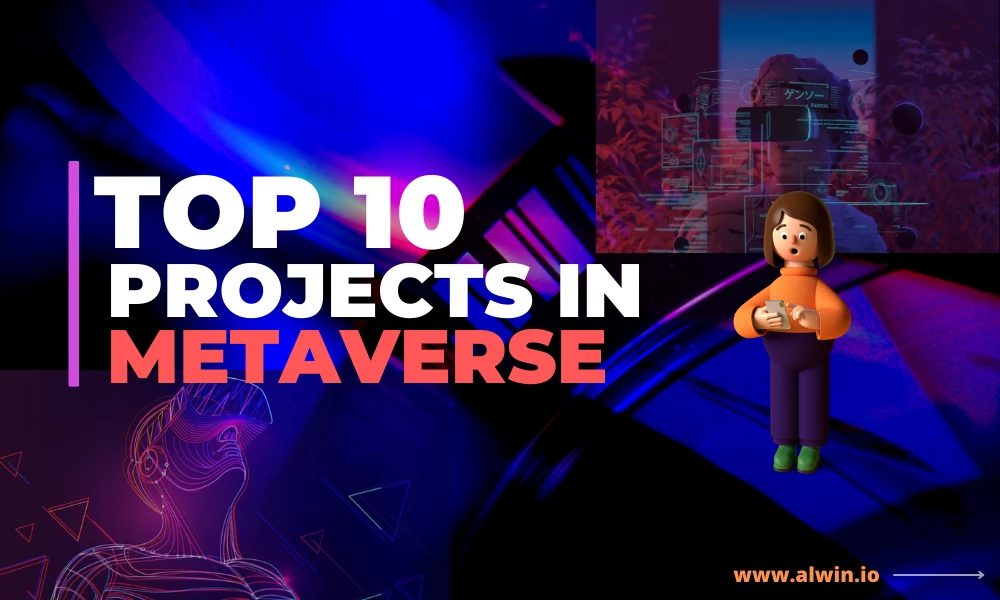 People in the past: experience real-world objects available in their lives. They enhanced them, designed them, colored them, beautified them, and made a number of things extraordinary, and useful to have and feel. Now, PEOPLE, WE ARE, enjoying many great things around us, along with one step ahead technology called METAVERSE: the VIRTUAL WORLD, where we can explore and experience all imaginable and unimaginable stuff as real, as we practice in our actual world.
Today, the Metaverse Industry has had a surge in its growth in the crypto marketplace. That's why a lot of metaverse business projects are taken forward by legendary business people worldwide. 
Are you one among those? Planning to build your project in the Metaverse? Then, this blog is entirely for you. Let's get it started.
What Is Metaverse?
The metaverse is a visual world. One can explore the meta-world utilizing VR (Virtual Reality)  gadgets, where the users can see all the objects available in the real world as 3D (3-Dimensional) animated graphics. It would be a completely amazing digital reflection of reality.
Users in Metaverse can be visible to others as individual avatars. The avatars are custom-made and can be modified as users like.
On the metaverse platform, users can look around and walk into various locations. They can go to art galleries, multiple foreign places, malls, and theaters. 
They can participate in different activities, that would be right from entertainment to trading. I.e. playing virtual games, purchasing different gaming collectibles, buying virtual lands, properties, various NFTs, exchanging cryptocurrencies, trading digital assets, and so on.
Okay!!!
It is time⏰ to explain the core thing that is for your business plan. ⌛. Let's move on.
Top 10 Projects to Develop for Metaverse Business 
It is undoubted that Metaverse will hit a super success in the blockchain marketplace. But, what are the best projects to start with? What are the fruitful business models in the metaverse today? 
Yes, here we are going to discuss "the top 10 best, profitable, clever metaverse project lists" that you could take into consideration for your metaverse project development relevant to the current Metaverse marketplace trends and scenario.
Decentraland (MANA)
Decentraland is already a well-established virtual social environment. It is primarily based on the Ethereum blockchain network. Users of Decentraland are able to create, buy, and sell various digital world NFTs (non-fungible tokens). They can do real estate business on the platform and can explore, interact, and play colorful games there.
The platform enables a P2P (peer-to-peer) communication technology for the users along with secured in-world payment options. So, its peak in the metaverse marketplace today is broadly attracting energetic entrepreneurs.
Axie Infinity (AXS)
Axie Infinity is a gaming universe, where Pokémon-Esque creatures are referred to as "Axies".The Axie Infinity platform has its own, unique gaming synergy that makes it completely stand out from other online games on the blockchain. 
It is an Ethereum-based gaming digital marketplace, where players can collect the Axies as their virtual pets and start to battle, breed, gather, raise and develop kingdoms for them. While you are planning to create a gaming platform in the metaverse, building one like the Axie Infinity can be your first priority.
The Sandbox (SAND)
The Sandbox is a decentralized Ethereum-based NFT gaming metaverse and a community-driven virtual world. It enables non-tech savvy users to design, share, and sell in-world assets as profitable NFTs. VoxEdit, Marketplace and Game Maker are the three integrated products and services of the Sandbox that establishes user-generating content in its ecosystem. 
The Sandbox is now considered one of the several groundbreaking metaverses between creators, gamers, and gaming platforms. So, starting a project like this could be a lucrative idea for your metaverse business intent.
Cross the Ages (CTA)
Cross the Ages is a collectible card game, based on the Metaverse Universe, combining two worlds that represent fantasy and science fiction. It is a play-to-earn blockchain platform, where developers, digital artists, and gamers can build new games, earn valuable NFTs and collect various cards through adventures. 
The platform aims to connect the virtual world and the physical world by not only allowing the players to hold NFT assets but also empowering them to bring that into real life. Considering its success in the current metaverse NFT marketplace, your planning for a project like this will be extremely beneficial to your metaverse project and development.
The Meta Hero (HERO)
The Meta Hero introduces modeling and 3D scanning technology to the Metaverse.  It enables users to create ultra-high-definition 3D avatars and virtual products to sell on the platform as NFTs. Different buyers from virtual markets such as social networking, fashion, blockchain games, and virtual reality could purchase the uniquely created NFTs in a seamless manner. 
If you thought, the 3D scanning technology of The Meta Hero is in 4K HD on the deal, it is a surprise for you, "they have already decided to upgrade it to 16K ULTRA-HD". This is also one of the core reasons why the metaverse is getting a lot of buzz among meta-enthusiasts today. Considering that, your current metaverse product like this will make your brand extremely reached among the meta-world enthusiasts.
RedFox (RFOX)
Red Fox Labs describes itself as South Asia's first startup locator, offering immersive shopping, retail, and entertainment experiences to the users in Metaverse. The project is now focused by several energetic ventures worldwide, because of its aim to create innovations and scalable blockchain solutions via building and launching different tech firms in South Asian marketplaces.
The project's objective is to be distinct in the metaverse, so it provides a fabulous virtual shopping experience and gaming elements to the users. It is a one-stop-shop metaverse platform in the world. If you plan for a project like this, then, you are a great winner in the metaverse market.
Star Atlas (ATLAS)
Star Atlas is a space-themed MMORPG (Massively Multiplayer Online Role-Playing Game) from the year 2620. The VR game is built on the Solana blockchain and incorporates conquest, political domination, and resource collecting. The users of Star Atlas can earn in-game currency named ATLAS to buy anything from ships to space stations and land. 
Almost every item in the Star Atlas metaverse game is an NFT, and the player-owned assets. They can go on missions and other adventures in a seamless manner. And, they can earn the ATLAS currency through different activities, I.e. mining ore and selling it to other players or within the gaming platform. 
It sounds brilliant 😃!!! If you plan for a metaverse project like this!
Sin City (SIN)
Sin City is a play-to-earn metaverse game project with in-game tokens called SIN that serve as the currency of the platform. It has a free-to-play ecosystem and allows users to build revenue-generating assets and social venues for their friends to hang out in the virtual gaming atmosphere. The players can earn the SIN crypto tokens by competing in underworld activities.
The action-adventure gaming platform is also known as the 'Grand Theft Auto' of Metaverse, which allows the players to roam the street, fighting rivals, acquiring assets, and also buying real estate. Are you planning to rule the metaverse industry with such a captivating gaming project; development and launching? Then, you made the right decision.
High Street (HIGH)
High Street is a play-to-earn metaverse crypto project or a game with a hybrid model. It combines two different types of games, physical and virtual. In this, the players have an exceptional chance to win in the gameplay and perform errands. They can buy the HIGH token either in the form of digital NFTs or physically in the form of goods from well-renowned brands.
The highlight of the gaming metaverse is the way the game works. It makes the players so interested and more active. Bearing the contemporary metaverse gaming platform, and marketplace scenario in mind, selecting a project like this will be your greatest business plan, ever.
Sensorium Galaxy (SENSO)
Sensorium Galaxy is a wonderful virtual reality social platform that revolutionized the digital metaverse more than anything. It is a most hyped meta-project that unveils a universe of a different world, where the users can only enter if their capabilities let them go in. In such a digital meta-environment, the users can feel so close to their loved ones and enjoy amazing virtual content that is visible around them. 
The platform also has an outstanding feature called PRISM, the world of music and music events. So, it is often referred to as a part of the entertainment industry. If you plan to build a project like this, you are going to grab the huge attention of current meta-enthusiasts and run a fruitful enterprise in the metaverse, in the future.
Summing Up
It is clear that METAVERSE is a very big opportunity for you to launch a lucrative business and entrepreneurial sustain.
But, what when it comes to which metaverse project to be selected? 
It is a million-dollar question, right? 🤔
That is why we listed the Top 10 Metaverse Projects based on the reviews given by WeAlwin Technologies's CERTIFIED METAVERSE EXPERTS.
We also provide top-notch metaverse development services for our young metapreneurs around the globe.
To talk about anything regarding, your metaverse project plan, development need, and business idea(s) or to know about our project model availability, FEEL FREE to CONTACT OUR TEAM.