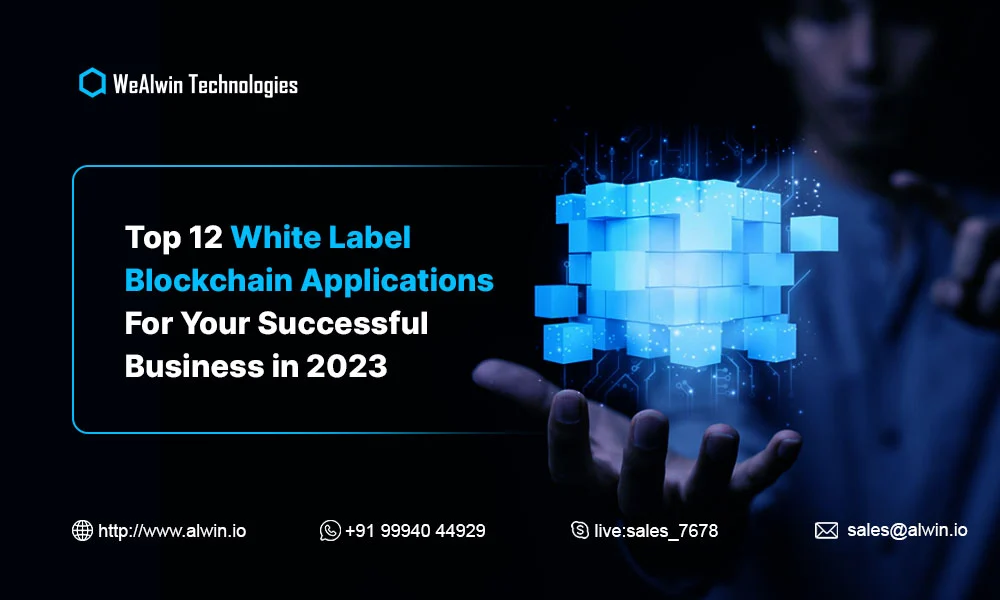 Blockchain business startups in the current era are increasing because of their wide success rates in real-time.
Yes. After the emergence of Web 3.0 in the market, decentralization enhanced traditional data transfer online with the next level of privacy and security systems.
It highly assists fin-tech and many other industries including entertainment, real estate, health care, etc. to securely sustain their business presence on the internet.
Following this, a lot of businesses from various industries are showing their vast interest to enter into the web3 or blockchain world.
Of them, the white-label blockchain app development solution is the biggest assistance to make their business application in a profitable manner.
Considering it, we're going to discuss the top 12 white-label blockchain applications of different industry sectors for your successful business launching in 2023.
So, let's get started.
Top 12 White-label Blockchain Apps for Your Business in 2023
Here are the 12 major white-label blockchain applications list to build your cost-effective web3 business app in this new existing year.
Coinbase White-label Application
Coinbase white-label application is the #1 pre-made blockchain app, most Cryptopreneurs use today for their winning business initiation. If you're planning for launching a crypto exchange on the blockchain then choosing the Coinbase white-label clone script can be your precedence.
Binance White-label Software
Next to the Coinbase white-label application, Binance white-label software is increasingly used by global crypto entrepreneurs focusing on its immersive application features. The prebuilt exchange script is extremely secure and comes with integrated SSL-backend APIs, Keychain, etc.
MetaMask White-label Wallet
MetaMask is a popular crypto wallet among blockchain industries. Following this, the "MetaMask white-label wallet" - is now used by a wide number of business people around the web3 world. Utilizing the resource, they are smartly launching their futuristic cryptocurrency wallet platform and succeeding enormously.
Solflare White-label Solution
Likewise, the MetaMask white-label resource, Solflare white-label solution also allures many entrepreneurs to build and launch their profitable crypto wallet on the blockchain network. It enables its authenticated users, the power to control crypto transactions in the blockchain, effectively. 
SafeMoon White-label Application
SafeMoon white-label application or SafeMoon clone script is a community-driven decentralized token development solution. Considering its high scalability in the blockchain business, it's becoming more trendy in decentralized finance (DeFi) application development, in 2023. 
SushiSwap White-label Software
SushiSwap white-label software - the next important DeFi app development solution to the SafeMoon clone script, comes with all the essential DeFi tools that your business ever needs to achieve fast. It's also one of the popular white-label DeFi clone software used by several cryptopreneurs, at present.
CoinTool White-label Application
Utilizing the powerful CoinTool white-label application, you can create your own BEP20 token-generated platform for business. Considering high adaptability in developing a quality BEP20 token generator, CoinTool clone script is recommended by experts to the new age crypto business people worldwide. 
TokenMint White-label Software
Same as the CoinTool white-label application solution, the TokenMint white-label software is also a popular ERC20 token-generating platform clone script for business launching. The 100% customizable token generator is now widely used by a large number of cryptocurrency business owners for profitable blockchain startups.
Betfury Clone Script
The industry of gaming - web2.0 to web3.0 - is now highly getting familiarized with Betfury clone script; a social i-gaming crypto platform development solution. It's a ready-to-launch web3 gaming software white-label script optioned with all advanced features and options to the current market.
JustBet Clone Script
JustBet clone script is another renowned white-label blockchain gaming platform. It provides a remarkable gaming experience to audiences; assists clever business owners of the gaming industry to easily develop their own gaming platforms to attract a wide range of users fast in the web3 market.
Rarible Clone Script
In the world of NFT, the number of NFT entrepreneurs who develop their new NFT marketplaces availing Rarible clone script is increased, now. Right from the white-label software facilitating the trading of NFT digital collectibles across various blockchains, it attracts entrepreneurs with lots of significant potential to utilize the resource.
OpenSea Clone Script
OpenSea clone script - is the second most trending NFT marketplace development solution next to the Rarible clone script. The fully tailor-made NFT platform creation resource includes all kinds of features and factors to build quick-achieving NFT marketplace software for business launching.
Consult with our business experts to launch your Blockchain Platform instantly! Chat with us on WhatsApp
Essential Features for Your Blockchain Business Application
Now that we've discussed the top white-label blockchain app resources, it's time to discuss some important features you should look for when developing your own blockchain business application for launching.
Full Custom Development
Ensure you get full custom app development options, so as a business owner, you can easily customize your selective white-label blockchain app's 360-degree framework apt for your exact business model and planning.
Updated White-label Apps
Your selective white-label app for your blockchain development should be up-to-date for enhanced in-app features and application functionality. So you can easily reach existing blockchain enthusiasts through the greatest business presence online.
Advanced Technology
When developing your blockchain app with advanced technology stacks, your software performance would be great and enhanced. As well, the process of software development will be completely shortened, so you can launch your business quickly in the market.
How Can We Help You With That?
Quick App Development
Your white-label web3 app development employing WeAlwin Technologies experts assists you to build your software fast with extraordinary pre-made clone script solutions.
Cost-effective
It can be done so cost-effectively. And you can get more advanced features at a very reasonable price list.
Easy Customization
Utilizing our 360° customization solution, you can build your entire software that is applied to your entire business plan and ideas.
High Brand Reputation
Because our white-label blockchain app development services are concerned with the latest exchange software upgrades, your platform on blockchain finds quick visibility.
Increased ROI
By launching your web3 platform using our readymade white-label blockchain application, you can earn money from various revenue streams, including trading fees, transaction fees, advertisement revenue, and so on.
Improved Reach and Brand Awareness
Our unique user interface and impressive clone script features assist your target in quickly identifying your website, thereby your brand gets more visibility.
Check out our page on Blockchain Development to get more information
As WeAlwin Technologies is adroit in developing Web3 products, we are so experts in the domain of Blockchain technology. In that way, we are now ahead in the blockchain development services market square by offering enhanced white-label blockchain apps to fruitful business startups. FOR MORE DETAILS: CONTACT OUR TEAM RIGHT FROM HERE.