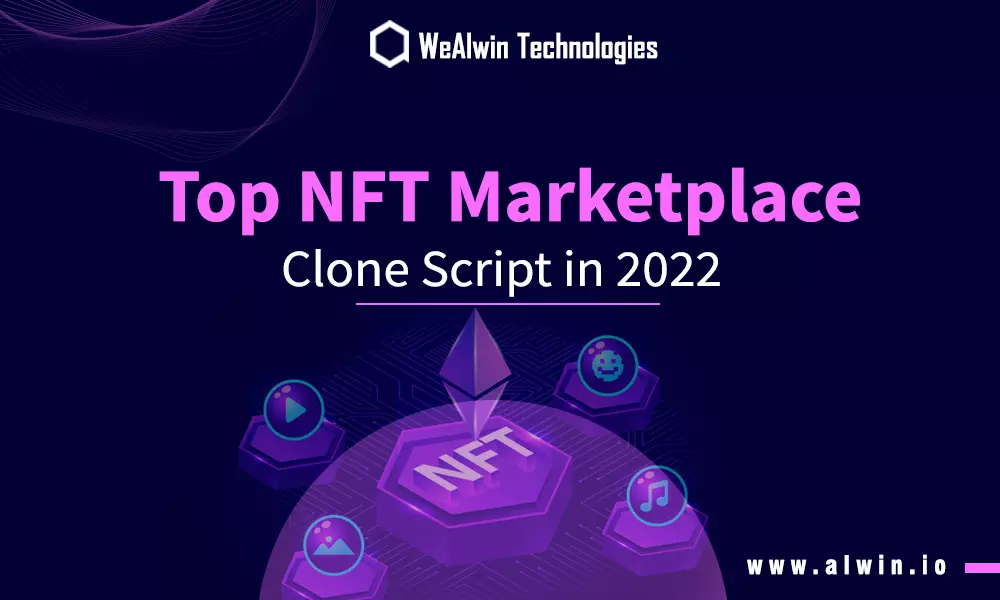 The modern generation is highly influenced by technology, especially blockchain. On that, the popular today is Non-fungible Token (NFT) Marketplaces. Right from the fact that crypto-collectibles are the gaining assets in the digital world, many budding investors start trading on the NFT Platforms in large amounts than investing on cryptocurrencies. 
Considering the gigantic development of such NFT Marketplace industry, successful business people are also highly getting interested to launch their new NFT Marketplaces focusing on lucrative enterprises.
Pursuing that, this blog is going to inform you about the top NFT Marketplace Clone Scripts from WeAlwin Technologies to achieve your goal, you, too, are one of them.
Let's start this discussion would be your milestone for a profitable NFT Marketplace development and launching vision into the blockchain network.
NFT Marketplace Clone Script - An Overview
NFT Marketplace clone script is a scalable development option, where all the trendy features and options available in the NFT world are already built-in for your Platfrom. Therefore, as an entrepreneur, you could easily transfer all those characteristics to your NFT Marketpalce for an advanced business launching.
So, your NFT Marketplace from any of your selective NFT marketplace Clone Scripts from WeAlwin Technologies would be fully user-centric. Thus, your platform during any competitive scenario allures lots of contemporary users vastly on the peer-to-peer blockchain network.
Why Is It Important to Select with Top NFT Marketplace Clone Script?
It is a core thing to consider when it comes to software development for any kind of real-time business startup. The same is applicable for the NFT Marketplace development too. Hence, it is a must to select the right development script to begin your project focused a fruitful p2p blockchain business infrastructure.
Which boosts your business fast in the NFT world by possessing several notable business side benefits like quick development completion, affordable investment, app customization, expert guidance, and so on. Given the significance, explore the top NFT Marketplace clone scripts for your effective NFT Marketplace development from WeAlwin Technologies.
List of the Top NFT Marketplace Clone Script from WeAlwin Technologies
As already discussed, it is very crucial to choose the right development source for your project, here is our top as well as upgraded NFT Marketplace Clone Script for your blockchain business.
Rarible Clone Script
Rarible clone script, the creator-centric NFT Marketplace development source from WeAlwin Technologies, has its native token called RARI, created into the Ethereum blockchain. It is an exact replica of the popular Rarible NFT Market, incorporates all the existing features and options available in the same market space right now. The Rarible clone script in recent times is vastly chosen by a lot of entrepreneurs due to it provides a seamless user experience on NFT tradings and other operations.
OpenSea Clone Script
It is the largest selling NFT Marketplace Clone Script among successful entrepreneurs today. Right from the OpenSea Clone Script's stunning software interface, to being a forum for the creators, buyers, and sellers for the executions of respective actions, it makes an user engaging Marketplace atmosphere all the time.
Solanart Clone Script
Solanart Clone Script, the exact replication of the first established Solana-based NFT marketplace for your project would be the immersive option for a fruitful business. The successful Solanart Marketplace in the current crypto industry is used by a number of crypto enthusiasts because of its high transaction speed and lowest trading charge. And, the marketplace's clone script is today's first choice for those who want to start their NFT Marketplace into the Solana blockchain.
Binance NFT Marketplace Script
The clone script resembling popular Binance is a largest exchange platform holding millions of active users, and now established its largest NFT Marketplace platform featured smooth buying, selling, and trading top NFTs in a seamless manner. By default, the Binance NFT Marketplace Clone Script incorporates all user comprehensive options to develop your NFT Platfrom reaching a vast user and trading volume for an increased productivity on the buisness.
SuperRare Clone Script
SuperRare clone script through your NFT Marketplace on the blockchain would be an excellent junction for digital artists. There, they can easily get connected with the wide array of art communities around the NFT world. The SuperRare Clone Script is an Ethereum based NFT platform assuring your perfect business initiation into the trendy NFT market space. As it is a pre-built script, you can personalize your NFT Marketplace completely from your own business ideas.
Wazirx NFT Marketplace Clone Script
It is a splendid, ready-to-shift model of India's biggest crypto exchange platform called Wazirx's NFT Marketplace. It is so specified for its Indian fiat currency (INR) acceptance on NFTs trading. As the Wazirx NFT Marketplace clone script enabled the unique face of the NFT world, especially for the Indian creators to list their digital artwork as collectors, the platform has a huge familiarity among large numbers of people around the world. 
In such circumstances, while you launch your NFT platform from its replica captivates energetic merchants, particularly from country India. 
Following the preeminent NFT clone scripts, read out their common and splendid advantages which you grasp from WeAlwin Technologies's clone script through your NFT Marketplace development.
Brief of Business Side Benefits You Derive from These Top NFT Marketplace Clone Scripts?
As an entrepreneur, you can build your complete NFT Marketplace utilizing any of the listed clone scripts effectively within 9 days ( approx.)
While compared to the cost of the development from Scratch or Whitelabel, the clone script is so lowest for your software creation investment. Right from the NFT marketplace Clone Script's advanced framework, your Platform would be get ready for the launching as cost-effective eventually.
If you have any different UI/UX plan, feature modulations, and other default clone script software tailoring needs, you can smartly apply that via this innovative NFT marketplace clone script development.
Above all, as an expert in the NFT Marketplace development field, we provide our skillful team for you, on calls, at any time for the discussion regarding your selective business model and further improvements. So that you can smartly boost your NFT Marketplace business plan more powerfully even afterwards.
In Conclusion
The crypto industry among anything in the modern world is highlighted for a highest revenue stream combining diverse business models. 
Thereon, the NFT Marketplace is major and concentrated by several energetic business people like you at present. Following, our Top NFT Marketplace Clone Script among them, as discussed, assists you with significant business sides of advantages for your profitable launching in the trendy NFT world.
So, what are you waiting for? Let's talk to our business team immediately by filling out the 'Contact Form' appears in the middle of or at the end of the blog, and consult our experts to call you soon for a discourse.
Collaborate with us to take your business up a notch | Whatsapp | Telegram