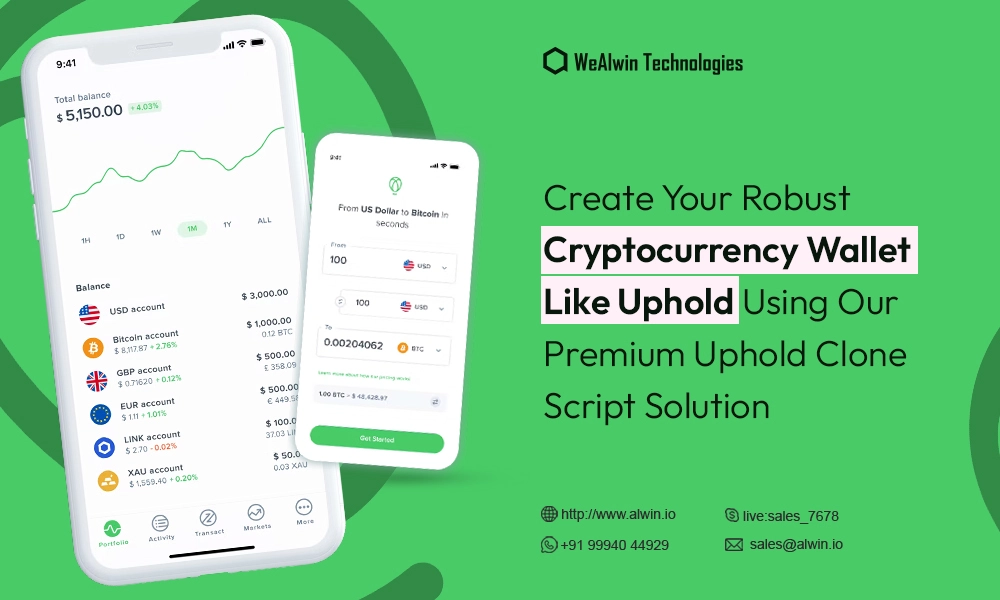 Want to create a cryptocurrency wallet like Uphold with an experienced team of developers and a premium Uphold clone script?
Then, you're in the right place.
We provide you with a top-notch Uphold clone script to create your robust cryptocurrency wallet with advanced features and options. 
Our Uphold clone script is a reliable solution that can be used to build your own crypto wallet with the same characteristics and functionalities offered by Uphold.
Let's explore it in detail, in the following.
What is Uphold?
Uphold is a digital wallet for cryptocurrencies that provides users with an easy-to-use platform for staking, sending, and receiving multiple digital assets. This popular wallet is designed to provide users with reliable crypto wallet services in the industry.
The successful platform allows users to instantly convert between fiat currency and digital currencies; including Bitcoin, Ethereum, Litecoin, and Ripple.
Uphold crypto wallet offers advanced in-app security features like multi-signature and double-factor authentication, making it a great choice for users who want a secure cryptocurrency wallet on the blockchain.
Different Wallet Types offered by Uphold
As the world becomes increasingly digitized, a lot of people are turning to cryptocurrency as a way to store and manage their wealth. But with so many options available, it can be difficult to know which wallet type is right for you. Luckily, Uphold offers a variety of wallet options to suit users' individual needs and preferences.
They are -
Multi-currency Wallet - This type of cryptocurrency wallet is perfect for those who like to diversify their holdings across different cryptocurrencies.
Phone and Desktop Wallet - It is ideal for those who want to access their digital assets on the go or from the comfort of their own home.
Non-custodial Wallet - This wallet is perfect for those who value privacy and security above all others.
Consult with our business experts to Build your Uphold clone script! Chat with us on WhatsApp
Build Your Robust Cryptocurrency Wallet Using Uphold Clone Script Solution
Uphold clone script is a pre-made crypto wallet app development solution. It assists you to create your own cryptocurrency wallet similar to Uphold smartly for business launching. 
The pre-built software script enables you quickly develop your own wallet platform on the blockchain with a number of salient features relevant to the current market demands. 
Accordingly, the Uphold clone script from WeAlwin Technologies is developed with high-grade technology stacks, making it very powerful for your new Crypto Wallet Development. 
Our Uphold clone app solution includes significant wallet options such as multi-currency support, efficient wallet management, multi-trading options, etc.
User Account Creation Process in Uphold Clone Wallet
The users creating their accounts with your Uphold clone wallet can complete their registrations in a few simple steps. That would be so easy and straightforward as mentioned in the following.
Step 1
If you're a user, then, open the app and enter your email address, then select whether you want an individual or entity account.
Step 2
Fill in your personal details and information within the application, which will be securely stored to protect your privacy.
Step 3
You will receive a confirmation email with a link to verify your email address. Click it.
Step 4
That's it, now you can be the proud owner of your own individual account and can start buying, selling, and trading cryptocurrencies using the Uphold-like cryptocurrency wallet.
This platform would be suitable for both seasoned investors and just starting to dip their toes into the exciting world of cryptocurrency as the Uphold clone wallet offers a user-friendly atmosphere to manage your all digital assets in a protective manner. 
What Are the Advantages of the Pre-made Uphold Clone Script?
One of the biggest advantages of using a pre-built Uphold clone wallet is that it can save you time and money on development costs. 
Rather than starting it from scratch and building your crypto wallet from the ground up, you can simply use the pre-existing script that has already been tested and refined. It assists you to launch your business fast and with less risk.
In addition, the Uphold clone script's user dashboards allure the existing crypto market users with attractive application architecture. It comes to you as fully tailor-made, meaning you can 100% customize it to suit your unique business model plan and needs.
Supported Cryptocurrencies of Our Uphold Clone Wallet
Bitcoin (BTC)
Ethereum (ETH)
Litecoin (LTC)
Bitcoin Cash (BCH)
Stellar Lumens (XLM)
Maker (MKR)
Dash (DASH)
Ripple (XRP)
Chainlink (LINK)
Brave's Basic Attention Token (BAT)
USD Coin (USDC)
Basic Attention Token (BAT)
Tether (USDT)
Universal Protocol Token (UPT)
And many more
Why Choose WeAlwin Technologies for Your Uphold Clone Wallet Development?
We offer an Uphold clone script that's been proven and critically tested by our qualified testers for its maximum security and functionality.
We provide you with full app customization options with the clone solution to let you entirely personalize your crypto wallet as per your unique business requirements.
From design to all application features, we'll work with you every step of the way to ensure your new crypto wallet that meets all your enterprise specifications.
Check out our page on Crypto Wallet Development Company
Importantly, with our experienced team of blockchain DevOps, you'll have access to ongoing support and maintenance to ensure your new crypto wallet stays up-to-date and secure on the blockchain, all the time.