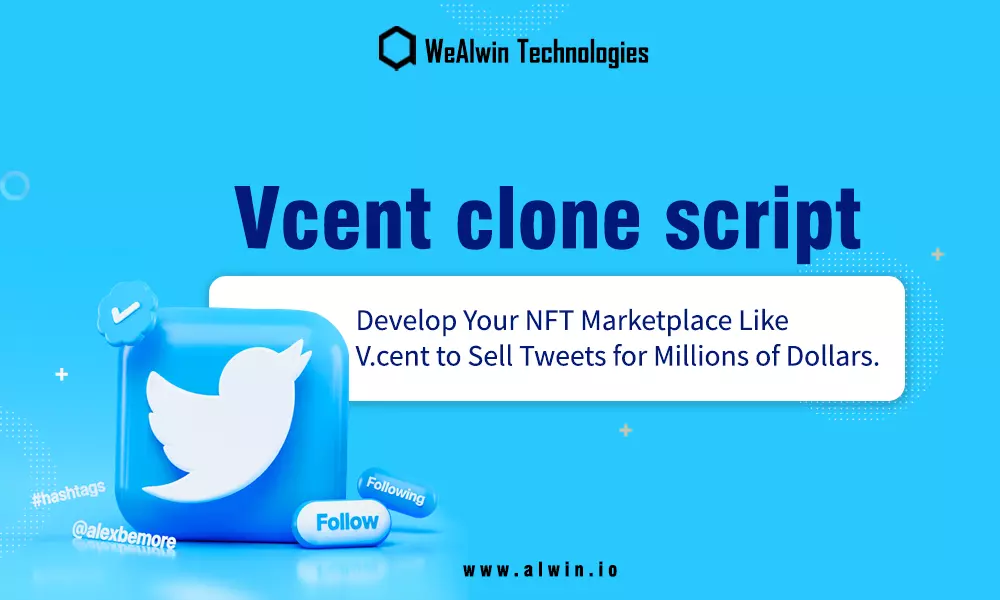 Join us to develop your V.cent Clone Script and set the stage for your users to have a seamless experience for selling tweets for millions of dollars.  
Twitter is obviously a popular microblogging platform. It has also made user-friendly changes by growing the size limit for tweets from 140 characters to 280 characters.  At that same time, most netizens can not receive any income from posting tweets on the online platform. Alone promoted tweets can fetch some revenue depending on the number of clicks and impressions. But, there is one platform aiming to change that.
It is no other than Valuables by Cent (V.cent) an NFT marketplace.
The original creators of the tweet can sell their unique content at any time for a higher price. Buyers will receive autographed tweet-based crypto collectibles. Notably, according to CoinMarketCap, the trading volume of non-fungible tokens is now at $5.93 billion. So entrepreneurs can strike gold by getting a Vcent clone script from WeAlwin.
What is the V.cent clone script?
V.cent clone script is a ready-to-use script that enables you to launch an NFT marketplace like V.cent where users can seamlessly sell their tweets for a million dollars. It is a fully customizable solution and it has all the essential features and functionalities similar to the V.cent NFT marketplace. In addition, This is a stunning NFT marketplace clone software that has been developed by our highly skilled team of Blockchain Experts. This script has been architectured and deployed with the help of modern technological tools, This script provides user-friendly features which give easy accessibility for users.
If you are an entrepreneur seeking to build an NFT marketplace like V.cent the V.cent clone script is the best solution for you.
Consult with our business experts to launch your V.cent Clone Script instantly! Chat with us on WhatsApp
A Brief note of V.cent NFT marketplace
V.cent NFT Marketplace is an online platform where content creators, influencers, and users can post their tweets effortlessly. Cent clone has three parts (Mint, offers, and sales). Curious investors can click on any tweet that the content creator is selling. After checking the date and time of the tweet, the image, and the seller's name, they can make a specific offer. Essentially, the Ethereum Blockchain network mints the tweets quickly. 
Usually, the highest bidder gets the rarest NFT. Artists and Creators have full freedom to accept or reject the buyer's bid. Then, the tweet is embedded minted in an immutable Blockchain network. Investors get digital ownership of tweets-based digital collections and sellers' autographs. 
Investors continue to buy a large number of crypto collectibles. According to the Non-Fungible database, 34258 digital collectibles worth $70.22 Million were purchased in the last 1 week. According to CoinRanking, there are a total of 984,089 NFTs in the world. This implies that content creators are tokenizing their tweets into valuable collectibles. 
The top 5 excellent features of V.cent Clone 
Activity section - It allows real-time updates about new tweets for sale. Content creators mint their tweets to the Cent Clone's gallery. Users can copy the link to the tweet, like it, and share it whenever they want. Typically, they can purchase tweets including images and videos of automobiles, caricatures, cartoons, luxury watches, natural elements, pets, etc. 
California Civil Code (CCC) Complaint - following the guidelines of the California Consumer Code (CCC) by our NFT marketplace like V.Cent. Specifically, investors may exercise their rights under section 1789.3. They may request information such as the address, email address, and telephone number of the contractor providing e-commerce services. 
Consistent Integration with Metamask Wallet - Buyers of Tweet-based NFTs can store them securely in the Metamask digital wallet. They can use it through a mobile app or web-based browser. Investors can maintain their both ERC-721 and ERC-1155-based assets. 
Twitter Sing-in Mechanism -  Our V.cent clone script sells Tweets as NFT so content creators and users can sync their Twitter accounts. The Cent NFT marketplace has access to all information such as collections and lists, email addresses, lists of accounts (blocked, disabled, and followed), profile details, and protected tweets. 
Round-the-clock technical support - Entrepreneurs can provide 24-7 technical assistance to content creators and users. Likewise, investors can address issues related to bidding, payments, privacy, and security. They can access the help center via email, live chat, and phone. 
How to buy Exclusive Rights to a Celebrity's Tweet?
For example, Twitter CEO and Cofounder Jack Dorsey sold his tweet as an NFT for 1630 Ether($2.9 Million). In march 2021, the trading agreement was executed by the Valuables by Cent (V.cent) Marketplace. Sina Estavi, CEO of Bridge Oracle, that company purchased Jack's tweet on the  V.cent Platform by using the Tron Blockchain Network. This is the first tweet posted on Twitter (March 21, 2006) that caused Dorsey's digital collection to sell for a high price. 
After, Jack Dorsey converted $2.9 Million into Bitcoin and gave it to the charity campaign (Give Directly Africa Response). The exclusivity and non-exchangeability of NFTs are two major Unique Selling Points (USP). The buyer of the NFT receives a digital certificate signed and verified by Dorsey. Also, investors get more flexibility as they can resell the rare crypto collectible on the secondary marketplace and make a profit.
What's the significant difference between  ERC-721 and ERC-1155 assets on the V.Cent clone software?
In the Cent NFT marketplace, the Content creators and influencers can sell both ERC-721 and ERC-1155-based digital assets. ERC-721 is the legitimate NFT standard of the Ethereum Blockchain network. Investors will receive real-time information about authorized wallet addresses, the name of the owner, the Token ID, and the Token pair contact address. 
ERC-1155 token standards are the advanced versions of ERC-721. It includes three types (fungible, non-fungible, and semi-fungible). Each NFT has unique data and distribution. Content creators can convert multiple crypto collectibles. They gain from lower transaction processing costs. Sellers can also use options like nuclear trading and escrow. 
How much does it cost to develop a V.cent NFT Marketplace? 
There is no fixed price to building a White-label V.cent NFT marketplace. It depends on features such as cross-platform compatibility, hourly fees paid to blockchain developers, level of customization, nature of features on the NFT marketplace, the time allocated for minting ERC-721 and ERC-1155 NFTs, and the technology layer for creating Ethereum-based smart contracts 
Why choose WeAlwin for your V.cent clone script development?
Our WeAlwin Technologies is a highly proficient  NFT Marketplace Development Company that provides you the reliable V.cent Clone Script and our highly skilled Blockchain experts to know how to develop an NFT marketplace like V.Cent perfectly. Similarly, our skilled team members provide V.cent clone script development for you to kickstart your NFT marketplace business quickly to earn profit. 
Entrepreneurs like you can get solutions like API integration, bug and glitch fixing, digital marketing, adding payment gateways, legal compliance, integration with hardware and software wallets, software upgrades, technical support, and White-label NFT marketplace development.
Conclusion
The world of social media is fast and real-time. Therefore, we ensure that your NFT marketplace like V.cent on WeAlwin is deployed in the market within a week. After all, popular NFT marketplaces like Opensea and Rarible also sell tweets alongside other assets to prospective buyers. In spite of that, the Vcent platform is a one-of-a-kind platform only for celebrities, content creators, influencers, and users of Twitter. Hence, it is unique as it focuses entirely on the social media industry. Essentially, netizens can sell both Tweer Artworks and Wrapped Tweets on the market for huge prices. 
Launch Your NFT Marketplace like V.cent using Vcent clone script With WeAlwin Technologies
Book a Live demo which is free of cost
Check out our page on NFT Marketplace Development to get more information
So now, ready to revolutionize the social media industry by purchasing the spirited Vcent Clone Script from us!!!