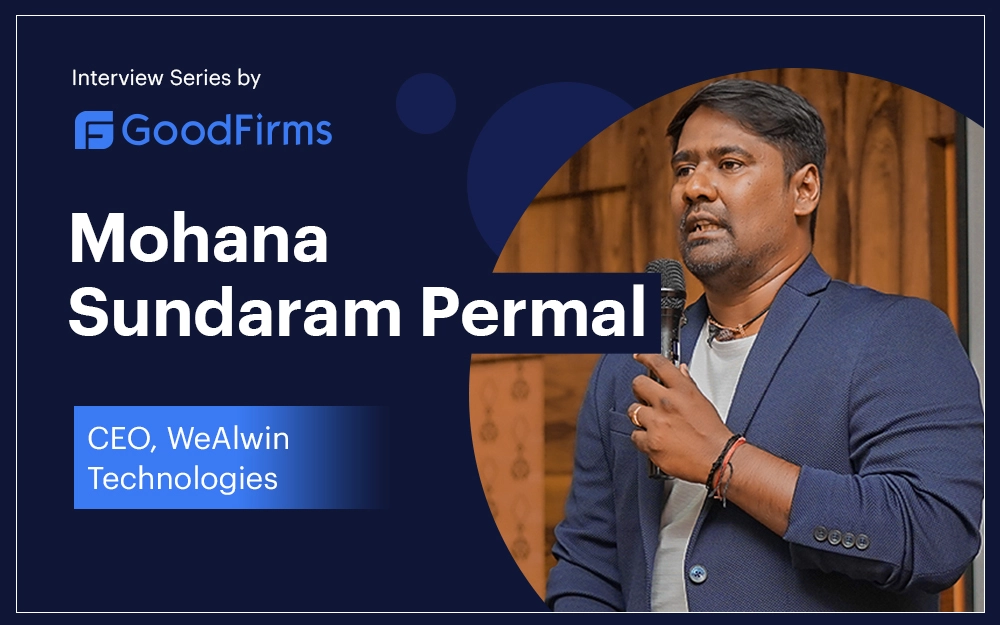 WeAlwin Technologies is a leading blockchain development company that offers various services, including crypto bot development, blockchain game development, Solana DEFi development, Polygon market data API integration, and Web 3.0, all newly introduced services for helping every size and shape of businesses worldwide.
The company was founded in 2018, headquartered in Madurai, Tamil Nadu. Their work in the blockchain industry is phenomenal and worthwhile to explore. WeAlwin has delivered many successful end-to-end blockchain development projects to diverse clients globally. 
They aim to assist their clients in achieving unmatched success in the blockchain era with endless opportunities to win the global market by providing reliable and robust web3 applications. 
The company's Facts & Figures:
    • 60+ Certified blockchain experts
    • Dedicated project managers and coordinators
    • On-time delivery with an affordable pricing structure
    • Signed - nondisclosure agreement (NDA) 
    • 5+ Years of effectual expertise
    • 300+ Successful projects
    • 100+ Expert developers
    • 300+ Global clients
The incredible contribution to blockchain development on a global scale helped WeAlwin Technologies achieve a prominent position in the list of top blockchain development companies in India on the GoodFirms platform.
The GoodFirms team interviewed Mohana Sundaram Permal, WeAlwin Technologies' CEO, to learn more about the company and its values. 
WeAlwin's Journey Paved With Good Intentions
Mohana mentioned that as the CEO of WeAlwin, he is responsible for taking care of the people who work with the company and encouraging them to reach their highest potential and become successful in their professional careers. The company was launched to provide opportunities for deserving IT professionals and help businesses to gain remarkable growth in the global market. 
Furthermore, WeAlwin possesses highly experienced and talented team members capable of catering excellent blockchain solutions no matter how complex the project is. The team believes blockchain technology is a game-changer for various business verticals by enhancing data security, reliability, and transparency across various business networks.
A Business Model that Distinguishes WeAlwin From their Competitors
The company offers a complete package of development channels, including design, development, and on-time delivery, with excellent customer support. Their repetitive customer rate is 53% and will increase in the coming years. 
Their in-house team consists of the most experienced professionals who ensure that they deliver reliable and trustworthy blockchain solutions that improve their credibility in the global market.
WeAlwin is a Pioneer in Blockchain Business
They have expertise in developing Fintech products based on cryptocurrency and blockchain technology. They provide trading, decentralized finance (DeFi), NFT, etc.
The Company's Most in-Demand Services:
    • Blockchain Development 
    • Web 3.0 development
    • Crypto Trading
    • Bot Development
    • NFT Token Development
    • NFT Marketplace Development
    • Defi Platform
    • All types of Cryptocurrency Exchange Development
    • Crypto wallet application development
    • Ethereum
    • BSC
    • Tron standard tokens
    • Custom coin Creation
    • Solana-powered Defi development
    • Blockchain game development
    • Customized mobile app and web development
    • Polygon market data API Integration
The reviews by GoodFirms show how WeAlwin Technologies works with its clients.

Customer Satisfaction is What Makes WeAlwin Strive to Excel 
When asked about the company's customer support, Mohana said it is an important question and answered that client satisfaction is a prime priority. And their team is committed to delivering reliable and trustworthy solutions.
Also, he mentioned that the team always strives to improve their skills and keep up to date with the latest trends and technologies to maintain the highest level of quality, which brings confidence and trust to their clients with complete satisfaction.
Moreover, they provide dedicated project coordinators who help maintain effective and transparent communication between the client and the company. Also, they provide their clients with weekly reports during ongoing projects and take full responsibility for the project from start to finish. 
Pricing Model & Budget
Mohana talked about the payment structure they follow based on milestones, and sometimes it depends upon the type of the project. The company works with all sizes and shapes of businesses with their budget requirements that generate opportunities for clients with limited budgets. 
He has revealed a minimum and maximum range of pricing that they have worked for; in 2022, it was Between $5000 - $150000.
Lastly, Mohana shared the company's plans for the next ten years; WeAlwin will add more highly experienced blockchain experts to their team, and they will maintain their professionalism and business acumen to become the global leader in the blockchain era.
You can also go through this detailed interview on GoodFirms.
About GoodFirms
Washington, D.C.-based GoodFirms is an innovative B2B Research and Reviews Company that extensively combes the market to find business services agencies amongst many other technology firms that offer the best services to their customers. GoodFirms' extensive research process ranks the companies, boosts their online reputation, and helps service seekers pick the right technology partner that meets their business needs.
About the Author
As a Content Writer at GoodFirms, Anna Stark bridges the gap between service seekers and providers. Anna's dominant role is to figure out company achievements and critical attributes and put them into words. She strongly believes in the charm of words and leverages new approaches that work, including new concepts that enhance the firm's identity.