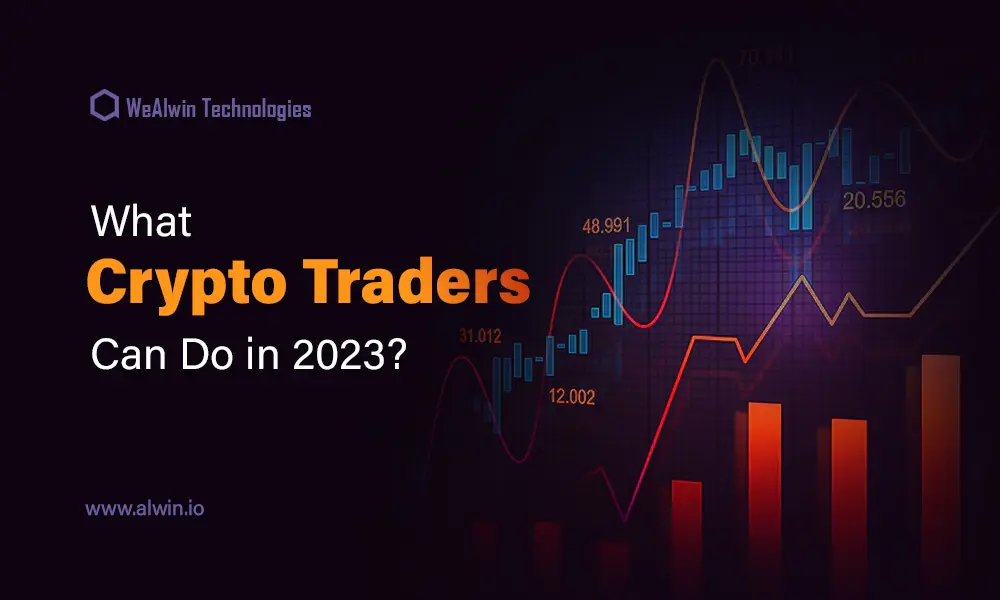 Crypto trading has become a big race. Traders should keep an eye on the trends and be ready to adapt to them to win this competition.
You may ask: "What could I do to handle this situation?"
We come up with a powerful solution!
Here you go 👇
"CRYPTO TRADING BOT"
Sounds somewhat new🤔!!! - Right?
Yes. It's going to be largely used by crypto traders henceforth. It's the future of crypto trading, especially in the next year, 2023, and then moving on.
Wanna know more?
Just start to explore it in a clear & simple manner.
What's Crypto Trading?
Before going to explore Crypto Trading Bots, understanding 'What Is Crypto Trading?' makes it easy to get into the topic. 
So, let's discuss it first.
Crypto trading is an act of buying and selling cryptocurrencies based on their market value via an exchange. It's a speculation of price movements in cryptocurrency through a CFD (Contract For Differences) trading account.
To put it briefly, it is the same as the stock trade. 
What's a Crypto Trading Bot?
Crypto trading bots are AI (Artificial Intelligence) and programmed codes to process crypto trading automatically. It functions by requiring minimal human intervention in the act of trading. 
Thus, it robustly assists crypto traders to make their investments safe and profitable in a systematic way. The bots can trade either one or multiple cryptocurrencies in one or diverse platforms on behalf of owners. 
They can apply proven strategies, including arbitrage trading, coin lending, margin trading, & market-maker for increased trading profits and make better efficiency with fewer errors.
Additionally, the trading bots are critically tested with stock, forex, & other digital asset tradings.
The special thing about crypto trading bots is they can escape from the emotions and sentiments that humans can rarely get away from.
Yes!
It's highly important for dramatic price movements🧐, because "the price" moves in a timely manner. And, in fact, this is where the crypto trading bots come in handy.
Features of Crypto Trading Bots
Auto-strategies apply
User-friendly interface
It's ready to integrate
Gathers live market data
Technical & fundamental analysis
24/7 auto trade facility
Calculate indicators
Easy live order execution
On-time trading execution
Calculates profit & risk metrics
Graphical results display
Crypto cloud services
Manage & import historical market data
Signal generators
Reports and notifications
Full privacy assured
Consult with our business experts for Crypto Trading Bot Development ! Chat with us on WhatsApp
How Does Crypto Bot Benefit Your Crypto trading?
A crypto trading bot can assist you to trade cryptocurrency more efficiently by comparing the same manually.
It eliminates human emotions. So it easily engages high profitability on the trading that in many cases gets affected by predetermined rules set by the traders.
The crypto trading bot can multiple markets & exchanges at the same time. Accordingly, it saves a lot of time the traders have spent monitoring price variations happening in the markets.
Above all, it analyzes data more effectively to identify the patterns for future market conditions. E.g., analysis of market data & risk prediction. It's another major time-consuming task for crypto traders with manual actions.
What Will Crypto Trading Look Like in 2023?
Then, what? This is the solution a lot of crypto traders in the existing crypto market expect. It'll be the future of crypto trading for sure. 
It's already boomed. You could find a lot of growing crypto trading bots available in the market today. Check out the list below of 👇 mentioning them.
CryptoHopper
Shrimpy.io
CoinRule
HaasOnline
Bitsgap
Gunbot
Pionex
Zignaly
Coinigy
NAGA
Botsfolio
Trality
eToro
TradeSanta
3Commas
Based on their increasing user bases on the crypto market square, a number of budding cryptopreneurs are showing vast interest in building their own crypto trading bots for their businesses.
Are you one of those😃?
Then, you landed at the right spot.
One-stop Solution for Your Crypto Trading Bot Development Needs
We're WeAlwin Technologies, a leading Blockchain Development Company in the global market. We've provided different software development services to build crypto trading bots for businesses.
We've been working with global clients in various blockchain industries. Our software development services are 100% unique and fully customizable. So, right from developing to upgrading your new crypto trading bot with us would be so easy for you ever.
In a Nutshell
WoW! What a wonderful technological innovation in the crypto world!
The Crypto Trading Bot - The most awaited stuff in software and inventions.
As a crypto trading bot using smart & automating technologies like AI, machine learning, etc. it makes the purpose very accurate and wins among contemporary crypto traders.
Thus, only 38% of crypto users trade with bots, now raised to 86% considering the amount of money moved.
YES! It's really a clever idea that you wanna develop your own crypto trading bot and launch a business, today.
Then, what're you waiting for? 
Just get in touch with our team. 
We're ready to hear from you.
Check out our page on Cryptocurrency Exchange Development to get more information
Let's build your project powerfully to the market with the advanced technology and solutions available with us. Make it profitable to develop the crypto trading bot and launch your business in the crypto market space in 2023.