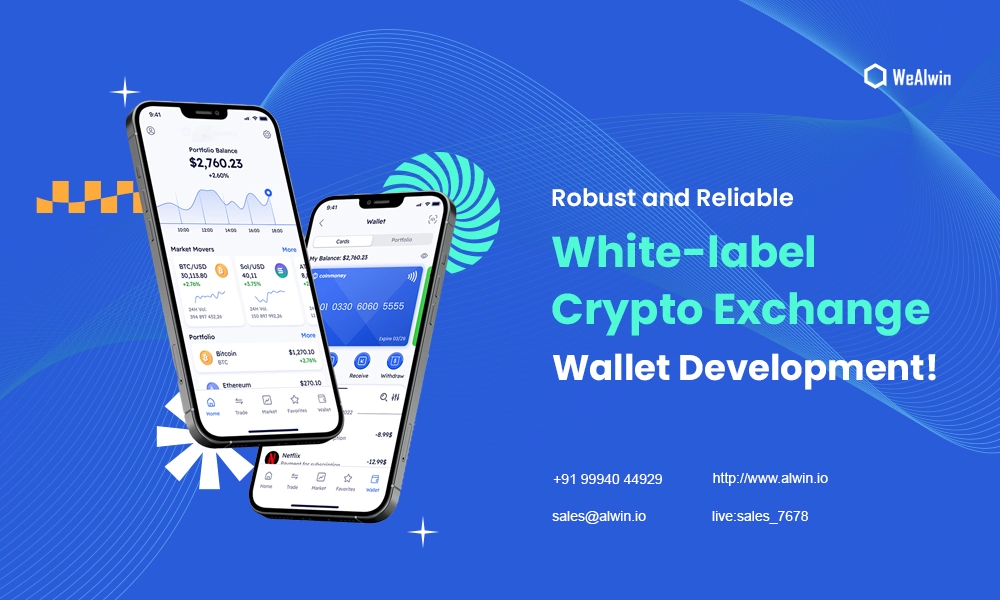 In today's rapidly evolving digital landscape, cryptocurrencies have gained immense popularity as a means of transaction and investment. As the crypto market continues to grow, businesses and individuals seek reliable solutions to manage their digital assets securely. This is where White-Label Crypto Exchange Wallet Development comes into play. Are crypto exchange wallets safe? This question definitely confuses your mind. Absolutely yes, Cryptocurrency wallets are safe to protect your Cryptocurrencies. In this blog post, we will explore the world of white-label crypto wallets, their benefits, and the importance of choosing a Robust and Reliable Development Solution. 
What is White-label Crypto Exchange Wallet?
To kick off our journey, let's start by understanding what White-Label Crypto Exchange Wallets are. A White-Label Crypto Exchange Wallet refers to a ready-made, customizable solution provided by a third-party development company. It allows businesses and individuals to launch their own branded & secure crypto wallets without investing significant time and resources into building one from scratch.
Now, we have a basic understanding of White-Label Crypto Wallets, let's delve deeper into their feature & benefits.
Incredible Benefits of White-label Crypto Exchange Wallet Development:
Empowering Businesses with White-label Crypto Wallets!
Enhanced Security Features: Security is a top concern in the crypto industry, and a White-Label Crypto Wallet Development solution ensures robust security measures to protect your users' digital assets. With advanced encryption protocols, multi-factor authentication, and cold storage options, you can provide your users with peace of mind, knowing that their funds are safeguarded against potential threats. A secure wallet instills confidence in your users, attracting a wider audience and fostering long-term relationships.
Seamless Usage: The White-Label Crypto Wallet is designed to provide a smooth and intuitive user experience, ensuring that users can easily navigate through the wallet's features and perform transactions effortlessly.
Crypto Staking: The Crypto Wallet Development includes the integration of crypto staking capabilities, allowing users to earn passive income by staking their cryptocurrencies and participating in various staking protocols directly within the wallet.
Diverse Crypto Access: The wallet supports a wide range of cryptocurrencies, providing users with the ability to store, manage, and trade multiple digital assets within a single platform, offering convenience and flexibility for users with diverse crypto portfolios.
Faster Transaction: The White-Label Wallet Development focuses on optimizing transaction speed, leveraging advanced technologies and protocols to ensure that crypto transactions are executed quickly and efficiently, reducing waiting time for users.
Lesser Transaction Fees: The Wallet Development aims to minimize transaction fees by implementing cost-effective mechanisms and exploring options for low-fee or fee-less transactions, enabling users to save on transaction costs and maximize their investment returns.
Easy Use: The White-label Wallet is designed with user-friendliness in mind, offering a simple and intuitive interface that makes it easy for users, including beginners, to navigate through the wallet's functionalities and perform transactions with ease.
Access Multiple Cryptos: The Wallet Development enables users to access and manage a wide variety of cryptocurrencies, including major coins and tokens, allowing them to diversify their crypto holdings and use a single wallet to take advantage of multiple investing opportunities.
Instant Transaction: White-label Wallet incorporates technologies that facilitate instant transactions, enabling users to send and receive cryptocurrencies swiftly, providing a seamless and efficient transaction experience, particularly for time-sensitive transactions.
Consult with our business experts to Build your own Cryptocurrency Wallet! Chat with us on WhatsApp
Unique Features of White-label Crypto Exchange Wallet Development: 
Multiple Payment Gateway:
The white-label crypto exchange wallet development includes the integration of multiple payment gateways. This feature allows users to make transactions using different payment methods such as credit cards, bank transfers, and various cryptocurrencies.
Multiple Device Compatibility:
The white-label crypto exchange wallet is designed to be compatible with multiple devices, including desktop computers, laptops, smartphones, and tablets. This ensures that users can access and use the wallet seamlessly across various platforms.
Admin Dashboard:
The Wallet comes with an admin dashboard that allows the administrators to manage and monitor the wallet's operations. They can oversee user accounts, transaction history, security settings, and other important aspects of the wallet.
Automatic Conversion Rates:
With automatic conversion rates, the white-label crypto exchange wallet can provide real-time and accurate conversions between different cryptocurrencies and fiat currencies. This feature enables users to conveniently exchange their assets within the wallet.
Intriguing UI/UX:
It focuses on delivering an intriguing user interface (UI) and user experience (UX). It employs visually appealing designs, intuitive navigation, and user-friendly features to enhance user engagement and satisfaction.
Biometric Authentication:
To ensure top-notch security, the white-label crypto exchange wallet incorporates biometric authentication. Users can use their fingerprint, face recognition, or other biometric data to authenticate their access to the wallet, adding an extra layer of protection.
Ledger Support:
The white-label crypto exchange wallet offers support for ledger devices. This integration allows users to securely store and manage their cryptocurrencies using hardware wallets such as Ledger Nano S or Ledger Nano X.
Web3 Integration:
Web3 integration enables seamless interaction with decentralized applications (dApps) and blockchain networks. The white-label crypto exchange wallet incorporates Web3 protocols, allowing users to access and interact with various decentralized services within the wallet.
Manage Assets:
Users can easily manage their assets within the white-label crypto exchange wallet. They can view their cryptocurrency balances, track transaction history, transfer funds, and perform other asset management functions conveniently from a single interface.
Multiple Network Support:
The white-label crypto exchange wallet supports multiple blockchain networks. It allows users to connect and transact on different networks, such as Ethereum, Binance Smart Chain, and others, expanding their options for decentralized finance (DeFi) activities.
Passcode/PIN Protection:
To enhance wallet security, the white-label crypto exchange wallet incorporates passcode or PIN protection. Users can set up a unique code that they need to enter each time they access the wallet, adding an extra layer of authentication.
Automatic Session Logout:
For security purposes, the white-label crypto exchange wallet automatically logs out inactive users after a certain period of inactivity. This feature helps protect user accounts in case they forget to manually log out or if they leave their devices unattended.
Credit Card Enabled Transactions:
The white-label crypto exchange wallet supports credit card-enabled transactions. This functionality allows users to link their credit cards to their wallets and make cryptocurrency purchases directly using their credit card funds, providing more convenience and flexibility.
As the crypto market evolves, your business needs to be prepared for future growth. White-label crypto exchange wallet development provides a scalable infrastructure that can accommodate your expanding user base and increasing transaction volumes. With a robust and future-proof solution, you can confidently scale your operations, introduce new features, and adapt to the ever-changing crypto landscape. So, develop your wallets soon to safeguard your currencies. 
White-label Wallet Clone:
Exodus Wallet Clone
Electrum Wallet Clone
Steps to Access White-label Cryptocurrency Wallet Development:
Create Account (Signup) → Login → Wallet Dashboard → Send Funds → Receive Funds
Conclusion:
White-label Crypto Wallet Development empowers businesses and individuals to harness the potential of cryptocurrencies with ease and confidence. Unleashing the Power of Secure Digital Asset Management by developing the White-label Crypto Exchange Wallet Development. Seamless customization and robust transactions will be achieved through the wallet. It enables organizations and people to release their own branded and secure crypto wallets without having to spend a lot of time and money creating one from scratch.
To launch a Cryptocurrency Wallet first and foremost is to choose customizable solutions to develop it. Approach WeAlwin Technologies the Cryptocurrency Wallet Development Company offering many services related to the blockchain at affordable prices, with many features and benefits. You can also have development support whenever you need (24hrs assistance), and customizable solutions. Join hands with us and explore your business to the next level and earn more profits. 
Check out our page on Cryptocurrency Wallet Development Company