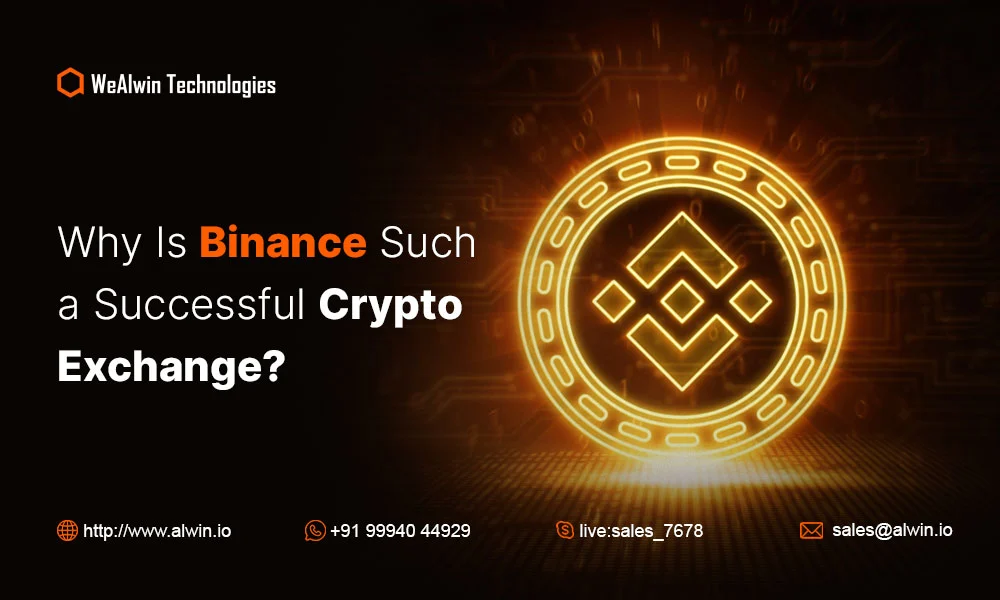 Binance is one of the largest and most successful decentralized cryptocurrency exchanges. 
The reason for its popularity is its user-friendly interface and the high-quality services available. 
By the way, Binance offers wallet management, trading, and exchange services, which are offered to both users with cryptocurrency accounts and those using their own private cryptocurrency wallets.
Sounds Great!
Isn't it?
Binance was launched in 2017 after taking the world by storm as an extremely successful centralized crypto exchange on Web3 world.
Wanna know more about its mass success?
Just keep reading it.
BINANCE Crypto Exchange - An Overview
Binance is a decentralized cryptocurrency exchange that is currently the largest exchange by trade volume of any coin on Binance. 
The famous crypto exchange platform aims to provide users with multiple trading pairs, which include BTC/USDT, ETH/USDT, LTC/USDT, and BNB/USDT. 
The platform also provides users with a way to purchase tokens through fiat money transfer. 
Binance offers advanced security features such as real-time order matching, user authentication, and an open-source API.
Consult with our business experts to Build your Crypto Exchange Like Binance! Chat with us on WhatsApp
Why Is Binance a Successful Exchange Platform?
Binance DEX is one of the fastest-growing decentralized exchanges in the world with more than 100 million users and over $700 million daily trading volume.
The Binance platform was built out of a desire to create an exchange that would give users more options to trade cryptocurrencies on the blockchain. 
It's grown rapidly and remains among the top 20 largest cryptocurrency exchanges on the market.
Such success can be attributed to several factors. They are -
An Industry-trusted Platform
It is a well-established and trusted crypto exchange platform, with a large number of users, including many new ones.
Wide-array of Cryptocurrencies & Assets
The platform offers users a wide range of different cryptocurrencies and digital assets, including Bitcoin, Ethereum, EOS, Tether (USDT), etc. It also offers the ability to trade fiat currencies like USD and INR.
High-Level Security
All transactions in the Binance crypto exchange are carried out using advanced encryption technologies.
Low Trading Charge
Binance collects low trading fees from traders with its own Binance Chain - the blockchain technology protocol.
Easy-to-use Interface
Binance has become very popular because of its easy-to-use interface and transparent nature when compared to other cryptocurrency exchanges — e.g., Bitmex.
Build Your Own Crypto Exchange Like Binance in 2023
A lot of people are now using decentralized exchanges because they believe that these exchanges are safer than traditional ones. However, there are many reasons why you should develop your own decentralized exchange like Binance for businesses in 2023:
Firstly, the world of cryptocurrency and decentralized exchanges is still young, and the market is still growing. 
The Binance exchange has been continuously growing since its launch, with more than $1 billion in daily trading volume.
Following, your Binance-like exchange provides lots of user advantages that will entirely cover your new exchange. They include -
Better User Experience - You can offer a better user experience by offering users more features and services than other exchanges.
Quick Transactions - Your decentralized exchange like Binance will be able to process transactions very quickly, which saves time and money for both your company and platform users.
Multi-currency Support - You can accept multiple currencies and tokens through your crypto exchange platform like Binance, which would be a huge benefit for merchants.
Multi-trading Pairs - Your exchange like Binance's multi-trading pairs — solution makes it easier for traders to find the best deals for them without having to switch between different platforms every time.
No Third-party in Transactions - In an exchange like Binance, there are no third parties involved in the process of crypto transactions, so there is no chance of any manipulation by anyone in the exchange platform services.
What Is Binance Centralized Crypto Exchange Platform?
Binance centralized crypto exchange allows traders to buy and sell cryptocurrencies without worrying about keeping their digital money in a wallet or on an exchange. Meaning, they can easily buy or sell the assets straight from within the platform itself.
We Provide Best-in-class Crypto Exchange Development Like Binance
At WeAlwin Technologies, we provide world-class Crypto Exchange Development Like Binance. We are a leading crypto exchange development company, specialized in building and maintaining high-quality crypto exchanges. 
Our team of experienced blockchain programmers and designers has been developing cryptocurrency exchanges for more than 5 years. 
We are experienced in building custom trading platforms that meet the specific needs of our global clients.
Our custom blockchain solution is compatible with all major cryptocurrencies including Bitcoin (BTC), Ethereum (ETH), Litecoin (LTC), Ripple (XRP), EOS, Tron (TRX), etc.
Check out our page on Binance Clone Script
So, feel free to contact us for any details regarding your Binance-like cryptocurrency exchange development for a lucrative business, at any time. 
Our experts are ready to help you and work with you for a successful enterprise via developing a profitable centralized crypto exchange platform like Binance.