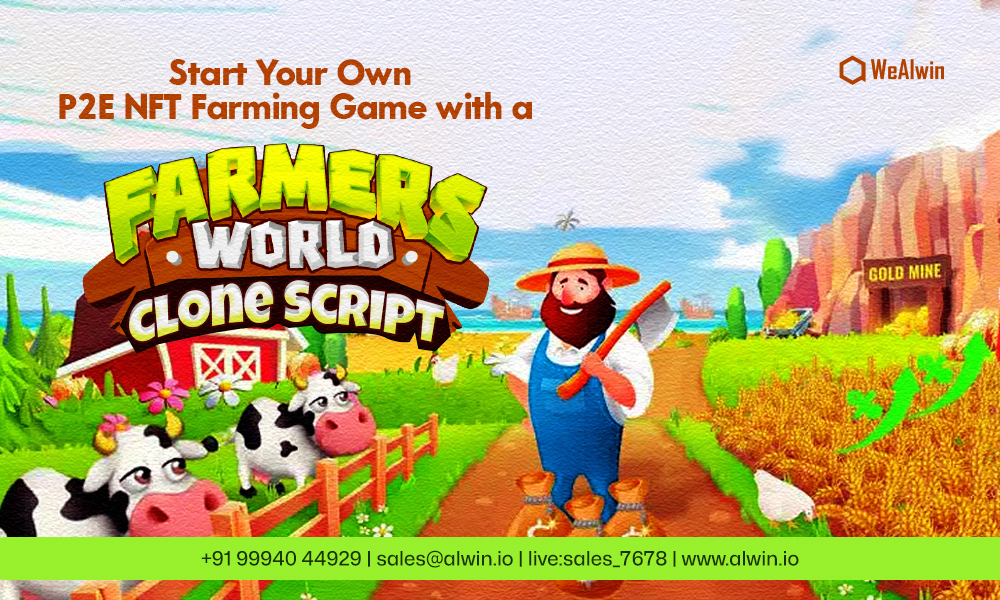 Hello, Cryptocurrency admirers and aspiring game-changers!
I'm delighted to share with you today how you can build your own P2E NFT farming game using a Farmers World Clone Script.
Farmers World is a blockchain-based game in which participants make money by farming, mining, and breeding NFTs. It's been one of the most successful P2E games in recent months, and it's helped to demonstrate how blockchain technology can revolutionize the gaming industry.
Read the blog to learn about the nuances of Farmer World clone script.
What is the Farmer World clone script?
NFT farming games are a new and exciting trend in the blockchain gaming industry. These games allow players to earn real money by playing, and they are quickly gaining popularity.
One of the most popular NFT farming games is Farmers World. Farmers World is a game where players can build farms, raise animals, and mine for resources. Players can then sell their in-game assets for real money.
If you are interested in creating your own NFT farming game, you can use a Farmers World clone script. A Farmers World clone script is a pre-made game that you can customize to create your own unique game. 
Why make an NFT Gaming platform like Farmers World?
Safety and Distinction
NFTs are stored on the blockchain, which makes them secure and tamper-proof. This makes them ideal for in-game assets, as players can be sure that their assets are safe and cannot be duplicated.
The Transfer of Ownership
NFTs can be easily transferred between players, which makes them ideal for trading and bartering. This can create a vibrant economy within your game.
Transparency
The blockchain is a transparent ledger, which means that all transactions are recorded and visible to everyone. This makes it easy to track the ownership of in-game assets and prevent fraud.
Branding and Innovation
NFT farming games can be a great way to build your brand and reach a new audience. The blockchain gaming industry is still in its early stages, so there is a lot of room for innovation.
Consult with our business experts for Build a Farmers World clone script! Chat with us on WhatsApp
The Features that our Farmer World clone script Includes
Our Farmers World clone script includes several features that will make your game stand out from the competition. These features include:
Breeding - Players can breed their animals to create new, more valuable animals.
Mining - Players can mine for resources to use in their farms or to sell for profit.
Building - Players can build structures on their land to improve their farms or to create new features.
Cultivation - Players can cultivate crops to produce food and other resources.
Wild animals - Players can encounter wild animals that they can fight or tame.
Raising Cows & Chickens - Players can raise cows and chickens to produce milk and eggs.
Steps Involved in the Farmers World Clone App Development
The development of a Farmers World clone app can be divided into the following stages:
Extensive Research - The first step is to conduct extensive research on the NFT farming game industry. This will help you to understand the market and identify the features that your game should include.
Game Strategy - The next step is to develop a game strategy. This will outline the goals of your game and the features that you want to include. 
Game Design - Once you have a game strategy, you can start designing your game. This includes creating the graphics, the user interface, and the gameplay mechanics.
Game Development - The next step is to develop your game. This involves coding the game and testing it to ensure that it is bug-free.
Game Testing/Deployment - Once the game is developed, it needs to be tested and deployed. This involves testing the game with a variety of players to ensure that it is fun and engaging.
After-development assistance - After launching the game, you will need to provide after-development assistance to players. This includes providing support for troubleshooting and bug fixing.
Considerations Before Participating in the NFT Farming Game
If you are considering participating in an NFT farming game, there are a few things you should keep in mind:
Learn to Play Video Games.
NFT farming games are video games, so you should be prepared to learn how to play them.
Wallet Development for WAX
You will need to create a wallet to store your NFTs. The most popular wallet for WAX is the Atomic Wallet.
Add Money To Wallet
You will need to add money to your wallet to purchase NFTs and other in-game assets.
Obtain Equipment
You will need to obtain equipment to start farming. This equipment can be purchased in the game or on the WAX marketplace.
Presenting the Best Farmers World Clone Development is WeAlwin Technologies.
WeAlwin Technologies is the leading Play-to-Earn Development Company that provides you with the best Farmers World clone scripts. We have a team of experienced developers who can help you get your game up and running quickly and easily. We also offer a variety of customization options so you can create a truly unique game.
Contact us today to learn more about our Farmers World clone script development services.