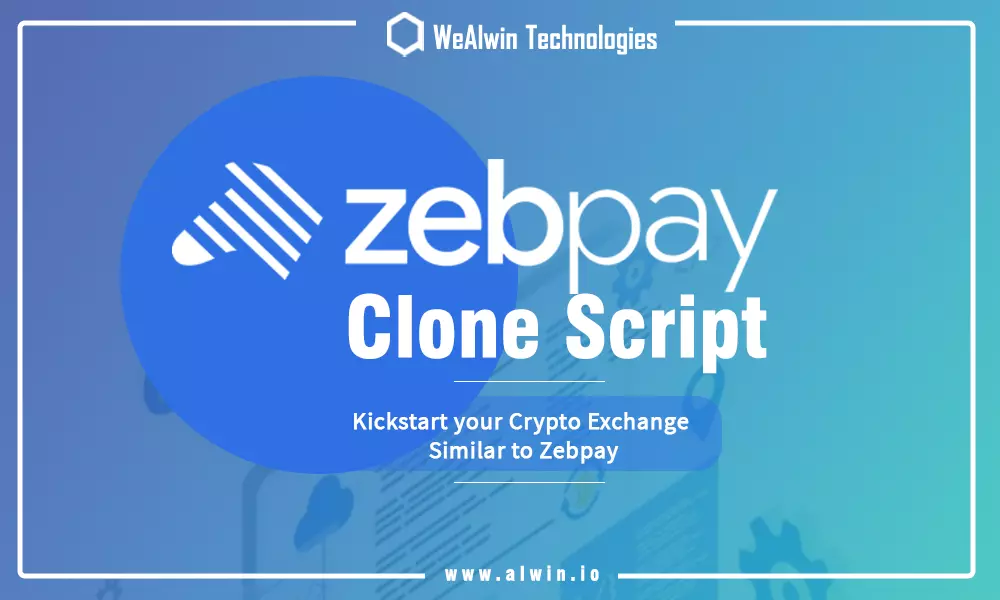 Start your own Cryptocurrency Exchange like Zebpay with the exclusive Zebpay Clone Script that consists of all the trading features and plugins from WeAlwin Technologies, We do also build other popular crypto exchanges and crypto wallets such as Binance, Coinbase, Metamask Etc…
Cryptocurrencies are digital money or digital assets that are a most familiar topic in the financial industry right now. This digital money are invented in 2009 that is secured through blockchain technology. As crypto users enlarge promptly and so, New crypto coins are evolving day by day.
Because of high growth and huge returns, Many entrepreneurs are planning to launch their crypto exchange businesses to reap high profits. As we all know that crypto exchange is considered to be one of the high revenue-generating businesses in the present world. So launching your own crypto exchange platform is one of the wise options to run a business.
Is it your dream of launching a cryptocurrency exchange platform to gain a huge of amount profit?
Great, then you're in the correct place !!
At present, there is been a lot of cryptocurrency exchanges in the crypto industry with significant trading services and features. Such as Coinbase, Binance and other notable exchanges. Considering those lists, Zebpay is one of the safest and most popular crypto exchanges with impeccable trading options. 
If you're planning to launch an exchange then starting a crypto exchange similar to Zebpay through the Zebpay Clone Script is a clever decision.
Let's discuss Zebpay Clone Script in this article.
Zebpay Clone Script:
Zebpay Clone Script is a pre-made software which is already developed and tested that holds all the inbuilt features and plugins of the original Zebpay Exchange without the infringement of their copyrights. These scripts are 100% customized, where you can customize the trading features, themes, logo, design and some other options that fit your business concepts. Likewise, the Zebpay clone supports all other major crypto coins such as Bitcoin, Ethereum, Ripple and more…
WeAlwin Technologies offers the best white-label Zebpay Clone Service with all the advanced security features and functionalities. We empower the modern features and security options in our Zebpay Clone that help you to earn a tremendous user base and higher profits in a short time.
What is Zebpay?
Zebpay is a Singapore-based Cryptocurrency Trading Platform that was founded by Sandeep Goenka, Saurabh Agarwal, and Mahin Gupta in 2014. This platform allows the users to buy, sell and trade different virtual digital assets in a trouble-free manner with advanced security. At present, Zebpay has more than 3 million active traders from all around the world and achieved more than $2 million in volume on fiat currencies so far. This Zebpay platform is supported in a wide range of more than 163 Countries and is authorized as one of the best crypto trading platforms for beginners and as well for expert traders.
Why Launch a Cryptocurrency Exchange like Zebpay?
Zebpay has a user-friendly cryptocurrency trading platform where all kinds of audiences can get benefited. Their core motive is to offer their user a secure and trustworthy crypto exchange platform. They gained a high number of crypto users by providing low transaction fees for their exchange users. As well as, withdrawal or deposit fees for fiat currencies are not charged. But a certain amount is charged when withdrawing from the wallet. 
The above mentioned are some of the uniqueness of the Zebpay Crypto Exchange. So launching a Crypto exchange like Zebpay with Zebpay Clone Script can be a wise option to have a profitable business zone.
Consult with our business experts to launch your Coinspot Clone Script instantly! Chat with us on WhatsApp
Salient Features of our Zebpay Clone Software:
By incorporating the alluring features in the clone software, you can upgrade the overall trading environment and can also attract many crypto users from wide parts of the world. Here we have listed some of the peculiar and advanced trading features that are crafted in our exclusive Zebpay Clone Software.
Multi-Cryptocurrency Wallet Integration
Liquidity API
Multi-Lingual 
Payment Gateway Integration
Site API
Trade Engine
Margin Trading
IEO Launchpad
Stop Order and Limit order
Referral Program
We integrate these vital features in our Zebpay Clone Script, you could also customize the trading features that you like according to your business concepts in an effective way.
Security Features of our Zebpay Clone solution:
With the integration of some advanced security features that are included in our Zebpay Clone software cyberbullying and other such malware activities are completely avoided.
Jail Login
HTTPS Authentication
Data Encryption
SQL injection prevention
Server-Side Request Forgery(SSRF) Protection
Cross-Site Request Forgery(CSRF) Protection
Anti Denial of Service(DoS)
Anti-Distributed Denial of Service
The above-mentioned are some of the high-level security features that are incorporated in our Zebpay Clone Script that avoids cyber attacks.
How does the Zebpay Clone Works?
The exclusive Zebpay Clone Script functions the same way as the original Zebpay Exchange. This exchange is in the crypto space since 2014 and has attracted many investors with its features and working mechanism.
Let's discuss how this Zebpay Clone Software Works;
Initially, you need to register and open an account by providing your Gmail ID with a secure passcode.
Then an OTP is generated for a verification process, which is received to your registered Gmail. Once the verification is done, your account is activated.
Secondly, you're required to complete the KYC verification to proceed with your crypto trading. Click the buy/sell button and choose the required fiat currency that you want for buying your bitcoin and enter the amount of BTC you want to buy.
Here, you can buy bitcoin using your credit/debit card. And then, you need to confirm the payment method, and the amount and then place the order. To link your bank to the platform, you need to fill in your credit/debit card information.
Once the trading is completed successfully, BTC will be received in your wallet instantly. The admin will receive a certain amount of fees on every successful transaction which is considered to be the profit earned.
This is how the Zebpay Clone Software works in real time.
Benefits of using the Zebpay Clone services:
Pre-made software, so the deployment process is simple and easy that saves your time and other resources.
User-friendly interface with advanced security features.
Instant and secure transactions.
High scalability and Liquidity
Multiple Language Support
Supports Multi cryptocurrencies such as bitcoin, ripple, litecoin and more
24/7 Technical and Customer support from experts.
Capable of performing multiple transactions per second.
Cost of Zebpay Clone Software:
The cost to start a crypto Exchange is one of the main things that are considered by entrepreneurs, the cost is decided by the method of your development process and the features that you choose. The cost of the Zebpay Clone Software is around 5000$ with its basic features and as said earlier, the cost may vary if you customize the features and options as per your business plans. This Zebpay clone is considered to be the most cost-efficient when compared to the other methods.
Why Choose WeAlwin Technologies for your Zebpay Clone Script?
Choosing the best development company is the most essential one to be considered here. Because everyone would choose an experienced person rather than a noob. 
WeAlwin Technologies is a top-notch Cryptocurrency Exchange Development Company,  providing robust and reliable solutions to our clients all across the world. We have a team of industry experts in the blockchain industry. We are delivering the crypto clone scripts with advanced trading features integration and also with high-level security. Our Zebpay Clone Script is already developed, tested and deployed that comes with effective features, a user-friendly dashboard, and plugins which is similar to Zebpay Exchange.
If you're one of the people who is planning to launch your own crypto exchange business. Then Join hands with us to start your unique Crypto Exchange business effectively.
Get a Live demo of our Zebpay Clone Script that is free of cost!
Check out our page on Cryptocurrency Exchange Script to get more information
We also provide other popular Clone Scripts such as,